Gabriel Santana, First Baseman

HT : 6'2
WT : 180 lb.
DOB : August 18, 1995, Porlamar, Nueva Esparta, Venezuela
Throws : Right
Bats : Right
School : N/A
Acquired : International Free Agent 2011, signed for $180,000
Stock : Neutral
Cool Notes : Coaches kids during the off-season on how to play professional baseball
From the moment Gabriel Santana turned 16, he was known as a professional baseball player for the Los Angeles Angels. The Angels have put a lot of trust in Santana, signing him for $180,000 as soon as he could possibly be signed. Santana has not disappointed so far, and should be able to show his talents stateside in the coming years.
SCOUTING REPORT:
Santana was originally signed as a catcher, but after just a few appearances, it was evident that his future was elsewhere. However, Santana took his catching skills to first base, where he now has an above average glove. He also has good range and initial reaction to the ball. One thing most first basemen lack is a strong arm, which Santana attains, helping him create more double play opportunities.
Santana has a strong swing and good approach at the plate. He keeps his bat path steady throughout the strike zone. This allows him to make not just more contact, but better contact, allowing him to square the ball up with ease.
Santana has gap-to-gap power and can spread the ball all over the field. He has good bat speed, which has added power. Also adding to his power is his physical development, as he's began growing into his frame and adding muscle.
With the good approach, Santana has a keen eye at the plate, allowing him to take pitches out of the zone and swing at the right pitches. He has been overmatched at times, but has not shown swing and miss problems for the power he attains.
STATISTICAL BREAKDOWN:
Santana had some time after signing to prep with the Angels before taking in his first taste of pro ball. However, Santana got a full taste with a full season in 2012, where he put up a .240/.330/.270 slash as a 16-year-old. Santana hit safely in his first seven games, putting up a .500/.586/.542 slash over the span. In his final 24 games though, Santana hit just .157/.247/.184.
Santana's second season was similar to his first, as he put together an eight-game hit-streak in the middle of the season, where he went 12-for-29 over the span. Santana finished the season with a .206/.300/.216 slash. Santana's best performance came on August 8th, ten days before his 18th birthday, where he went 4-for-5 with three RBI.
Santana had his best season to date last season, where he put up a .248/.323/.359 slash with 30 runs batted in, 32 runs scored and six home runs. Santana struggled at the beginning of the season, causing concern, going 13-for-80 to start the season (.162), reaching base just 23 times in his first 24 games.
Santana found his game again though, going 19 for his next 41 (.463), and reaching base 24 times in ten games. Santana finished his final 27 games with a .257/.336/.356 slash, with 14 runs scored and 12 runs batted in.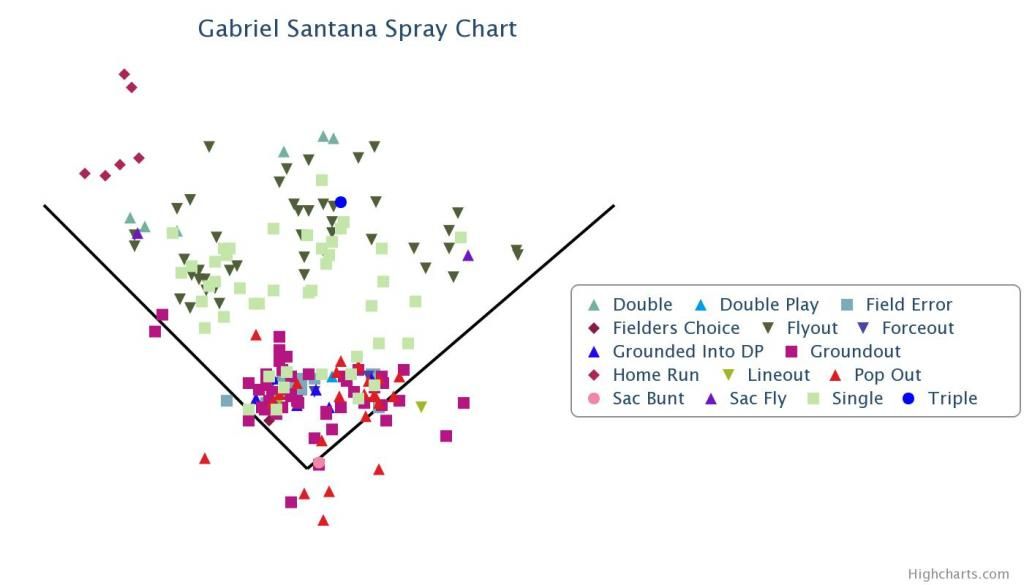 EXPECTED FUTURE:
Santana came over for instructional league, and impressed coaches and scouts, most likely enough to bring him stateside for 2015. This will allow Santana a chance at stronger competition and prove his talents in his late teens.
Santana's signing wasn't something the Angels took lightly, and that hasn't changed. The Angels expect him to be a Major Leaguer in the future, but there's a few problems factoring in. First base is a road block and they've stripped him of his catching duties. Once in the states, an ETA and plan should be more clear when it comes to Santana.
For more updates on the Los Angeles Angels, their prospects, and our Top 100 Prospects Countdown, follow us on Twitter, @AngelsOnScout.
Taylor Blake Ward is a Senior Publisher for InsideTheHalos.com, and can be found on Twitter, @TaylorBlakeWard.