Lianmy Galan, Right-Handed Pitcher

HT : 6'3
WT : 165 lb.
DOB : August 23, 1996, La Vega, Dominican Republic
Throws : Right
Bats : Right
School : N/A
Acquired : International Free Agent 2014 (Signed for $115,000)
Stock : Rising
Cool Notes : High Socks / Former shortstop
In front of 100 scouts, Lianmy Galan strut his stuff, and impressed nearly everyone. The Los Angeles Angels were the most impressed apparently, going big and spending $115,000 to sign him, and he has not let anyone in the organization down.
SCOUTING REPORT:
Galan is a natural athlete, coming originally from the infield, but is now turning his attention to the mound. His athleticism has allowed him to stay steady throughout his work, and not lose stamina early in his career.
Galan pitches with ease, throwing from a near direct over his head arm slot, with a quick arm, and staying closed throughout most of his motion. He needs to hide the ball better, but this will come with time on the mound. He has a short arm stroke, making the ball come at a deceptive speed.
Galan's fastball sits consistently anywhere from 88-93 MPH, and has room for velocity growth as he grows into his body. It has natural sink, and could eventually become a natural sinker. Scouts say he has an upside of 94-95 MPH range once he fully develops and repeats his mechanics. He has good command of this pitch and uses it to setup his off-speed offerings and get ahead in counts early.
Galan has a fringy off-speed pitch, that could turn into a slider with time. It has a weaker break than you'd expect, but could turn into a slurve like pitch with an awkward break, in a downward spiral, like a curve.
Galan is developing his changeup, and had a good feel for it this past season. It still needs work, coming in with minimal break, but has what looks like the most promise of all his pitches. This pitch could turn Galan into a serious threat in the rotation, mixed with his fastball.
STATISTICAL BREAKDOWN:
Galan's first professional season ended abrutly, with an apparent injury that is currently unlisted. Before going down for the season, Galan posted a 1.50 ERA, 0.791 WHIP, .157 BAA, and 2.41 GO/AO. As a starter, Galan allowed just one run, and had a pair of hitless/scoreless four or more innings pitched outings. Left-handed bats were limited to a .153/.143/.053 slash against Galan. Galan allowed just three extra-base hits all season (all doubles). Situationally, Galan had slashes of .217/.250/.304 while leading off, .143/.189/.171 with runners on, .125/.125/.188 with runners in scoring position.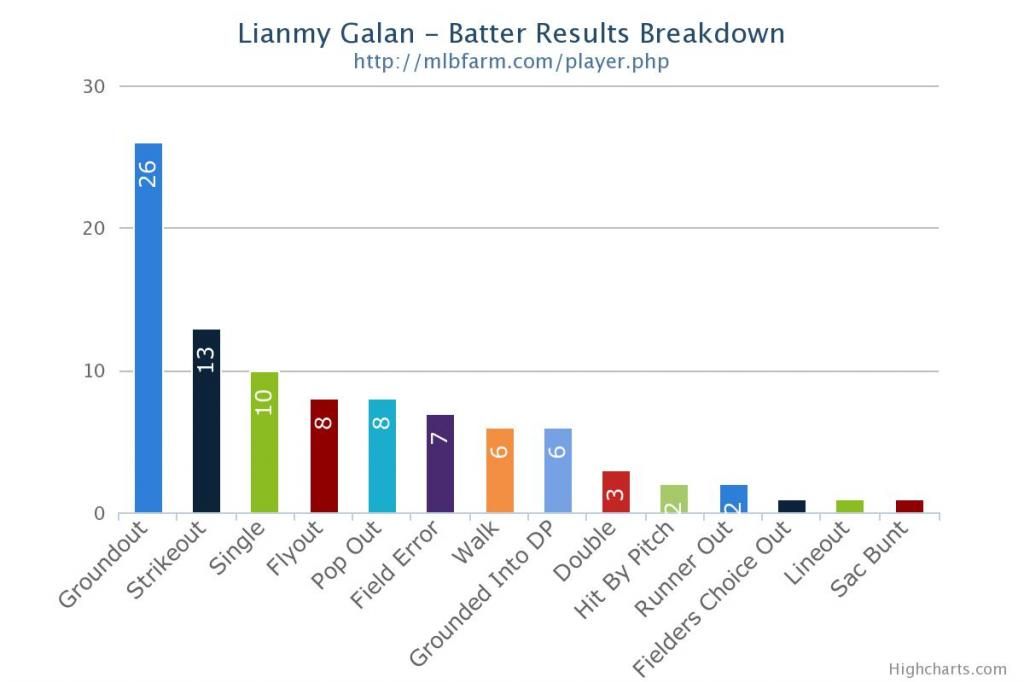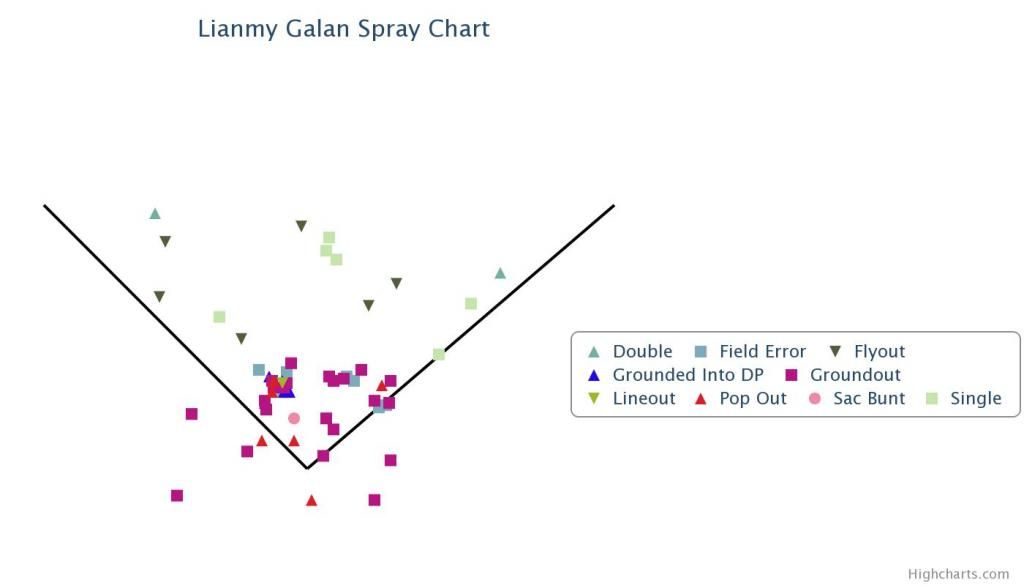 EXPECTED FUTURE:
Galan needs some more fine tuning, and the Angels will most likely use the Dominican affiliate to do this. He'll be able to stay home, and develop at a proper pace with a full season against raw competition.
Galan's signing makes us believe the Angels see him as a future Major Leaguer. With that, he has not set ETA at the moment, but could come stateside and prove his worth to coaches in the next two seasons. If he continues at the pace he's already at, Galan could be a Major League talent by the 2020.
For more updates on the Los Angeles Angels, their prospects, and our Top 100 Prospects Countdown, follow us on Twitter, @AngelsOnScout.
Taylor Blake Ward is a Senior Publisher for InsideTheHalos.com, and can be found on Twitter, @TaylorBlakeWard.