Jonathan Arias, Utility Infielder

HT : 6'2
WT : 170 lb.
DOB : January 31, 1996, Bani, Peravia, Dominican Republic
Throws : Right
Bats : Right
School : N/A
Acquired : International Free Agent 2013 (Signed for $65,000)
Stock : Neutral
Cool Notes : Developed by Miguel Delgado
A product of Miguel Delgado, Jonathan Arias came up as a fireball offer for the Los Angeles Angels, and they nabbed him at a young age planning to develop him towards a future in the big clubs infield, across the entire field.
SCOUTING REPORT:
Arias has nearly a perfect frame for an infielder, at six-foot-two, and 170 pounds. He has broad shoulders, which allow him to use his upper body as a lever weight. It may not sound natural when you first think of it, but it does help him keep balance throughout his positioning.
Arias has good range to both sides, and comes with an average arm, which could take him away from the shortstop position. He could grow a little more into his body which could add arm strength, keeping him through the entire infield. His instint in the field is what will carry him through his career.
Arias has a line drive swing, with gap-to-gap power. He has a very aggressive approach, and tends to swing early in counts, connecting on fastballs as opposed to off-speed pitches.
Speed may be the thing Arias needs to improve on to excel to the next level, as he's not the fastest in the bunch. He has average speed, and will not surprise you on the base paths, but comes with good instinct on the base paths, giving him an advantage going from base to base.
STATISTICAL BREAKDOWN
Arias was overmatched at a 17-year-old at the international level, putting up a .148/.213/.176 slash in his first year of pro ball. Arias did excel in one aspect of the game, and that was with runners in scoring position with two outs. He went 4-for-16 in the scenario, walking twice, and picking up four RBI.
Arias second season of pro ball was exceedingly better than his first. He finished the season with a .308/.336/.376 slash, reaching base safely in 25 of the 32 games he appeared in. Arias began the season going 14-for-31, picking up hits in 10 of his first 11 games, and having five of those games go for multiple hits.
Arias gave right-handed pitchers nightmares, going .330/.356/.412 against them. From the fifth to eighth innings of games, Arias went 22-for-55 (.400), with a .915 OPS.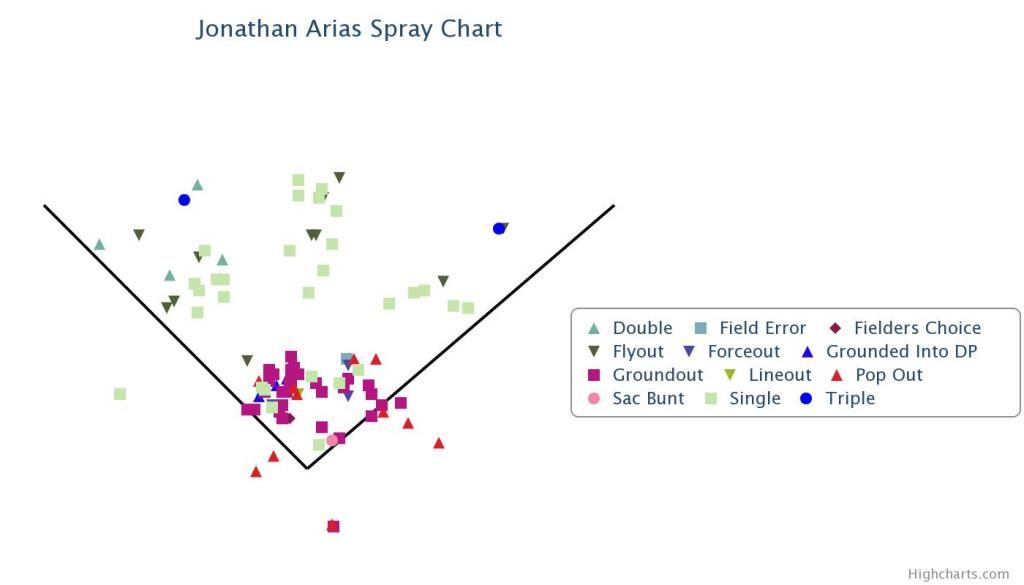 EXPECTED FUTURE:
Arias made strides forward this past season, but it is most likely another year of development in the Dominican. However, this doesn't mean there is no possibility he comes stateside to play in Rookie Ball.
Arias has shown promise through the entire infield, so the Angels will most likely keep moving him around progressively until they find a position he's blatently better at, or they may keep him as a utility infielder throughout his career.
For more updates on the Los Angeles Angels, their prospects, and our Top 100 Prospects Countdown, follow us on Twitter, @AngelsOnScout.
Taylor Blake Ward is a Senior Publisher for InsideTheHalos.com, and can be found on Twitter, @TaylorBlakeWard.