Nick Wagner, Right-Handed Pitcher

HT : 6'3
WT : 215 lb.
DOB : October 26, 1990, Santa Ana, CA
Throws : Right
Bats : Right
School : California State University-Dominguez Hills
Acquired : Drafted in 31st round (929th overall) of 2014 June Draft
Stock : Rising
Cool Notes : Has five family members who have played collegiate football, including his brother, Ryan / Favorite Athletes are : Bo Jackson, Darin Erstad, Teemu Selanne and George Parros / Big Anaheim Ducks fan / Big into community service, including attending Special Olympics events, house building in Tijuana and feeding the hungry on Thanksgiving
When it comes to loyalty and giving back, Nick Wagner stands out above the rest. Whether it's building houses in Tijuana in his missionary work, or playing whiffleball with kids in the Special Olympics, Wagner gives back to the community.
Being a good person outside the game is only lifted by his skills and talents on the mound. This hurler has closing qualities and could be a strong mover in the Angels farm system in the coming years on his trek to the Majors.
SCOUTING REPORT:
Wagner may be one of the better natural athletes on the mound in the Angels system, playing basketball and football in high school, and has taken that athleticism to the mound.
Wagner learned a changeup this past instructional league, which has yet to be seen in competition. This should allow him to be keep batter's off-balance and become even more competitive, but will need more development and use.
Wagner uses a combination of a fastball and slider to fool batters. His slider, which is registered as his best pitch comes with a heavy and late break. He uses this to read hitters' swings, and will go back to back or triple up on it if needed.
Wagner's fastball is a set two-seam, with strong sinking movement. It sits primarly anywhere from 92-93 MPH, but has hit a higher velocity range, tapping out at 97. This past season, Mike Hampton and Ryan O'Malley helped Wagner elevate this pitch and turn it into a chase fastball to both righties and lefties after the slider has set batters up.
Wagner uses simple mechanics, with quick arm speed and a quick hip turn, while staying closed throughout the majority of his motion. HE throws from a high 3/4 arm slot, and does not show signs of dropping his arm slot on his slider, which makes him hard to read at the plate.
STATISTICAL BREAKDOWN:
At Santa Margarita Catholic High School, Wagner hit .435 with 19 doubles, 24 RBI, and stolen 10 bases at a senior. Wagner was named a Trinity League First-Team selection. Wagner was part of his school's first victory over Mater Dei High School. He was also named a two-time Trinity League First-Team selection in football, as a safety, halfback and punter.
In his first season at the University of Oregon, Wagner played in the outfield instead of the mound, and put up a .185/.241/.222 slash, going 5-for-27 with two walks, and a double.
After a couple of surgeries, Wagner transferred to CS-Dominguez Hills. In 2014, Wagner mixed his time from the outfield and mound, putting together a .202/.305/.281 slash in 89 at bats. On the mound, Wagner held a 4.27 ERA in eight appearances, striking out 17 in 12.2 innings pitched.
Wagner's first taste of pro ball was excellent, having 13 of his 16 appearances in the AZL go scoreless, and had five of his final nine go perfect. He finished the season with a 2.75 ERA and 0.915 WHIP. Wagner struck out 14.64 per nine, and had a 8.0 strikeout to walk ratio (32/4).
In Wagner's final seven outings of the season, he allowed just three hits in 10 innings pitched, striking out 13 and holding batters to a .093/.093/.125 slash. Wagner also struck out the side four times in his 19.2 innings of work.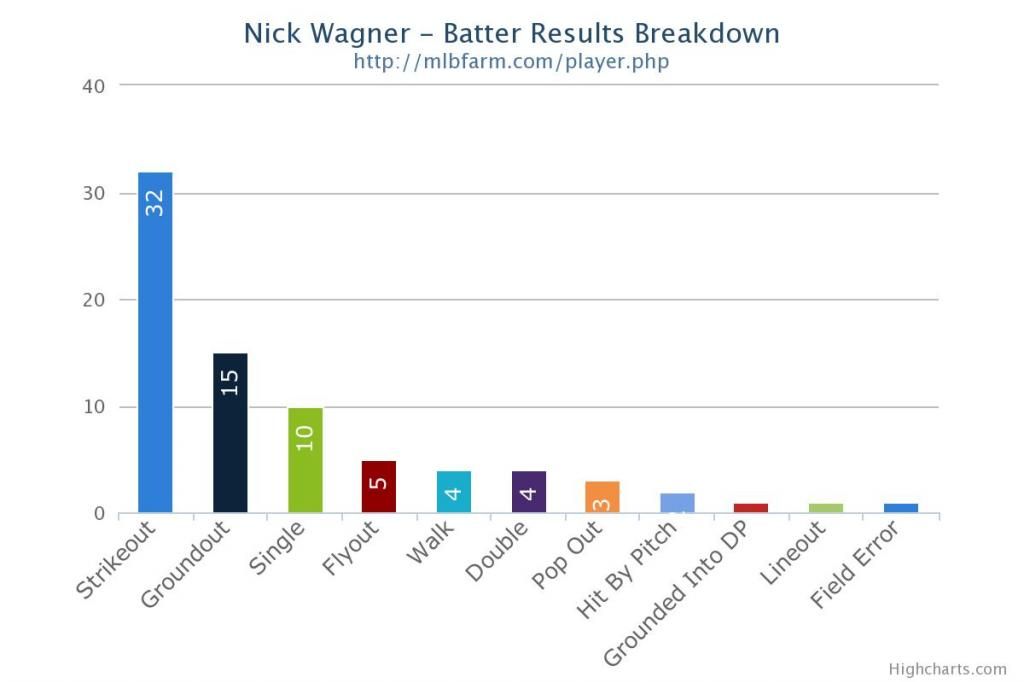 EXPECTED FUTURE:
Wagner should jump from Rookie Ball to Class-A in 2015, after a stellar outing in his first year of pro ball. Spring Training will note whether that will be Low-A Burlington or High-A Inland Empire.
Wagner could be a fast track guy to the Majors, due to his understanding of the game. 2017 is our best estimate at his quick arrival, but 2018 would be the another reasonable ETA for Wagner reaching the Majors.
For more updates on the Los Angeles Angels, their prospects, and our Top 100 Prospects Countdown, follow us on Twitter, @AngelsOnScout.
Taylor Blake Ward is a Senior Publisher for InsideTheHalos.com, and can be found on Twitter, @TaylorBlakeWard.