Angel Rosa, Shortstop/Third Baseman

HT : 6'2
WT : 185 lb.
DOB : September 19, 1992, Guaynabo, Puerto Rico
Throws : Right
Bats : Right
School : Alcorn State University (Lorman, MS)
Acquired : Drafted in 13th round (397th overall) of 2013 June Draft
Stock : Rising
Cool Notes : Leadership
Angel Rosa is one of the quiet, darkhorse prospects in the Los Angeles Angels farm system. He's begun to slowly rise towards the top and it's taken hard work on his behalf to get there.
SCOUTING REPORT:
Rosa isn't going to "wow" you with his bat. He makes decent contact and has limited power, but finds way to stay competitive throughout his at bats. He has some swing and miss to his game, but has an aggressive style that allows him to put the ball in the field on most occasions.
Even with his aggressive approach, Rosa has a keen eye. This not only allows him to draw walks, but also see the ball well out of the pitcher's hand.
Rosa's power is somewhat quiet. He has some over the fence kind of power, but draws most of his pop from natural athleticism and strength. Quick bat speed allows him to have gap-to-gap power. He could be a 10 home run a season kind of guy.
Rosa's glove needs some work. He has above average range that allows him to get to the ball with ease, but will need to clean up some things to take that step and stay at short. His arm could use some extra oomph, but he has good baseball instincts that are well ahead of his time.
Rosa has good speed, and it an outstanding base runner. This may be the strongest point of his physical game.
We brought out physical game above, because Rosa's strongest qualities don't come necessarily on the field. Rosa's ability to be a leader for the younger international prospects is massive. When one of of us spoke of leaders in the organization, Rosa's name came up nearly every time.
STATISTICAL BREAKDOWN:
Rosa held the best bat at Alcorn State in 2013, finishing with a .294/.372/.400 slash in 45 games. Rosa had 28 RBI and 27 runs scored to go with his numbers, and had 11 of his 47 hits go for extra base hits. Rosa stole 17 bases in 21 chances.
Rosa's first taste of pro ball was great, as he hit .278/.369/.333 in 14 games at Orem. He reached base safely in 13 of those 14 games. In his first seven games, Rosa went 10-for-26, and reached base in 17 of his first 33 plate appearances.
Rosa earned a callup to Low-A in his first season, where he picked up hits in 26 of his 37 games, reaching base in 30. He finished his Burlington time with a .270/.314/.412 slash, with 19 runs scored and 18 RBI, having 15 of his 40 hits go for extra base. He gave left-handed pitchers nightmares, picking up a .371/.410/.486 slash against them.
Rosa's second year at Burlington was a little down, finishing with a .246/.300/.372 slash, having 22 of his 99 games go for multi-hit games. Rosa scored 43 times, bringing 46 runs home with his bat, and hit 23 doubles, three triples, seven home runs, and stole 15 bases.
Rosa earned a callup to High-A following the Huston Street trade, and he shined in High-A, putting up a .348/.390/.464 slash in 28 games. Rosa reached base in 25 of his 28 games, and had 12 of those games go for multiple hits. In his final 18 games, Rosa went 28-for-74 and held a .378/.425/.500, picking up seven RBI, and scoring 11 runs.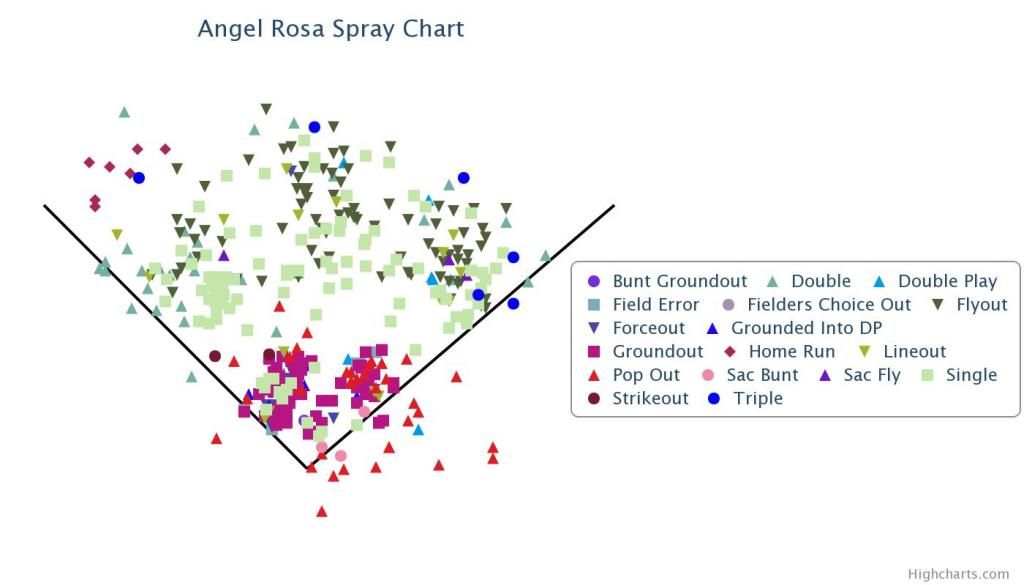 EXPECTED FUTURE:
Rosa should return to High-A for a full season in 2015, where he can face tougher competition, and prove that his late 2014 numbers weren't a fluke, but instead, his true talents.
Rosa's ETA to the Majors is not yet set. However, his talents at shortstop allow him a little more added power due to the lack of depth at the position. If we had to take a wild guess, we would say Rosa could be in the Majors by the 2017 or 2018 season.
For more updates on the Los Angeles Angels, their prospects, and our Top 100 Prospects Countdown, follow us on Twitter, @AngelsOnScout.
Taylor Blake Ward is a Senior Publisher for InsideTheHalos.com, and can be found on Twitter, @TaylorBlakeWard.