Chris O'Grady, Left-Handed Pitcher

HT : 6'4
WT : 220 lb.
DOB : April 17, 1990, Congers, NY
Throws : Left
Bats : Left
School : George Mason University (Fairfax, VA)
Acquired : Drafted in 10th round (327th overall) of 2012 June Draft
Stock : Rising
Cool Notes : Second highest draft pick in George Mason history
Chris O'Grady has a nice advantage over the rest of the prospect class, and that's his natural way of things. He's a lefty, who can adapt to a relief role, or mid relief, or starting role, or he can pick up a bat and do whatever the heck you ask of him. The advantage is only so much of an advantage though with his set talents that come with it.
SCOUTING REPORT:
Finesse is the best word to describe O'Grady. He has outstanding control, which comes with good understanding of himself and a slow approach from the mound.
O'Grady has made some small quirks to his mechanics over the years that have allowed him to pick up a few miles per hour on his fastball, and also maintain and improve upon his already good control.
O'Grady is one of the masters in the organization at keeping the ball low, and has recently found ways to elevate his fastball on two strike counts and get batters to chase. With his command, he has little concern of being drilled when elevating the ball.
O'Grady's best pitch is his cutter, which allows him to be aggressive against right-handed bats and conservative against lefties. This pitch sat mostly anywhere from 84-87 when we saw him, but the gun was broken and we were told he was in the high 80's and low 90's all night.
O'Grady uses a slider as just another offering and something different to hurl at guys at the plate. He has a solid changeup that has become a swing and miss pitch at the higher levels. It isn't anything pretty, but his placement of the pitch lets him excel and keep batters thinking of what's coming.
STATISTICAL BREAKDOWN:
At Clarkstown North High School, O'Grady played only his sophomore and junior season on varsity, spending his senior season on the DL due to a knee injury. As a sophomore though, O'Grady put together 40 strikeouts in 46 innings, while holding a 1.62 ERA, and was named to the First-Team All-Conference Team both his sophomore and junior year.
After making just one appearances his freshman year (0.2 IP, 1 H, 2 BB, 2 ER), O'Grady came out large in his sophomore season, with a 3-1 record and 4.06 ERA, while holding bats to a .264 average. O'Grady picked up his first college win against Georgetown where he went scorelss for six innings, allowing just four hits. O'Grady held right-handed bats to a .239 average. He was named to the all CAA All-Rookie Team.
In his junior season, O'Grady posted a 5.40 ERA with a 3-3 record. He lead the team in strikeouts at 58 in 53.1 innings pitched, and also lead the team in strikeouts per nine at 9.79, all while walking just 27 over the season. O'Grady picked up his first career save in the final game of the season, where he went four innings of two hits, no walk, no run baseball.
In O'Grady's final season and final 37 innings of college baseball, he thrived, posting a 1.22 ERA with 14 saves and a 2-0 record, while striking out 51 and walking just 20, the same amount of hits he allowed. O'Grady's 14 saves tied a single-season school record, and broke school records in opposing batting average (.163), and fewest runs allowed in a season (6), with the second best ERA in school history. For GMU, O'Grady sits third all-time in saves at 15, 20th in appearances at 52, and 11th in strikeouts at 156. O'Grady has nine of his appearances go hitless, which helped earn him First-Team All-CCA honors, a finalist in the NCBWA Dick Howser Trophy and Stopper of the Year, and a NCBWA Third-Team All-American, First-Team ABCA/Rawlings All-East Region Player and First-Team VaSID All-State honoree.
O'Grady had a little bit of culture shock in his first taste of pro ball right out of the draft, posting a 5.87 ERA and 1.826 WHIP. However, with runners on with two outs, bats were limited to a .125/.125/.250 slash.
In his second year of pro ball, after a quick three game stint in Rookie Ball, O'Grady leaped into Low-A and was terrific. O'Grady finished 2013 with a 2.17 ERA, 1.029 WHIP, and .230 against average. 10 of O'Grady's 15 relief appearances went scoreless, including seven of those going without a base runner.
O'Grady started in his final five games of the season and held a 1.29 ERA, 1.035 WHIP, and .233/.275/.320 slash. O'Grady held left-handed bats to a .182/.190/.182 slash, and held bats to going just 5-for-27 with runners in scoring position.
O'Grady continued to excel in High-A this past season with a 3.33 ERA, 1.207 WHIP, 1.828 BB/9, 8.713 K/9, and allowing just five home runs in 83.2 innings pitched in the hitter friendly Cal League. 31 of his 45 appearances went scoreless, including 20 of those being multiple innings of work.
In the eighth inning of games, where O'Grady pitched the most, he held a 0.82 ERA, allowing two runs in 22 innings of work, and striking out 24, while walking only three.
O'Grady earned a spot on the Arizona Fall League roster this past fall, and pitched in eight games, allowing two runs in his final outing, to hold a 1.42 ERA. O'Grady allowed just five hits in 12.2 innings pitched.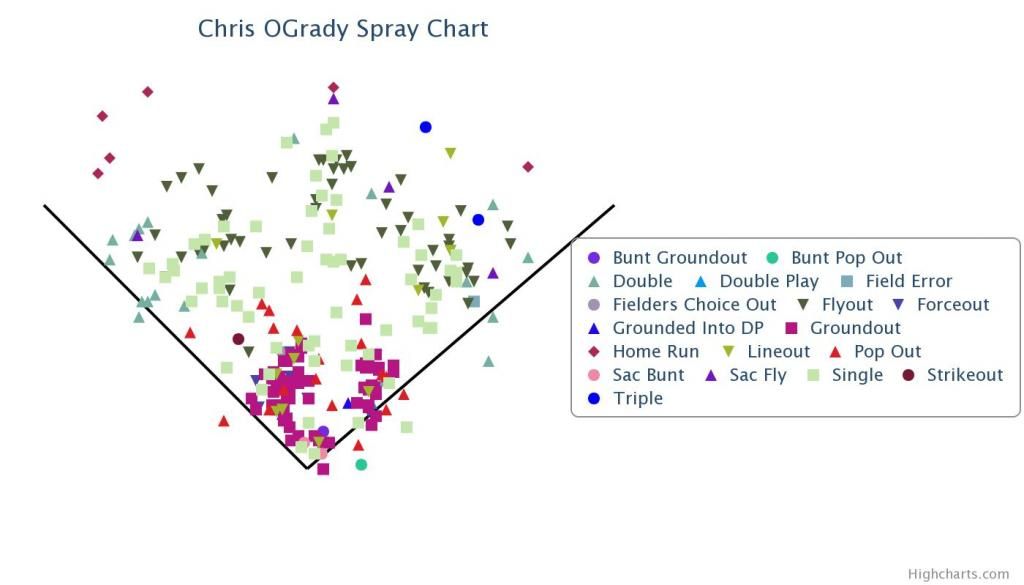 EXPECTED FUTURE:
O'Grady definitely showed his versatility and abilities to compete at the High-A level in 2014, which means he should go to Double-A in 2015, and deservedly so.
O'Grady is nearing a Major League career. It obviously helps with him being a lefty and a pitcher, but the talents are there as well. It is likely that he'll hit the Majors sometime between 2016 and 2017, but there is a shot he makes the sudden jump this next season like many before him this past season.
For more updates on the Los Angeles Angels, their prospects, and our Top 100 Prospects Countdown, follow us on Twitter, @AngelsOnScout.
Taylor Blake Ward is a Senior Publisher for InsideTheHalos.com, and can be found on Twitter, @TaylorBlakeWard.