Zach Wright, Catcher

HT : 6'1
WT : 205 lb.
DOB : January 10, 1990, Goldsboro, NC
Throws : Right
Bats : Right
School : East Carolina University (Greenville, NC)
Acquired : Drafted in 12th round (387th overall) of 2012 June Draft
Stock : Neutral
Cool Notes : Listens to 90's country music
Zach Wright has caught 426 games since 2009, and his experience is evident, as he's become one of the most outstanding defensive catchers in not only the Angels farm system, but throughout the minor leagues. We compared Wright to a car last season, saying he was reliable, could get you from A to B, but didn't need to be anything fancy. Well, this year, we're going to compare Wright to a Mercedes. Class is the best way to describe Wright on and off the field, and that on field class is starting to show and take him to new levels.
SCOUTING REPORT:
Wright may have the best defensive skillset in the Angels farm system in every aspect. He blocks the plate well, and is very versatile behind the plate, pitchers have given high marks of praise for his game calling, and he also is equipped with a loaded cannon. His arm is tough to test due to his arm strength, soft hands, and quick mechanics to each base. He's not Yadier Molina, but he definitely has the tools to be a good, every day, defensive catcher in the near future.
Wright has had contact troubles throughout his career, but may have found his nitch this past season. After spending a few seasons a little bit on his front foot, he started staying further back in his swing. This came with strong adjustments and personal corrections, with Wright has shown throughout his career. This should help get rid of his high flyout rate, and make swing and miss rates lower and lower.
Wright has an untapped potential, despite three years of being looked at. His power tool may be the best for any natural catcher in the system. It's not limited to gap to gap power, but also over the fence bang. He has adequate bat speed, which helped by his good frame and stature is the defining tool in his power.
Wright is quick for a catcher, but wouldn't be able to match his teammates in a foot race. He has the ability to nab a couple bases when needed, and is a good, smart, base runner, which allows him to be elusive on the base paths.
Wright has an advanced approach at the plate, and uses his discipline to work counts in his favor. He has the ability to draw walks, and sit on pitches he finds favorable, which allows him to be a threat to reach base any time he comes to the plate.
STATISTICAL BREAKDOWN:
Wright was an eight-letter winner at Charles B. Aycock High School, lettering three times in baseball and football, and twice in wrestling. During his junior season, Wright hit .379 with nine home runs, 37 RBI and a .630 on-base percentage, helping the Falcons to a 3A State Championship. Wright capped off his high school career with a .402 average, four home runs, and 40 RBI.
During his time at Charles B. Aycock, the team went 75-15. He was named a Two-Time Eastern Carolina All-Conference selection, All-State member, and member of the National honor Society, while being an Honor Roll student and honor graduate. Wright was ranked 30th in North Carolina by Impact Baseball in the Top 50 Seniors in NC, and participated in the East vs. West All-Star Game and NC vs. SC Challenge.
In his freshman year at ECU, Wright hit .295 with three home runs, eight RBI, five doubles, a triple, and scored 12 runs. Wright threw out four of 12 base runners and posted a .974 fielding percentage with 12 assists and 99 putouts in 114 chances. Wright hit .304 against right-handed pitchers, and picked up his second career home run off MLB star, and first overall pick, Gerrit Cole. That summer, Wright played for a summer ball club where he hit .202 with six RBI, seven runs scored, and three stolen bases.
Wright hit .265 with six doubles, a triple, 47 RBI, and scored 34 runs in his sophomore season. He lead the team and was seven in the C-USA with 14 home runs. Two of those home runs came in back-to-back games and were grand slams, with a record third coming just three games later, picking up 17 RBI over the span. Wright had 11 mulit-hit games and the same amount of multi-RBI games. He drove in four or more runs five times, and drove in six once. Wright scored twice or more in a game 10 times, and picked up an eight game hitting streak early in the season.
Wright continued his hot stretch of college time with a team leading 13 home runs, 47 runs scored, .518 slugging percentage, 118 total bases, and 34 walks, ranking second with 39 RBI and 15 doubles. Wright had five game winning hits, three of which were home runs, two of those, walkoff home runs. Wright threw out 44.2% of base runners, and had 43 assists, and 465 putouts in 512 chances with a .992 fielding percentage, while turning five double plays and picking off three runners from behind the plate. Wright had 12 multiple hit games, and 10 multiple RBI games. Wright picked up a nine-game hit streak, and had the streak of reaching base after that end at 15. Wright was named to the Second-Team All-Conference USA Team.
In his final season, Wright posted a .294/.383/.422 slash with 12 doubles and five home runs. He also picked up 39 RBI, while scoring 41 runs. Wright had a career best, 10 stolen bases in his senior season at ECU, and was promptly drafted by the Angels in the 12th round that June.
Wright made the leap to Low-A out of the draft and posted a .268/.385/.419 slash with seven doubles, a triple, and six home runs. Five of his six home runs came in his first 11 games where he went 17-for-42 (.405), reaching base in all 11 games. 15 of Wright's 52 were multi-hit games. Wright hit .400/.492/.700 against left-handed pitchers and .310/.474/.517 while leading off innings.
Wright notched a second year in Low-A, where he played in 30 games, putting up a .279/.349/.459 slash, reaching base in 23 of those games. Wright earned a quick callup to High-A, where he posted a .253/.345/.356 slash with 10 doubles, a triple, four home runs, and 25 RBI in 68 games. Wright picked up 15 multi-hit games in High-A and slashed .318/.423/.470 against left-handed pitchers. From the second to fourth innings of games, Wright put up a .349/.460/.457 slash.
Wright struggled this past season in High-A, posting a .243/.331/.379 slash. In his final 18 games, Wright held a .426/.507/.607 slash, with 15 runs scored and 10 RBI. With runners in scoring position, Wright hit .303/.375/.494, and picked up 33 of his 43 RBI.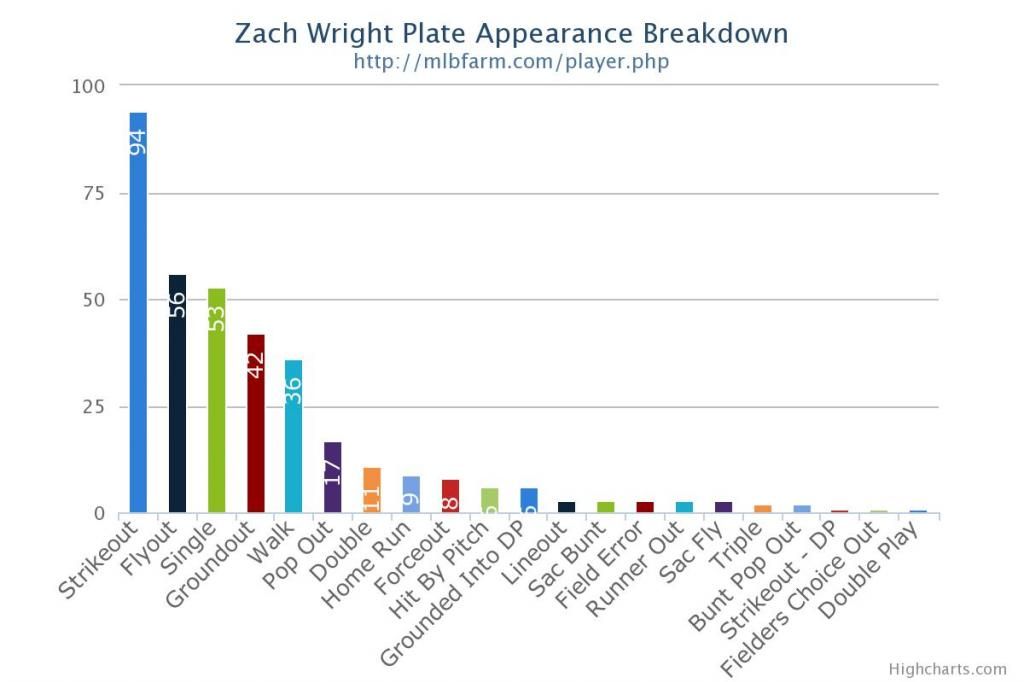 EXPECTED FUTURE:
Wright struggled with his bat this past season in High-A, and a return may be a possibility for 2015. It also doesn't help that the Angels picked up multiple catchers this off-season, that are levels ahead of Wright at the moment. This could be something that holds him back, but with a strong Spring, Wright could march his way into the category of "soon to be backup Major League catcher" talk, and a trip to Double-A.
Wright is nearing the Majors. He's one small step away. Big problem is the new depth at his position. This means Wright has a tough road ahead, but that hasn't stopped him before, and we doubt it will. Wright could be a backup catcher for the Angels by the 2016 season, and could take over a starting role not too long after that.
For more updates on the Los Angeles Angels, their prospects, and our Top 100 Prospects Countdown, follow us on Twitter, @AngelsOnScout.
Taylor Blake Ward is a Senior Publisher for InsideTheHalos.com, and can be found on Twitter, @TaylorBlakeWard.