Eduar Lopez, Right-Handed Pitcher

HT : 6'0
WT : 180 lb.
DOB : February 21, 1995, Galvan, Dominican Republic
Throws : Right
Bats : Right
School : N/A
Acquired : International Free Agent 2012 (Signed for $45,000)
Stock : Rising
Cool Notes : Post hilarious memes (if you speak Spanish)
The Angels have a potential teen stud in the lurks of their system, and it comes in the form of Eduar Lopez. This fire ball, bulldog-esque, pitcher has turned heads for quite some time and caught the attention of our voters early. Eduar Lopez could be the future of the back end of the bullpen, or the future of the back end of the rotation. Either way, you will be stunned by the time you see him.
SCOUTING REPORT:
Lopez has a wipeout off-speed pitch that comes in slightly slurve like in the high 70's. It has a strong late tight break and vertical drop, turning into a strong swing and miss pitch that is mostly effective in two-strike counts. There's been mixed reports of whether this pitch is a true slider or speedy sweeping curve, but it comes from the same arm slot as his fastball which insists that it is a natural slider.
Lopez is equipped with a low 90's cut fastball, that comes with a late, harsh movement. This pitch sits regularly in the 91-94 MPH range, but has tapped 97 at times. Lopez tends to use this pitch early in counts to setup his put away off-speed pitch, but has used it in two-strike counts as a punchout pitch as well.
Lopez is developing a changeup, and saw some promise with it this past season. He used it on flat ground, while warming up, and went to it on occasions during games, but couldn't find a true feel just yet. This pitch could turn into something that allows him to keep batters off-balance with a third pitch that he just adds in with his slider/fastball mix.
Lopez is still growing slightly, but won't add much more height to his stature, but instead some muscle. He's somewhat like a bulldog, with little athleticism, but a lot of toughness, and a compact frame that allows him to stay explosive for a few innings.
Lopez has a harsh arm motion, which is where most of his explosiveness comes from, but it may also cause some damage to his upper arm with time. This also causes some ware in his starts, giving him troubles with repitition of his delivery. With some coaching, and mechanical adjustments, Lopez could create better control, and also stay healthy enough to jump into a long relief or rotation role.
When it comes to command, Lopez is a little sketchy when he gets deep into pitch counts. Mostly with his fastball, but he does lose a touch for his off-speed offer after time on the mound as well, leaving the pitch up on occasions. His control is also a little shaky, having some struggles finding the strike zone, but this should be fixed with experience and more time on the mound.
STATISTICAL BREAKDOWN:
Lopez spent a pair of seasons with the Dominican affiliate, his first being a small preview of what he had to offer. He finished that season with a 3.54 ERA, 1.218 WHIP, and .212 opposing average. In situational manners, Lopez thrived, holding bats to slashes of .160/.263/.240 with lead off bats, .246/.324/.311 with RISP, and .174/.269/.174 with RISP and two outs.
Lopez's second season in the Dominican was terrific, as he held a 6-3 record, 1.88 ERA, 1.106 WHIP, and .132 against average. Seven of his final nine starts went scoreless for at least four and two/third innings, and he finished that streak with a 0.95 ERA, 3.61 H/9, 11.4 K/9, 0.993 WHIP, and .124/.267/.130 slash. Left-handed bats were held to a .023/.288/.023 slash in 43 at bats against Lopez.
Lopez spent this past season stateside, where he held a 4.68 ERA and 1.559 WHIP. He did however strike out an average of 11.26 per nine, and held right-handed bats to a .198./.315/.286 slash. Over his final seven starts, Lopez held a 2.89 ERA, 1.285 WHIP, 11.25 K/9, and .212 against average.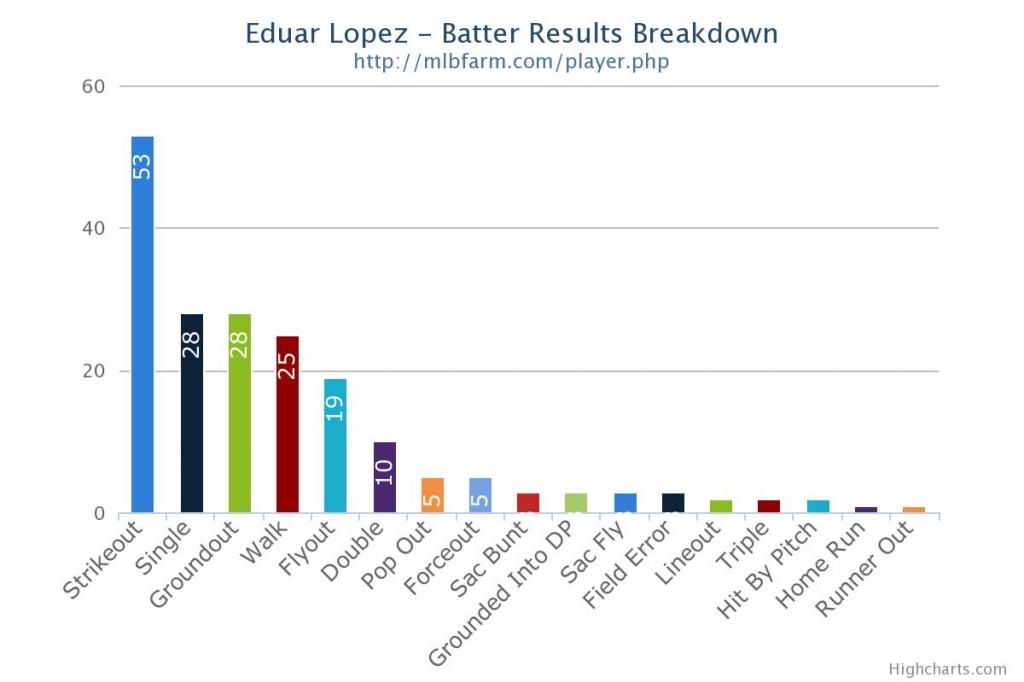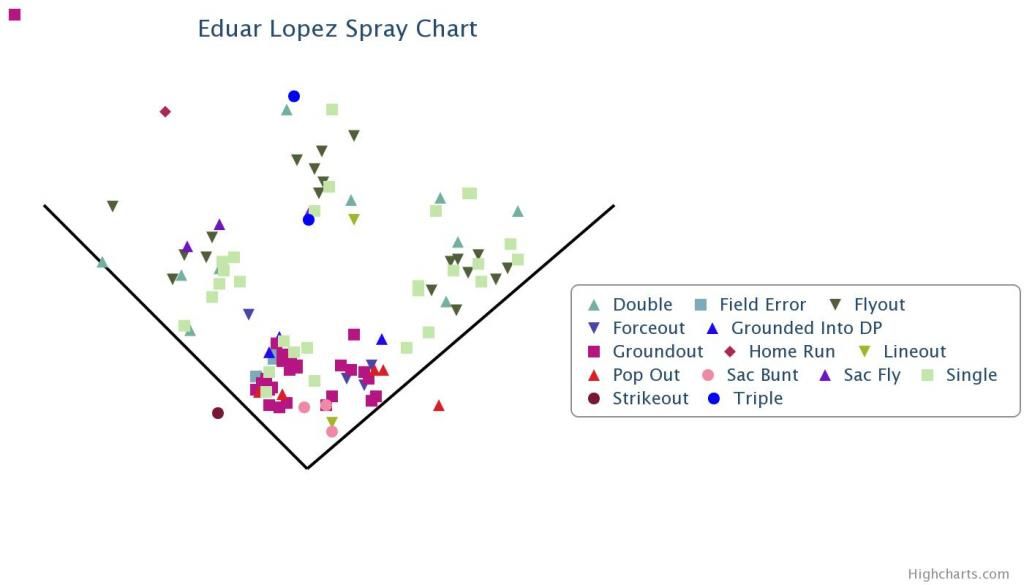 EXPECTED FUTURE:
Lopez is still a teen, and the Angels seem to still be figuring out which role is best suited for the young prospect. Another year in Rookie Ball, and most likely the AZL is best expected for Lopez in 2015.
Lopez is a project in the works for the Angels, and that could either help or hurt his role in the system. If set as a starter, the Angels should take their time with Lopez, but if he's given a late bullpen role, he could be a quick rush through the system. Our ETA differs due to his unique situation. If a starter, Lopez could hit the Majors by 2021, and if a reliever, 2019.
For more updates on the Los Angeles Angels, their prospects, and our Top 100 Prospects Countdown, follow us on Twitter, @AngelsOnScout.
Taylor Blake Ward is a Senior Publisher for InsideTheHalos.com, and can be found on Twitter, @TaylorBlakeWard.