Eduardo Paredes, Right-Handed Pitcher

HT : 6'1
WT : 170 lb.
DOB : March 6, 1995, Valera, Trujillo, Venezuela
Throws : Right
Bats : Right
School : N/A
Acquired : International Free Agent 2012
Stock : Rapidly Rising
Cool Notes : N/A
When a teenager is perfect, and we mean, P-E-R-F-E-C-T, in save opportunities in his young career, with far and above dominant numbers, you need to start taking notice. Eduardo Paredes is a dream prospect, and the Angels have found their hidden gem.
SCOUTING REPORT:
Numbers are only so reliable, and with minimal scouting reports being recorded, Paredes is slightly hard to read.
Paredes comes prepped with a sinker and two-seam combination, that are his dominant pitches. His sinker sits anywhere from 91-95 MPH, and his two-seam can jump into the 97 MPH range. He has elevated his two-seam, allowing batters to chase, and uses his sinker as a strikeout pitch and uses it well to gain groundouts.
Paredes has an off-speed offer that gets a little slurve like, but is registered on most reports as a curveball. It needs some fine tuning, but could become something that allows him to give batters something new and has swing and miss potential.
Paredes throws from a low angle, which causes him to lose some velocity when it gets lower and lower. However, he uses this effectively to hide the ball, and stay deceptive.
Paredes commands his fastball well, and has good control of his pitches. This has helped him stay a threat of maintaining base runners, and keeping them off the bases with weak contact and a low walk rate.
Paredes uses his whole frame well through his mechanics, which could mean with added physical strength, he could pick up velocity and also maintain his command due to his strong mechanics.
STATISTICAL BREAKDOWN:
Paredes was scary good in his debut year in pro ball. Paredes posted a 1.56 ERA, 0.980 WHIP, .206 against average, and went eight for eight in save opportunities. 17 of his 22 games go scoreless, six of those being perfect outings, and never allowed more than two runs per appearance. Paredes allowed one run all season from the fourth to eighth innings of games (21.0 innings pitched)
Paredes lost his perfection in his sophomore season, but didn't struggle too badly. He finished the season, once again, going eight for eight in save opportunities, and posted a 2.82 ERA and 1.388 WHIP. Paredes did walk just four over the season though, in his 22.1 innings of work.
Paredes came stateside and made a big leap into Orem, where he finished the season with a 1.33 ERA, 0.786 WHIP, .114 against average, and another perfect, seven for seven in save opportunities. Paredes had 17 of his 19 outings go scoreless, and 10 go perfect, including six of his last eight. Right-handed bats put together a miserable slash of .073/.208/.098 against Paredes.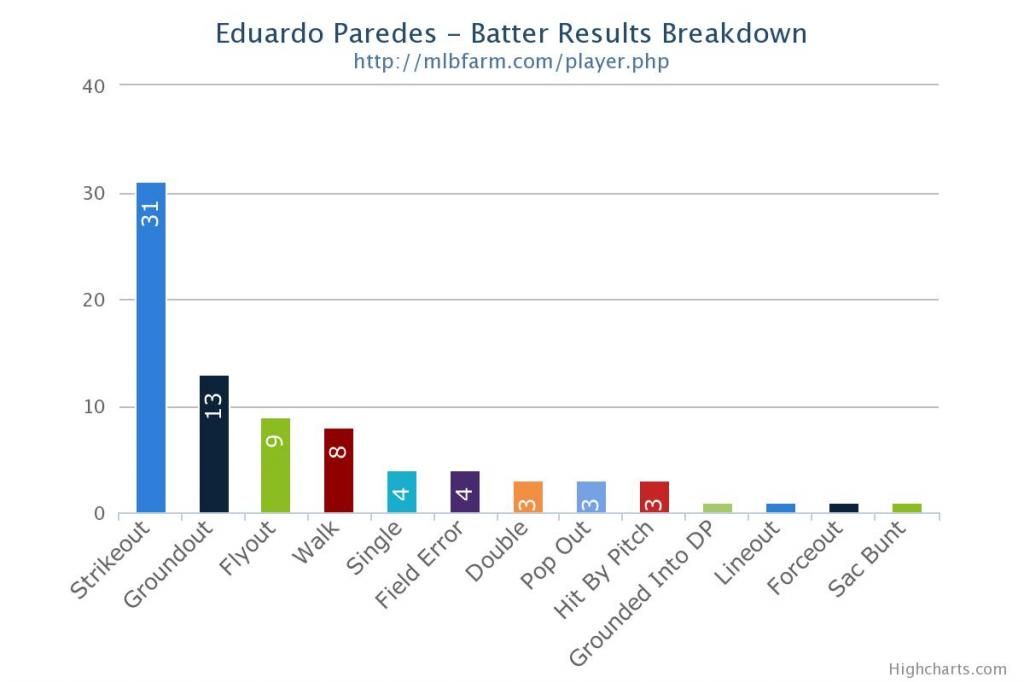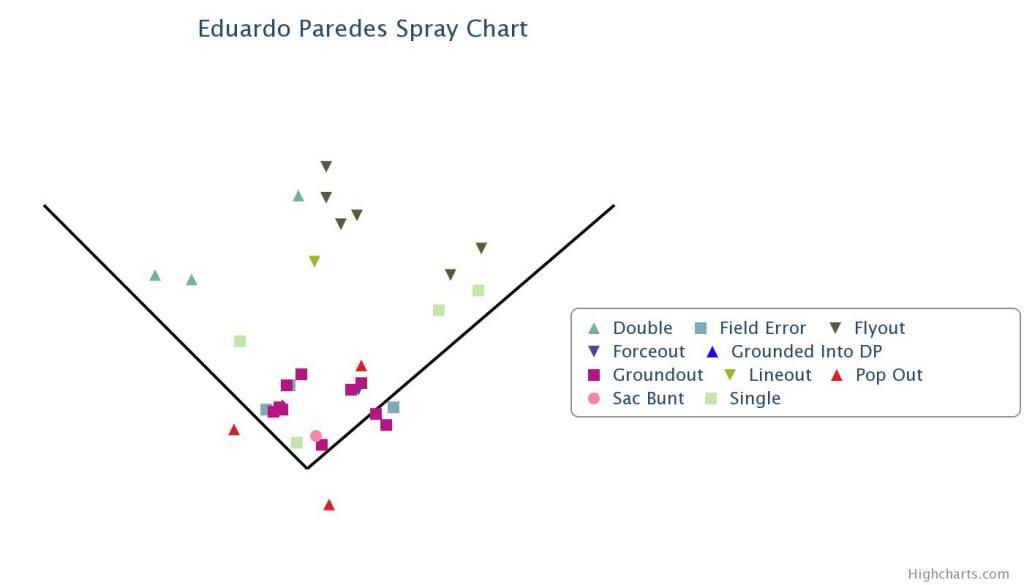 EXPECTED FUTURE:
Paredes is ready to make the leap to Single-A, and should in the 2015 season. His numbers may take a hit against more experienced and better talent in the higher levels, but as of right now, there has not been a more dominant reliever in the Angels system at the Rookie Ball levels.
Paredes is on pace to hit the Majors by the 2018 season, when he'll be 23 years young. The next two seasons will be the big ones for Paredes, who will have to show he can match the higher talent, but if he does, a setup/closer role may be the calling card for this young gem.
For more updates on the Los Angeles Angels, their prospects, and our Top 100 Prospects Countdown, follow us on Twitter, @AngelsOnScout.
Taylor Blake Ward is a Senior Publisher for InsideTheHalos.com, and can be found on Twitter, @TaylorBlakeWard.