Keynan Middleton, Right-Handed Pitcher

HT : 6'2
WT : 185 lb.
DOB : September 12, 1993, Milwaukie, OR
Throws : Right
Bats : Right
School : Lane Community College (Eugene, OR)
Acquired : Drafted in 3rd round (95th overall) of 2013 June Draft
Stock : Neutral
Cool Notes : Used to have the best Twitter handle from any prospect, now is no longer on Social Media
There's a term tossed around on occasions, called "raw." Keynan Middleton fits into that word, "raw," as he has some tools that could turn him into one of the more elite prospects in the Angels farm system. Coming from basketball, Middleton is relatively new to baseball and he has some fine tuning to do. But, once that occurs, boy oh boy, here's a kid who will turn heads left and right.
SCOUTING REPORT:
Middleton knows where he is in his career. Being relatively new to baseball and particularly, professional baseball, he has a lot to take in from coaches. However, coaches and organizational members have given high praise to Middleton for his work effort, and ability to take in everything he's learned so far and put them in game scenarios.
Middleton comes with a pair of fastball offerings, a standard four-seam, and two-seam. He uses these pitches primarily to setup his off-speed offerings. His fastball tends to have a motion that flattens at times, particularly late in his work. He has better command of these pitches than any other. Both have good run and sinking movement, and sit anywhere from 90-95 MPH on the gun. Rumor has it, he tapped into the 97 MPH range in the middle of last season.
Middleton has a trio of off-speed pitches, including a slider, curveball, and changeup. His curveball and changeup are developing slowly, with his changeup being the stronger of the pair. It has good arm side run, but needs better command to become a complete pitch. His curve has 12-6 motion, but has tendencies of a poor break.
Middleton's slider is his best off-speed offer, with a late dropping motion to it. He uses this well in two-strike counts, but needs to find ways to command it better, and is has tendencies of landing high in the zone, and is an easy pitch to tee off on.
Before we butcher Middleton more, you have to remember that he is new to pitching, and his inexperience will show at this point in his career. A perk to this though, is how much potential Middleton has, and how little ware his arm has taken. The low mileage on Middleton's arm could be a turning point in keeping him healthy, as well, as his natural athleticism. Experience should improve every aspect of his game, but primarily, his command and control, which will give him the ability to throw strikes and pound the zone with all his offerings.
Middleton has simple mechanics, but he needs to learn to repeat these mechanics. He tends to drop his arm slot from three-quarter to two-thirds on his off-speed pitches. Another flaw, is inconsistent landing points where he's forced to throw the ball across his body. He has good arm movement though, with a little bit of a whipping motion that allows him to maintain his velocity throughout games. If one large thing can be noted, it's that Middleton hides the ball well, and possibly better than any other prospect in his age range.
STATISTICAL BREAKDOWN:
Middleton spent time at both Rookie Ball affiliates in his first pro year after being drafted. He began in Orem, where he posted a 8.10 ERA and 1.885 WHIP. He has a pair of decent outings near the end of his time with Orem, where he had back-to-back five inning outings, where he allowed a combined five runs on seven hits and five walks.
In his time with the AZL affiliate, Middleton pitched in just four games, three of which were scoreless outings, allowing just one hit and one walk in those three outings. He held right-handed bats to going just 1-for-13, with one walk.
Middleton had great signs of promise in his second year of professional ball, but found three of his 14 starts with seven or more earned runs which spiked his ERA to 6.45 by the end. Without those three starts, Middleton could have finished the year with a 4.14 ERA and 1.251 WHIP. Middleton did not walk a batter in his final three starts (15 innings pitched).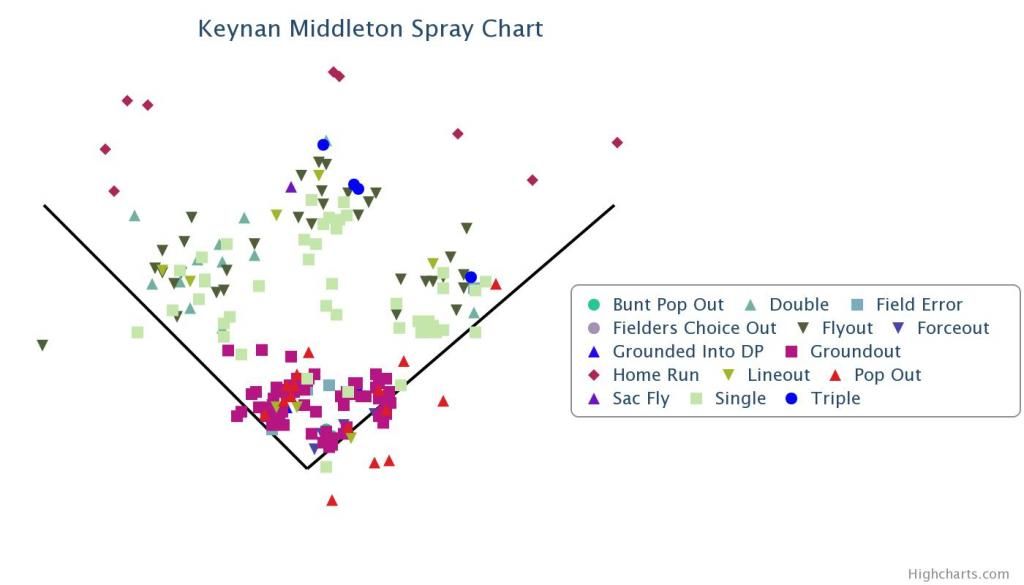 EXPECTED FUTURE:
Middleton is so new to pitching, and still needs a load of work. A return to Rookie Ball may happen in 2015, but don't hold off the chance he has a strong Spring, and ends up landing in Single-A next season.
With all the tools being put together with Middleton, an ETA is rough to estimate at this time when it comes to the Major Leagues. With all that, our best guess at soonest arrival is 2019 and latest arrival at 2021. A big stepping stone for Middleton is developing his changeup. This should be the determining factor on whether he'll stay in the rotation or jump into the bullpen for a lengthened role as a middle reliever.
For more updates on the Los Angeles Angels, their prospects, and our Top 100 Prospects Countdown, follow us on Twitter, @AngelsOnScout.
Taylor Blake Ward is a Senior Publisher for InsideTheHalos.com, and can be found on Twitter, @TaylorBlakeWard.