Mike Fish, Outfielder


HT : 6'1
WT : 190 lb.
DOB : January 3, 1991, Albany, NY
Throws : Right
Bats : Right
School : Siena College (Loudonville, NY)
Acquired : Drafted in 32nd round (967th overall) of 2013 June Draft
Stock : Rising
Cool Notes : Favorite number is 7 / Green Bay Packers fan / Favorite movie is "Role Models" / Favorite color is red
Yes, another fish themed last name in the Angels organization. Yes, his first name is Mike. Okay, that joke is over. Mike Fish is a good prospect in the Angels farm system, and seems to be getting better. He isn't the other fish themed outfielder, Mike Trout, but he has potential to be a future starter in the Angels outfield, and it may be sooner than later due to his adaptiveness at every new level.
SCOUTING REPORT:
Fish has a natural power swing beginning with strong body movement. He loads well on his front foot, pivots his hips quickly, and creates a cutting movement in his swing, allowing him adequate bat speed and body movement that builds his power. He doesn't have swing and miss problems like most power hitters, and drives the ball with a lively swing plane, allowing good contact. He drives his arms, which tends pull the ball more than place it from field to field, but he's shown signs of spray chart painting in his short minor league career.
Fish is aggressive at the plate, which means he won't draw many walks. However, he has no problem connecting on fastballs or off-speed pitches. Fish uses good decision making at the plate as his own version of discipline, reading pitches early, trying to connect on the strikes. This could become a small problem as he faces tougher pitching, but it should be something he adapts to well.
Fish's defensive skills are good enough to keep him in the field, and particularly, in center field. He has a great arm for a minor leaguer, and can compete well against some Major League arms. He has good range, which could keep him in center field. This comes partially from natural athleticism, but also, above average speed, where he makes up space in the field with his speed.
One thing Fish said was his best advice in college was, "do less." Fish definitely isn't lazy, but doesn't show that he needs to do excess things in the game to be as good as he is. This is something that gives him a strong advantage, and it has a name : mental side of the game. Fish has a strong mindset and love for baseball, which allows him to be competitive, love for winning, and create his own opportunities without overdoing anything.
STATISTICAL BREAKDOWN:
Fish was a three sport athlete in high school, playing baseball, basketball, and football. He was a First-Team All-Conference honoree for three straight years and Times Union All-Star twice at Bethlehem High School.
In his first year at Siena College, Fish hit .318/.357/.411, with four home runs, 33 RBI, and 38 runs scored. Fish began his college career with three-straight multi-hit games, going 7-for-15 in in a weekend series against Stetson. Fish finished his freshman campaign with a 12-game hit-streak, and hit safely in 18 of his final 19 games of the year. He stole 20 bases, and four in one game.
Fish hit a sophomore slump, batting .273/.300/.358, with three home runs, 21 RBI, and 22 runs scored in his second collegiate year. He stole seven bases, including one in five games straight at one point. Fish picked up a ten-game hit-streak at the beginning of the season, and that including a two home run game over the span. Fish had six three-hit games his sophomore year.
Fish got injured for a second time in his career during his junior season, but finished with a .305/.354/.448 slash in 31 games. This included three home runs, six doubles and 11 RBI. Fish had nine multi-hit games in his junior season.
Fish played a full season his senior year, finishing the season with a .364/.415/.602 slash in 57 games. He also collected 17 doubles, a triple, and 12 home runs, helping give him 51 RBI by the end of the year. Fish scored 55 runs over the year and stole 14 bases in 16 attempts.
Fish jumped into pro ball, and was a complete stud in his first year or being a professional. In his first 20 games, spent at the AZL affiliate, Fish hit .409/.451/.712, with 10 doubles, two triples, and two home runs. He hit in 17 of those 20 games, and had over half go for multiple hits. Fish took a promotion to Orem, and didn't fall off too much, batting .337/.404/.673 with eight doubles, two triples, and seven home runs in 26 games. He reached base in 23 of those games, scoring 27 games and picking up 33 RBI along the way.
Fish had a tougher test in Single-A, posting a .252/.306/.402 slash in his first full season of professional baseball. He picked up 25 doubles, six triples, nine home runs, 51 runs scored, and 57 RBI in 110 games. Fish lead off innings with a .312/.361/.481 slash with two lead off dingers and eight extra base hits in 77 at bats.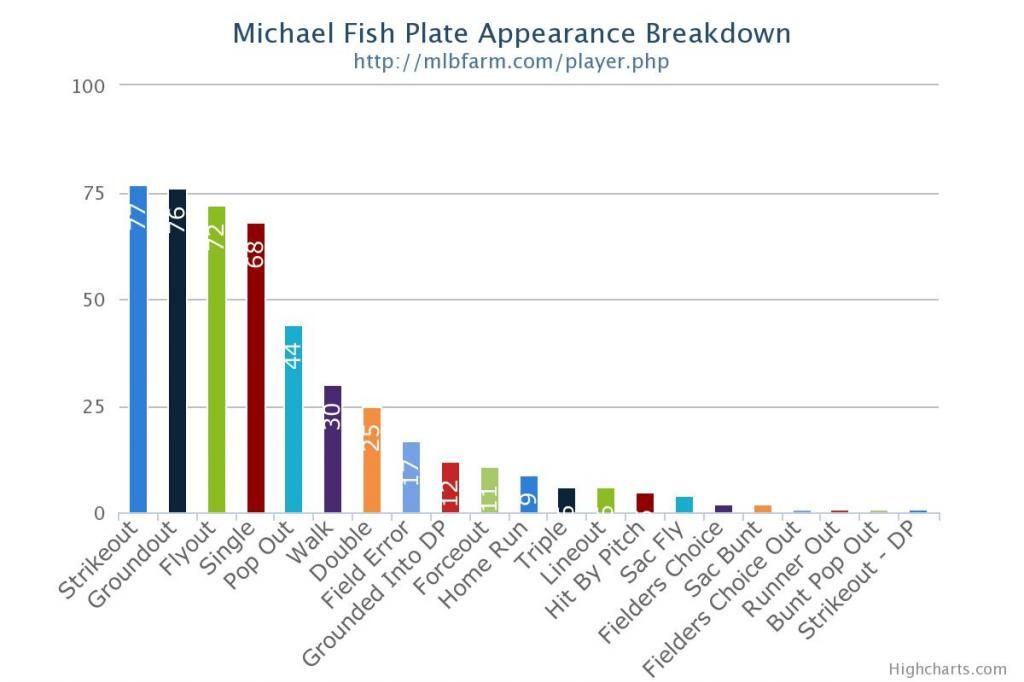 EXPECTED FUTURE:
Fish did just fine in Low-A, and should make the leap to High-A and Inland Empire next season. He could have some high offensive boost in the hitter friendly Cal League.
Fish is on a good pace, but is well seasoned for the leagues he's played in. If he does a good job against tougher competition in High-A next season, he should be on pace for his Major League ETA of late 2017 to early 2018.
For more updates on the Los Angeles Angels, their prospects, and our Top 100 Prospects Countdown, follow us on Twitter, @AngelsOnScout.
Taylor Blake Ward is a Senior Publisher for InsideTheHalos.com, and can be found on Twitter, @TaylorBlakeWard.