Harrison Cooney, Right-Handed Pitcher

HT : 6'2
WT : 175 lb.
DOB : March 23, 1992, Cincinnati, OH
Throws : Right
Bats : Right
School : Florida Gulf Coast University (Fort Myers, FL)
Acquired : Drafted in 6th round (187th overall) of 2013 June Draft
Stock : Rising
Last season, Harrison Cooney put up numbers you tend to only see in video games. One of the best statistical pitchers is not just what the numbers show, but is a good pitcher hidden in the lurks of the Angels farm system.
SCOUTING REPORT:
Cooney has a good three-pitch arsenal, and mixes his pitches well. He tends to start things off and set-up his off-speed offerings with his fastball. This pitch has steady arm-side run and sits primarily from 92-94 MPH. However, it can tap into the mid 90's, and touch as high at 97 at it's best.
Cooney's slider is his serious threat. It has a hard breaking movement throughout the entire hang time, and late drop, making it hard to read immediately. This pitch sits in the low 80's.
Cooney's changeup is well developed and advanced for where he is in his professional career. It has good arm side run like his fastball, and is more than just a "something different" pitch. He uses this to setup his slider, and it has put away potential as well.
Cooney has smooth mechanics, beginning with a quick leg kick, and even quicker hip pivot. He maintains a steady arm slot at three-quarters, and strong follow through. He sometimes over throws his fastball, and falls off the mound, taking away his balance and command, but it has been something he's improved on steadily.
Cooney has had trouble with control. He seems to have good knowledge of where the strike zone is, but has trouble finding it once the pitch is released. This may be a release point problem, since he is mechanically sound. However, Cooney was given high praise for his ability to pitch inside to both left and right-handed batters.
STATISTICAL BREAKDOWN:
Cooney struggled in his first year of pro ball. As a reliever, Cooney put together a 5.10 ERA and 1.300 WHIP, while picking up two saves in four opportunities. In save opportunities, Cooney allowed 10 runs in eight innings of work on 13 hits and three walks, while allowing batters to a .361 average. Outside of save opportunities, Cooney had a 2.86 ERA, 1.045 WHIP, .187 against average, and allowed just 6.13 hits per nine when not in save opportunities.
Cooney was turned from reliever to starter this past season, and he thrived, posting a 9-8 record with a 2.65 ERA and 1.232 WHIP, while holding bats to a .227/.313/.315 slash. Cooney had 16 of his 22 starts go with two earned runs of less over five innings or more. Right-handed bats were held to a .205/.308/.266 slash against Cooney in 259 at bats. From April to July, Cooney held a 8-5 record, 2.19 ERA, 1.139 WHIP, and .216 against average.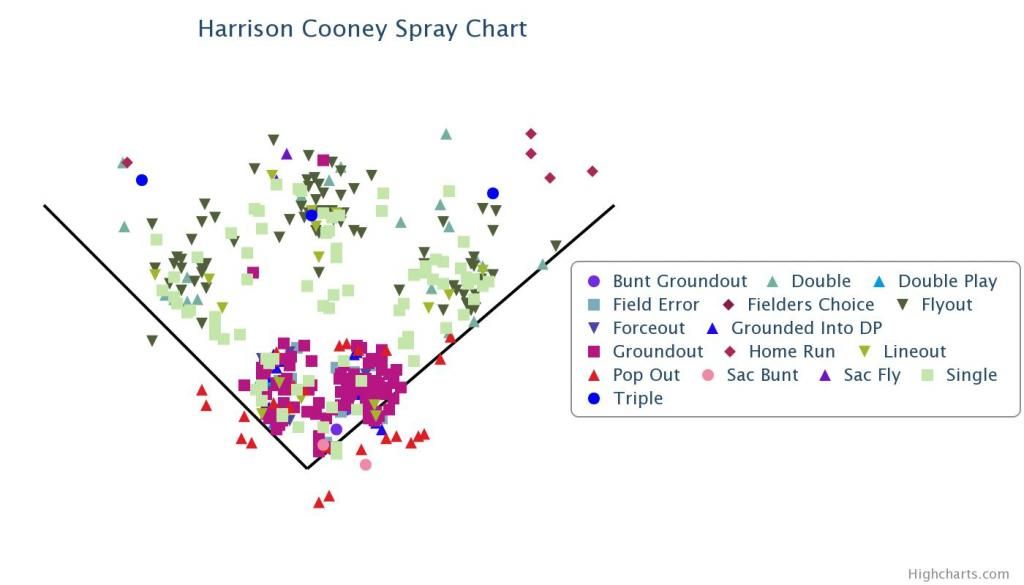 EXPECTED FUTURE:
Cooney could not have been much better in 2014 in Low-A. With that said, 2015 should be spent in High-A against tougher competition. He has age and time on his side, which is a large advantage to his time line to the majors.
It seems that Cooney's future currently sits in the rotation. He's learned to take away his aggressive approach on the mound, and become more agile and learn the ropes of facing the same player multiple times. If Cooney stays at the rate he's at, he could see Major League time by the 2017 season, and could be a full time starter by 2018.
For more updates on the Los Angeles Angels, their prospects, and our Top 100 Prospects Countdown, follow us on Twitter, @AngelsOnScout.
Taylor Blake Ward is a Senior Publisher for InsideTheHalos.com, and can be found on Twitter, @TaylorBlakeWard.