Crusito Mieses, Right-Handed Pitcher

HT : 6'5
WT : 190 lb.
DOB : April 18, 1996, Santo Domingo, Dominican Republic
Throws : Right
Bats : Right
School : N/A
Acquired : International Free Agent 2013
Stock : Rising
Cool Notes : Calgary Flames fan
By far the Nirvana of the Dominican Summer League team this past year, Crusito Mieses comes in as one of the best international prospects in the Angels farm system. This young pitcher should be running through the minors with ease due to his ability to create outs and limit bats entirely.
SCOUTING REPORT:
The biggest upside to Mieses' game is his projectability. He's a big body at a young age (18), and has room to grow. At six-foot-five and 190 pounds, he's beginning to finish his filling out stage, and is beginning to show signs of full physical maturity.
Mieses' fastball picked up some velocity at the tail end of this past season, tapping into the 93-94 range. It primarily sits in the high 80's to low 90's, averaging anywhere from 88-92. It has good sink to it, and could be registered as a sink-fastball as opposed to a running two-seam fastball.
A big advantage to Mieses' game is his ability to throw his changeup. He's developed it well with good arm side run, and has place is just about anywhere he likes. He's used this primarily as a setup pitch, but has used it in nearly every count as well allowing him an advantage to create a mismatch at the plate.
Mieses' other off-speed offering is his curveball which is still in the developing process. It's had signs of greatness and signs of weakness. It comes in at a 12-6 break, which has become slightly rare in the game these days.
Mieses has had control issues, which should improve with time on the mound. He's relatively new to pitching, and is trying to find ways to repeat his mechanics and find a consistent arm slot. His release point seems to be where his control problems occur, according to coaches, but this can be "coached out" with more time on the mound.
STATISTICAL BREAKDOWN:
Mieses began his professional career, pitching in just four games. In those games, he allowed three runs on 13 hits and six walks in 12.2 innings pitched, while striking out 10. This included one game where he went five scoreless innings of work, where he allowed three hits and two walks, while striking out four.
Mieses had a stellar past season, where he held a 1.83 ERA, 1.093 WHIP and .207 opposing average. Mieses allowed one run in his final 27 innings of work. Over that span, he held bats to a .112/.228/.150 slash and had four of those five starts go five innings or more of scoreless work, including one start where he didn't allow a base runner over five innings. In 64 at bats, left-handed bats were held to a .172/.243/.234 slash with just three extra base hits.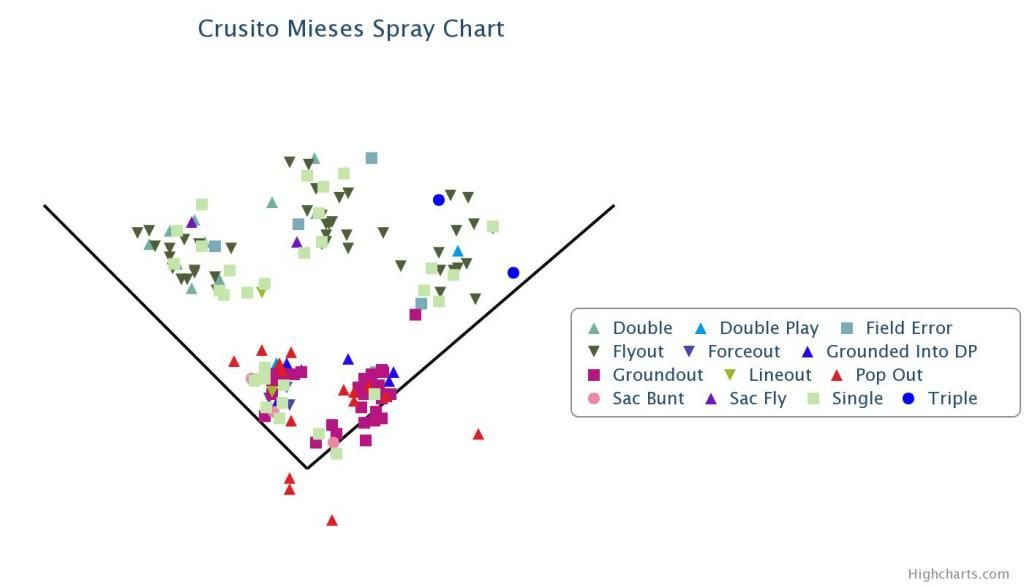 EXPECTED FUTURE:
The Angels have never been known to rush their international prospects, but it seems that at 18-years-old, Mieses is ready to make the leap stateside and see tougher competition. He should begin 2015 with the AZL affiliate.
Mieses is still pretty raw and does not have a set ETA to the Majors. If we had to take a wild guess at an ETA, 2019 or 2020 would make the most sense, and as a starter due to his developed changeup which should get better and better.
For more updates on the Los Angeles Angels, their prospects, and our Top 100 Prospects Countdown, follow us on Twitter, @AngelsOnScout.
Taylor Blake Ward is a Senior Publisher for InsideTheHalos.com, and can be found on Twitter, @TaylorBlakeWard.