Miguel Hermosillo, Outfielder

HT : 5'9
WT : 190 lb.
DOB : January 17, 1995, Mesa, AZ
Throws : Right
Bats : Right
School : Ottawa High School (Ottawa, IL)
Acquired : Drafted in 28th round (847th overall) of 2013 June Draft
Stock : Rising
Cool Notes : Must follow on Twitter / Dallas Cowboys fan
Miguel Hermosillo may be one of the bigger question marks in the Angels farm system due to his potential tools. He has loads of talent, and a skillset that is untapped or as many like to call it, "raw."
SCOUTING REPORT:
It's a given that when someone is as naturally athletic at Hermosillo, we have to put overkill on it. Well, here's the overkill. Hermosillo was a star athlete at Ottawa High School, playing baseball, football, and track, and excelling at all three. You may think his height is a flaw, but it's nowhere near that. He's not short, but he is lower to the ground than most prospects, and this helps him keep steady balance and use his smaller frame to his advantage.
Hermosillo uses his entire frame in his swing, beginning with using his strength in his legs. He follows this with a quick, compact swing. He's learning to use his arms and extend them slightly more, which will add some power and create a more adverse line drive swing. He has some contact problems, but as he progresses and focuses on more baseball related things, should advance his swing to higher levels.
As we mentioned above, baseball is starting to become a priority to Hermosillo. It may seem weird that a professional baseball player needs to focus on baseball, but he's only been solely focused on this sport for about a year. He's had side projects, such as high school football, high school track, high school life in general, and the young adult life in general to focus on.
As Hermosillo plays more, and gets more experience in the field, he should be able to get a more advanced understanding of baseball and how to utilize his already impressive tools. This is not a bash against him in any way, but just something that needs to be noted. Hermosillo understands baseball, and understands it well. He just needs to have more experience to improve on the skills he has.
Hermosillo has been well coached, and also has some great knowledge already of where the strike zone is. His advanced approach at the plate allows him to draw high pitch counts and a high amount of walks. However, he has no problem being aggressive when needed, making him a challenging out at the plate.
In the field, Hermosillo uses his electric speed to make up ground, and arm to allow him to be agile at all three outfield positions. Hermosillo is faster than the average bear (bad analogy), but is not a great base runner just yet. This should come with time playing the game more. However, he is a threat to steal and make up ground on fly balls with ease in the near future.
STATISTICAL BREAKDOWN:
Hermosillo only got a small taste of pro ball after being drafted, playing in 11 games, getting at bats in seven. Hermosillo went 6-for-16 in those seven games with one walk, three strikeouts, and three runs scored. Hermosillo got all of his six hits in his final 10 at bats.
In his first full year of pro ball, Hermosillo thrived as a youngster, posting a .244/.358/.394 slash, with 10 doubles, four triples, and three home runs, while bringing in 23 runs with his bat and scoring 36. Nine of his 54 games went for multiple-hit games, Hermosillo picked up hits in 16 of his first 18 games, scoring 16 runs over the span. Hermosillo shined against left-handed bats, posting a .351/.478/.514 with four extra base hits in 37 at bats, as well as nine walks.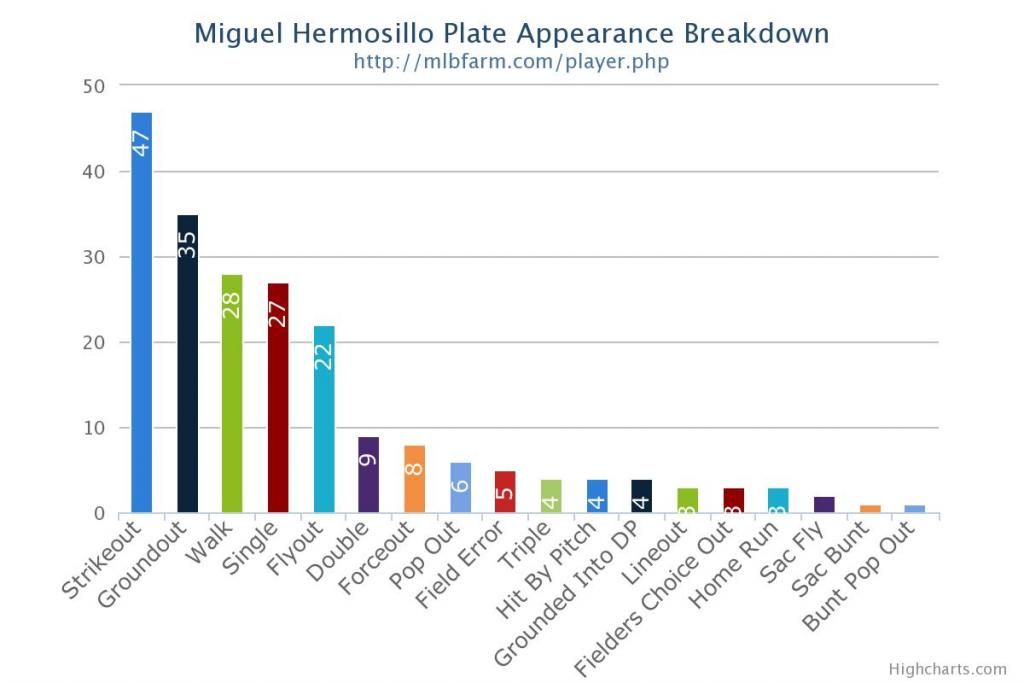 EXPECTED FUTURE:
Hermosillo has spent his professional career in Rookie Ball, and despite what most players like to hear, it seems it will be where he spends next season as well. He's just in his teens, and has tons of time on his side, which could mean experience against pitching and competition he can keep up with and excel at are the best way to give a developing player his chance as a strong future.
Hermosillo does not have a set ETA to the Majors at the moment due to his raw tools, and development range. 2020 seems to be the best bet as to when he could arrive, with steady progression. At worst, Hermosillo projects to be an athletic fourth outfielder, but a starting role is not out of the question for this young talent.
For more updates on the Los Angeles Angels, their prospects, and our Top 100 Prospects Countdown, follow us on Twitter, @AngelsOnScout.
Taylor Blake Ward is a Senior Publisher for InsideTheHalos.com, and can be found on Twitter, @TaylorBlakeWard.