Austin Adams, Right-Handed Pitcher

HT : 6'2
WT : 210 lb.
DOB : May 5, 1991, Tampa, FL
Throws : Right
Bats : Right
School : University of South Florida (Tampa, FL)
Acquired : Drafted in 8th round (267th overall) of 2012 June Draft
Stock : Rising Drastically
Cool Notes : Before everything else, his biggest goal is to win a World Series / Best beard in the Angels farm system
There may not have been a more dominant pitcher in the Angels organization last season, than Austin Adams. After seeing him, we dare you to go to a restaurant, look at the word "sliders" and not think of him automatically. Austin Adams is possibly the best near MLB ready relief prospect the Angels have currently.
SCOUTING REPORT:
Adams has a clean delivery, but has one minor problem, his effort. It's not that he's lazy, it's actually the opposite. There is not a more "max effort" pitcher in the Angels system than Adams. He uses his body well, but can have tendencies of over throwing his pitches.
Despite the max effort, Adams has a sick arsenal, equipped with a four-seam fastball, curveball, slider, and changeup. His fastball sits primarily in the 92-95 MPH range, and has good cutting movement to it, which allows him to attack left-handed bats, and pitch away from right-handed bats.
There is no better pitch in the entire system than Austin Adams' slider. It has the largest break of any pitch we've seen in quite some time. It comes in quick, and has a hard late break, that could have nearly feets worth of movement. This goes for his curve as well, that sits near 10-15 miles per hour slower than his slider as an off-balance pitch.
Adams is developing a changeup, and he shyed away from it most of this last season. Though we rarely saw it, when we did, it was great, keeping batters off-balance. It has a late break to it, which comes from his max effort delivery.
Adams has a problem in the control department, which comes from his max effort. When he over throws, it's tends to break far away from batters, which works at the lower levels, but not as much in the highlight of the minor leagues.
There is no bigger critique about his command and control than Adams himself. Coaches have worked on getting him in with his fastball early, and softening his slider until he hits two-strike counts. With his competitive will and high level of wanting to win, Adams should be as clean cut as it comes.
None of these points bash the projection Adams has. Like we said, there isn't a better arsenal in the Angels system, and maybe not a better slider across minor league baseball than Adams. He comes in as a dark horse slighly, but has so much projection that a closing role in the Majors is not out of the question in any way, and almost something Angels fans can look forward to moving forward.
STATISTICAL BREAKDOWN:
While in high school, Adams was a five-letter winner, with four years of baseball and one in basketball. He held a 1.98 ERA his junior season, helping him be named to the Third-Team All-Conference Team. Perfect Game listed him as the 539th ranked prospect in the country his senior year.
In his first two seasons at USF, Adams made a total of 10 appearances, in 10 innings of work. He allowed a total of eight hits, 15 runs, and struck out 11 in his first two years.
In his final year as a Bull, Adams posted a 1.82 ERA in 19 appearances, striking out 34 in 29.2 innings. Adams allowed just 22 base runners, on 12 hits and 10 walks, which only brought six runs home over the season. Adams went a perfect five-for-five in save attempts, including three in a four game span in the Big East Championship.
Out of the draft, Adams went to Rookie Ball, where he excelled for some time before tiring out at the end of the season. In his first 20 appearances, Adams held a 2.95 ERA, 1.068 WHIP, and .185 against average. However, in his final five appearances, he allowed nine runs on seven hits and four walks in three and two/third innings, skyrocketing his ERA to 5.46 and WHIP to 1.321.
Adams had 19 of his 27 appearances in Low-A go scoreless, and he finished the season holding a 3.98 ERA, .212 against average, and 1.326 WHIP. Right-handed bats were held to a .200/.322/.240 slash against him, and all batters were held to a .184/.326/.237 slash with runners in scoring position.
Adams put together a stellar past season, posting a .141 against average, one of the best in minor league history, as well as tops in the Cal League and in the Angels farm system. Adams did not allow a run in his first 12 appearances (18 innings pitched), and had bats go 6-for-57 (.105) over that span. Where Adams truly shined was against left-handed bats, where batters had a slash of .102/.349/.186 with just two extra base hits in 59 at bats.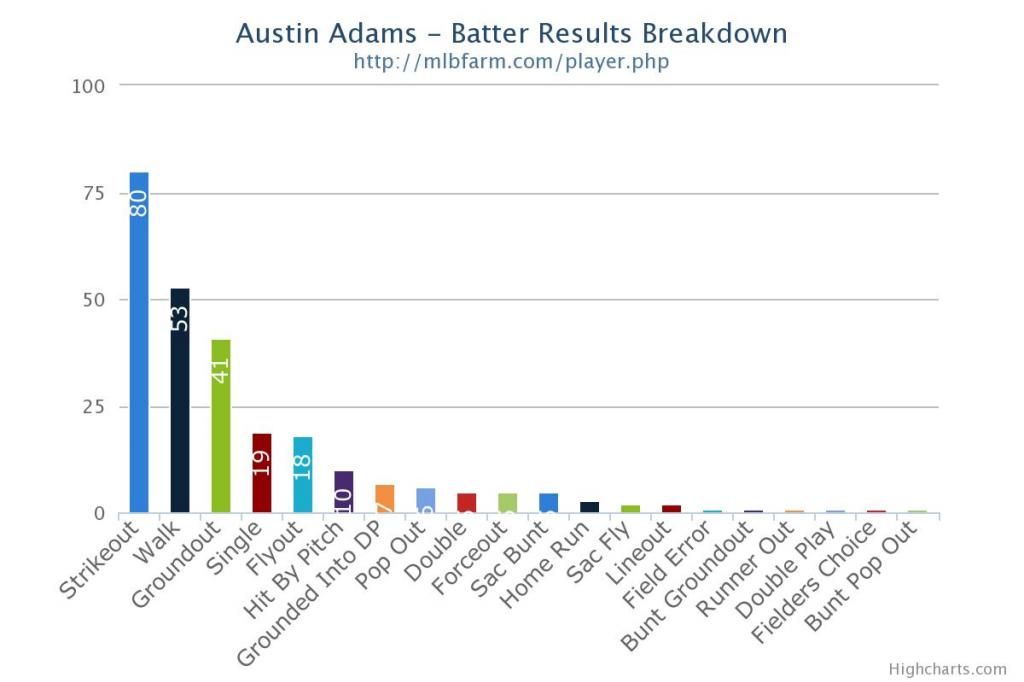 EXPECTED FUTURE:
Adams only got in trouble with his command while in High-A. This means he should make the leap to Double-A out of Spring Training in 2015. The cool part? Angels have been pulling from Double-A the past few seasons, and Adams is our pick to be the guy who jumps to the show promptly from Double-A next year.
That's right, you read everything perfectly. We expect Austin Adams to make the Majors next season. It may be a quick taste for him in the latter part of the season, but there's little doubt from us that next season or the year after, Adams becomes a full-time reliever with the big club. He is far and away our pick for "Prospect To Watch" in 2015, and expect to be more familiar with his name.
For more updates on the Los Angeles Angels, their prospects, and our Top 100 Prospects Countdown, follow us on Twitter, @AngelsOnScout.
Taylor Blake Ward is a Senior Publisher for InsideTheHalos.com, and can be found on Twitter, @TaylorBlakeWard.