Greg Mahle, Left-Handed Pitcher

HT : 6'2
WT : 230 lb.
DOB : April 17, 1993, Westminster, CA
Throws : Left
Bats : Left
School : University of California, Santa Barbara (Santa Barbara, CA)
Acquired : Drafted in 15th round (449th overall) of 2014 June Draft
Stock : Rising
Cool Notes : Brother, Tyler, plays in Cincinnati Reds farm system / Favorite movie is "Bull Durham" / Favorite athletes are Kobe Bryant, Cliff Lee, and Andre Ethier
Breakout seasons occur all the time in the minors, and they're called "breakout" seasons for a reason. When the Angels drafted Greg Mahle in the 15th round of this past draft, many didn't know who he was other than a mid round pick. Now, Greg Mahle is a common name among the top prospects in the Angels farm system.
SCOUTING REPORT:
Mahle is maybe one of the more unique guys in our countdown because in all honesty, we don't know all that much about him. We've been able to take a gander at small sample video and ask a few scouts who've seen him once or twice, but it's not fair for us to give you a fully accurate scouting report on Mahle.
Mahle is equipped with a fastball, slider, changeup, and sinker. His fastball has natural run to it, and sits anywhere from the high 80's to low 90's. He has the off-speed mixing of the slider and changeup, which both seem to be decent pitches but may need a little more development. His sinker is what seems to be his best pitch, with a late break, nearly into the splitter category. It was kind of fun watching the tape on this, having our staff look at each other baffled, trying to figure out if it was a natural sinker or if it was a screwball. Either way, it seems that Mahle has a good arsenal, which we'll know more about with time.
What we did find was great footage of Mahle's mechanics, which are quick and simple. Mahle comes through his windup, using his legs well, and coming through with a quick hip turn and great arm speed, after hiding the ball well, and finishing cleanly. He may need to learn how to repeat his follow through, and mechanics to master the higher levels, but it doesn't seem to be a big problem even at this young point in his professional career.
Mahle does change arm slots with his pitches, and should find consistency with more experience on the mound. However, he has an advantage with his changes, because he throws from anywhere from a low, 4/5 arm slot, to a sidearm, to a nearly submarine. It's kind of fun to watch, and obviously very deceptive at the plate, since it's not exactly a set pitch change arm slot, but something he does with all his pitches.
Like we said in the beginning, this is as accurate as we could get, but do not have full info or a full scouting report on Mahle just yet.
STATISTICAL BREAKDOWN:
At Westminster High School, Mahle was a three-year letter winner, playing in the outfield, first base, and of course, on the mound. At the plate, Mahle hit .350 as a sophomore, .410 as a junior, and .467 as a senior. Mahle combined to go .372 with 73 hits and four home runs at the plate. On the mound, Mahle went a combined 18-7 with a 1.21 ERA and 122 strikeouts, most in the nation his senior season.
Mahle continued his hot hitting skills at the plate his freshman year at UCSB. He had a trio of seven game hit streaks, hitting .347, which was second best on the team and fifth best in the Big West. Mahle had 35 RBI. Mahle had five saves his freshman year, with a 3-4 record and 3.88 ERA. Mahle was named to the Second-Team All-Big West team, as well as Louisville Slugger Freshman All-American honors.
Mahle dropped the bat his senior year, and pitched in 32 games (one start) going 70 total innings. He allowed 21 runs on 66 hits and 22 walks his senior year while striking out 42, for a 2.70 ERA and 1.257 WHIP.
Once drafted, Mahle was sent to Rookie Ball where he thrived. In his five appearances, he allowed just five hits in eight innings, walking three, and striking out 11. Mahle did not allowed a run to come across in his Rookie Ball time and allowed just one hit to a left-handed bat in eight at bats against.
Mahle found challenges (not really) with higher competition, posting a 3.38 ERA, 1.090 WHIP, and .190 against average in Low-A. He had one rough appearance which skyrocketed his statistics, and without it, he would have finished his Low-A season with a 2.63 ERA, 0.914 WHIP, .159 against average, and 11.85 K/9.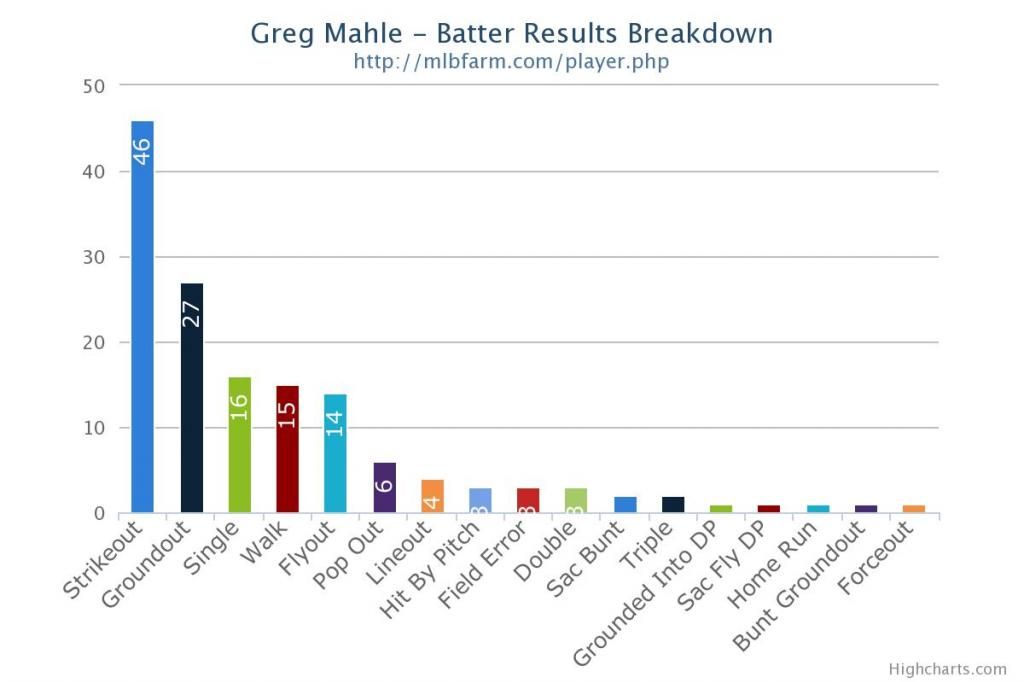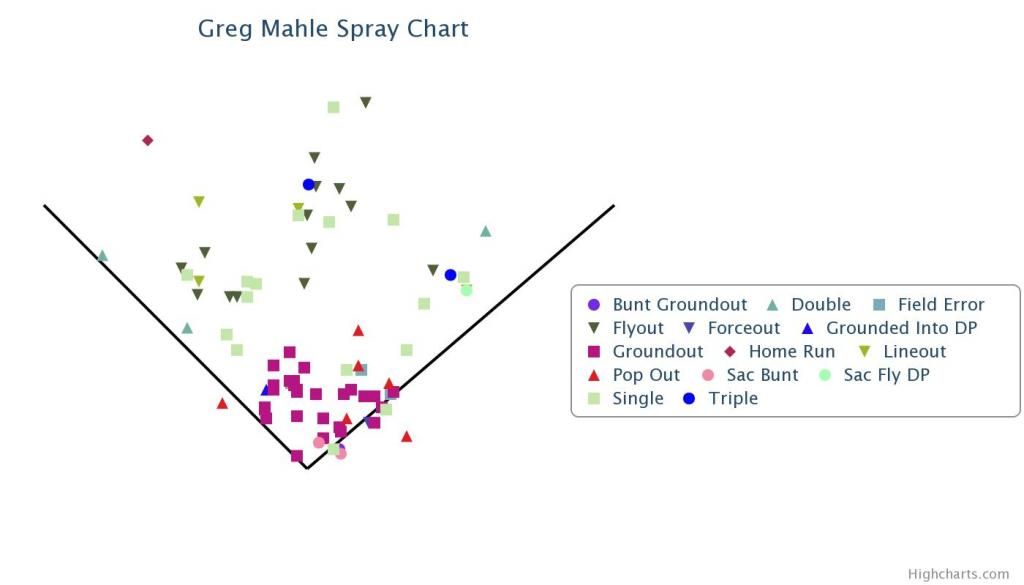 EXPECTED FUTURE:
Mahle has launched his way through the minors in his brief professional career. He landed in High-A Inland Empire for a few playoff appearances this last season, and that should be where he starts in 2015. It may seem like a shock that a guy gets drafted in the 15th round and makes strides the way Mahle does, but he's just that good and in the right spot throwing with his left arm.
The Angels need lefties in the bullpen. It's pretty obvious from the big club perspective and even more obvious when you gander through the minors. Mahle may be able to climb quickly to the top, and should see time in Double-A by the end of next season. His ETA to the Majors, in our opinion, is 2016. May seem quick, but just think on it. Mahle is possibly the closest to the Majors of any prospect right now that hasn't already seen time in Double-A.
For more updates on the Los Angeles Angels, their prospects, and our Top 100 Prospects Countdown, follow us on Twitter, @AngelsOnScout.
Taylor Blake Ward is a Senior Publisher for InsideTheHalos.com, and can be found on Twitter, @TaylorBlakeWard.