Tyler DeLoach, Left-Handed Pitcher

HT : 6'6
WT : 240 lb.
DOB : April 12, 1991, Roanoke Rapids, NC
Throws : Left
Bats : Right
School : University of North Carolina at wimington (Wilmington, NC)
Acquired : Drafted in 26th round (807th overall) of 2012 June Draft
Stock : Rising
Baseball needs lanky lefties. Chris Capuano, Oliver Perez, Randy Johnson... Tyler DeLoach. DeLoach had a breakout year this past season, pitching at some of the highest minor league levels and not just doing well, but dominating!
SCOUTING REPORT:
DeLoach comes with a three pitch arsenal, consisting of a four-seam fastball, slider, and changeup. He mixes all three pitches well in most starts, but primarily stands tall with his fastball and slider.
DeLoach's fastball sits primarily in the high 80's, touching 90 on occasions, but he has tapped into the 91-93 MPH range. He uses this often to attack early in counts, and has been able to elevate his fastball, and use it as a put away pitch. Some have questioned the command of his fastball, and we're trying to figure out why as we've seen him paint the corners well with his fastball.
DeLoach's off-speed offerings come in the form of a slider and changeup. His slider has good break, and really slings into the strike zone. It's effective against left and right-handed bats. His changeup has been a good swing and miss offering and is deceptive due to his nearly identical arm slot as his fastball. It needs a touch of development, as he can leave it out over the plate at times, but has promising signs.
Command was a question mark that came with DeLong due to his high walk count. Most of this comes from living high in the zone at times, and also not fearing throwing inside. Throwing inside is an advantage DeLoach has, as he's good at it, but can sometimes run in a little too close and tag some shoulders and thighs.
DeLoach, like most lefties, has a plus pickoff move, coming off the mound quick. He's become quicker, and sped up his entire pickoff move over the years, and has a plus plus slide step, keeping runners on and in place.
DeLoach uses his tall and solid frame to his advantage. He stands at six-foot-six and 240 pounds, and uses all of this cleanly in his stride. It's very simple, as he throws from the stretch in every scenario, and he comes home clean almost like he's just tossing the ball to the mound. This doesn't mean he's easy to read or simple, but instead, just makes him more deceptive.
Also in the deception department is his baseball IQ on the mound, and his arm slot. DeLoach throws from a low angle, almost to a 3/5 slot, not low enough to say he's a sidearm pitcher. He pitches primarily from the first base side of the rubber, which makes him tough against both lefties and righties.
Here's something to ponder and a little bit of trivia in a way. Can you think of a pitcher who can be used as a starter or reliever? He throws in the high 80's and low 90's mostly with a three pitch mixture. He fits well as a back of the rotation guy due to his command questions. He was also drafted in the middle rounds of the draft, kind of like DeLoach, but maybe a little later draftee? If you thought of Hector Santiago, we did too, and you've passed our test and can be our friend.
STATISTICAL BREAKDOWN:
Coming from UNC-Wilmington, DeLoach took off for Rookie Ball once drafted, and hit some struggles. Though he had seven scoreless outings out of his 12 appearances and never allowed more than two runs to come across, he had a small sample size, and was tagged with a 6.75 ERA and 2.417 WHIP. This came primarily due to his high walk rate, as he walked 16 in 12 innings of work, 11 in his final 7.1 innings.
DeLoach started in 13 games in his sophomore year of professional baseball. In those 13 starts, DeLoach posted a 5-5 record, 3.34 ERA, 1.029 WHIP, and a .201 against average, cutting his walk rate to just 2.8 per nine. In starts four through 10, DeLoach allowed, DeLoach allowed nine runs in 41.1 innings pitched (1.96 ERA), 26 hits and 12 walks (0.919 WHIP) and held bats to a .176/.248/.265 slash. DeLoach held left-handed bats to a .190/.277/.276 slash over 58 at bats against.
DeLoach shined in stint in High-A, leading the California League in nearly every statistic. He held a 10-4 record, 3.21 ERA, 1.214 WHIP and .213 agaisnt average in 21 appearances (19 starts). DeLoach had a trio of outings that brought his numbers up (16 earned runs in 13.2 innings). Without that, DeLoach would have held 2.38 ERA. DeLoach had four starts go seven innings, two of those going scoreless.
DeLoach finished this past season in Double-A, where he had six starts and held a 2.29 ERA and 0.962 WHIP. DeLoach had a pair of seven inning starts, where he allowed two runs in one, and none in the other. He allowed three runs in just one of his starts, but never allowed more than 10 base runners in any of his Double-A starts, and struck out 39 in 35.1 innings of work.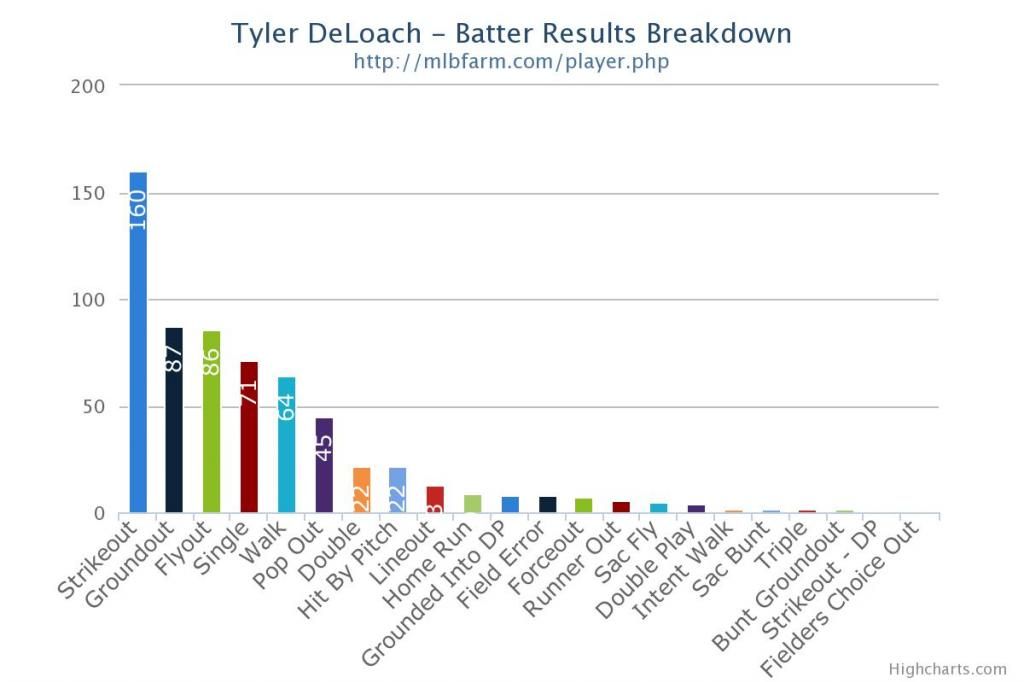 EXPECTED FUTURE:

DeLoach finished the 2014 season in Double-A, and should begin 2015 in Little Rock. DeLoach is in that odd transition period where he made a big leap mid-season, and may do it once again next year, taking a stride forward into Triple-A with proper adjustments and the right work load.

DeLoach has become a starter, and it seems that's where he does best and will stay in the Angels organization. DeLoach could see Major League time next year if he's turned into a reliever, due to him being a lefty and his current load of pitching. However, if a starter, DeLoach may not see Major League time until the 2017 season. DeLoach should fill in as a guy similar to Hector Santiago, but it's never fair to make comparisons to another player.






For more updates on the Los Angeles Angels, their prospects, and our Top 100 Prospects Countdown, follow us on Twitter, @AngelsOnScout.




Taylor Blake Ward is a Senior Publisher for InsideTheHalos.com, and can be found on Twitter, @TaylorBlakeWard.