Jake Jewell, Right-Handed Pitcher

HT : 6'3
WT : 200 lb.
DOB : May 16, 1993, Norman, OK
Throws : Right
Bats : Right
School : Northeast Oklahoma A&M College (Miami, OK)
Acquired : Drafted in 5th round (149th overall) of 2014 June Draft
Stock : Neutral
Cool Notes : Twitter name is "Bob" / Went to the same college as Angels pitching coach, Mike Butcher
Some talented ball players have come from the 149th overall draft slot, not limited to Rich Camp, Michael Young, Deion Sanders, and some talent currently in the Majors named Jeff Samardzija. Jake Jewell looks to be added to that list, and join three others for NE Oklahoma A&M to hit the show, including some guy named Mike Butcher... you may have heard of him. Jewell is not just a guy to be added to a list of names though. He's a real deal talent in the Angels farm system, and has added the much needed depth they've been looking for.
SCOUTING REPORT:
Jewell comes equipped with a strong fastball that sits primarily in the mid 90's. On most days, Jewell will hurl it in anywhere from 93-95 MPH, but can tap into the 96-97 range. It has two-seam movement and runs in to right-handed bats heavily. It isn't registered as a full two-seam, but has late movement that comes in sneakily (if that's a word). Another big key to Jewell's fastball is how and when he elevates it, helping it come in at what seems like a quicker velocity and deceptive eye level.
Jewell has a pair of off-speed offerings, which include a raw changeup and steadily improving slider. Jewell got away with dominating college bats with his fastball, but has learned a bit on his slider, bringing in an even heavier break and hard biting tilt, becoming a good put away pitch. His changeup is good and he throws it for strikes, but it will need some developing.
Where Jewell has an advantage is his repitive mechanics. He's a smart pitcher who knows how to pitch and not just throw. He's good on his front leg, and has great arm speed which not only causes his high velocity and it becomes hard to read out of the hand.
Jewell registers better as a reliever due to his slider becoming dominant, and his heavy fastball. He also is better at attacking bats at the plate, but it does not mean he couldn't become a back end rotation man, or better.
Another side of Jewell's game where he registers in at a high rate is his competitive level. Coaches gave high praise to Jewell's ability to be a winner, and give his all on every appearance. It may seem cliche to hear, but some professionals tend to become lazy once drafted. Jewell was the opposite and wanted to jump into high pressure situations immediately, and find ways to win, which is a high mark that won't show up in a box score.
STATISTICAL BREAKDOWN:
In his senior year at NEO, Jewell posted a 2.61 ERA and 1.129 WHIP, with eight saves. Jewell struck out 34 batters in his 31 innings pitched, and struck out the side four times in his 25 appearances. Jewell was named to All-Region team honors.
Jewell got beat up out of the draft in three starts at Rookie Ball Orem, where he allowed at least three runs in all his starts, including a six run outing over 4.1 innings pitched in his professional debut.
Jewell was sent to the Arizona League, where he thrived, never allowing more than two runs in any of his outings, and going scoreless in six of his nine appearances. Jewell finished his time in Tempe with a 1.48 ERA, 1.154 WHIP, and .213/.295/.277 opposing slash. Left-handed bats struggled against Jewell, as in 50 at bats, lefties were held to a .220/.264/.240 slash.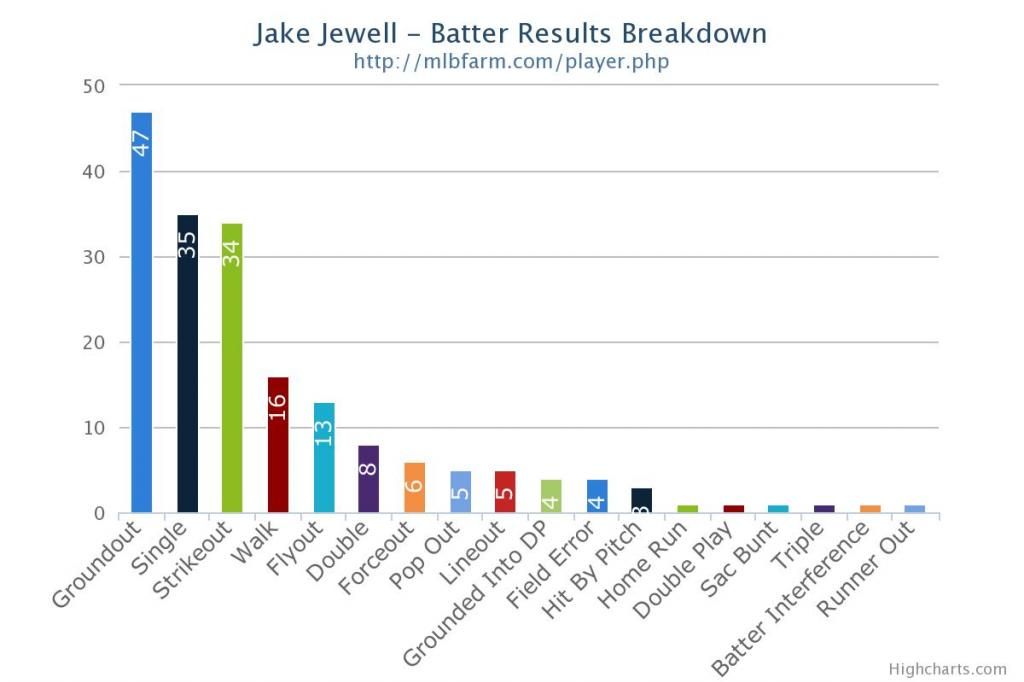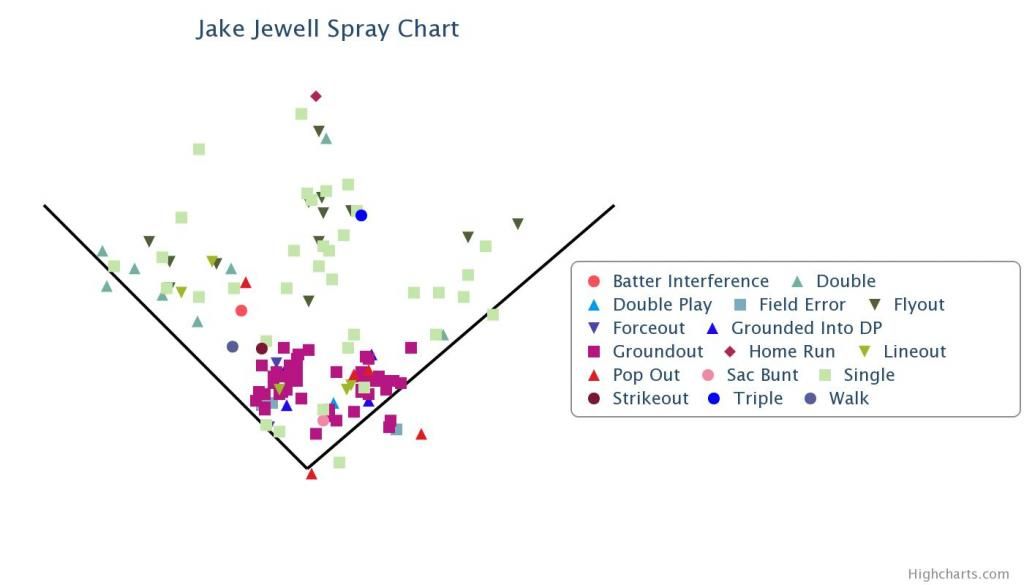 EXPECTED FUTURE:
Jewell struggled in Orem, which may lead some to believe he'll make a trip back. This doesn't hold him back from beginning 2015 in Low-A Burlington however, but it may take a strong Spring Training. Regardless of where he starts, we highly expect him to at least finish the season with Burlington.
Jewell sets up better as a reliever than a starter, but it seems the Angels are testing the waters on both affairs. Jewell was a closer in college, and he fits the part. Competitive, dominating fastball, developing off-speed pitch, it all kind of makes sense. 2019 seems to be the ultimate ETA for Jewell's arrival to the Majors, and in our opinon, it seems he'll be in the back end of the bullpen, as opposed to the back end of the rotation.
For more updates on the Los Angeles Angels, their prospects, and our Top 100 Prospects Countdown, follow us on Twitter, @AngelsOnScout.
Taylor Blake Ward is a Senior Publisher for InsideTheHalos.com, and can be found on Twitter, @TaylorBlakeWard.