Brian Hernandez, Corner Infielder

HT : 6'1
WT : 195 lb.
DOB : November 25, 1988, Sylmar, CA
Throws : Right
Bats : Right
School : University of California, Irvine (Irvine, CA)
Acquired : Drafted in 27th round (825th overall) of 2011 June Draft
Stock : Rising Drastically
Cool Notes : California, born and raised
Underrated is a term that can come off as offensive, but in the case of Brian Hernandez, we have one question. How in the world has no one taken notice of this guy? We're guilty of it, as he missed out Top 40 Countdown last year by a few votes, and we're guilty. Hernandez is the needed depth the Angels have been looking for, and may finally take full notice of him this upcoming season.
SCOUTING REPORT:
Hernandez has some serious experience at the plate, putting up 500 plate appearances in each of the last three seasons, and almost tapping 600 this last year. The more time we see him, the more we understand his experience is taking its place.
Hernandez has a good swing plane, and is mechanically sound at the plate, finding good balance. Hernandez has good pop with a quick swing. He also has gap-to-gap power and when you take a look at the spray charts below, you'll see he really hits to all parts of the field.
Hernandez has good discipline at the plate, seeing a high amount of pitches, and finding ones to his liking to tag. His knowledge of the strike zone is good but not great, and he has minimal swing and miss to his game, which mostly comes from more experienced pitching and high pitch counts.
In the field, Hernandez is more than just sound, he's great. He made the move to first base mostly this past season, but he is one of the better defensive third baseman in the system. He has quick feet and a good arm, which allows him to make the tough plays necessary for a solid third baseman. Big problem is he's near the same pace as other third base prospect, Kaleb Cowart, and isn't seeing much time at the hot corner.
Hernandez's speed is what you'd expect from a corner infielder. He's not slow, but he's not fast. He won't be stealing double digit bases, but he will be able to turn gap hits into doubles with ease, and can turn on the burners for triples when necessary.
At the moment, Hernandez fills out as a key bench player who can play the corners of the infield, but this doesn't hold us back from believing he has starter projection.
STATISTICAL BREAKDOWN:
After being drafted, Hernandez jumped around between Rookie Ball, Low-A, and High-A. In Rookie Ball, Hernandez hit .270/.357/.338 with a pair of RBI and 11 runs scored. In his final 30 plate appearances in Arizona, Hernandez went 9-for-25 with four walks, scoring six runs.
Hernandez had some struggles in Low-A, posting a .227/.255/.361 slash with 17 RBI and seven runs scored in 27 games. He did manage to post slashes of .306/.333/.528 with runners on and .333/.375/.429 with runners in scoring position in his first taste of Single-A ball.
Hernandez split his sophomore season between High-A and Double-A. In High-A with Inland Empire, Hernandez posted a .292/.356/.375 slash with 33 RBI and 29 runs scored in 65 games. Hernandez picked up 21 multi-hit games, and had five come consecutively in late May. During that late May span, Hernandez went a combined 11-for-21, and reached base in the next seven games, where he went 10-for-29, reaching base 15 times over the span.
Double-A was a little more challenging as expected for Hernandez, as he posted a .249/.324/.305 slash with 19 RBI and 19 runs scored in 65 games. Hernandez reached base in 14 of his final 17 games in Double-A, having five of those games for multiple hits. Hernandez did shine against left-handed pitchers in Double-A, posting a .294/.357/.412 slash.
Hernandez posted a .294/.358/.400 slash in his second season in San Bernardino, a full season of 140 games, where he collected 80 RBI and scored 59 runs. Hernandez had 43 multi-hit games. On June 25th, Hernandez began a nine-game hit streak, and when it ended, he began a 15-game hit streak. Hernandez hit in 54 of the 65 games he played in after June 25th and reached base in 59, finishing the season with a 10-game hit streak. Over that final span, Hernandez collected a .337/.404/.454 slash with 38 runs scored, 34 RBI, 18 doubles, and three home runs.
To the dismay of many, Hernandez was sent to High-A at the beginning of last season. In his 19 games, Hernandez hit .190/.226/.316 with a pair of home runs and four doubles.
Hernandez earned a quick jump to Double-A in mid April, and became one of the best bats in the league. He finished the season as one of two guys to bat above .300, as he closed out the year with a .308/.366/.408 slash with 60 RBI, 53 runs scored, 25 doubles, and seven home runs. Hernandez picked up 44 multi-hit games, and ended the season with a 12-game hit streak, ending just prior to the final game of the year. Hernandez went 20-for-38 (.526) over the span, with a .617 on base percentage and .789 slugging percentage.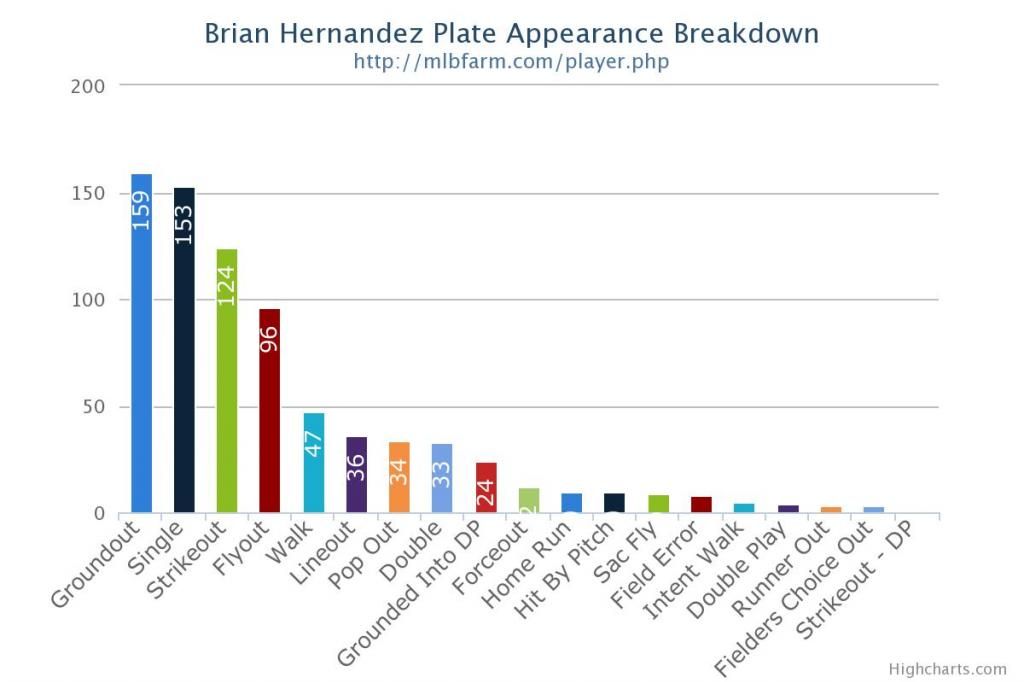 EXPECTED FUTURE:
Hernandez almost finished this past season with a Texas League batting title. It wouldn't make much sense for him to return to Double-A and that makes us firm believers that he'll be in Triple-A out of Spring Training in 2015, where he should spend most of next year.
Hernandez is in a nice, slash, bad spot. The Angels are looking for a future third baseman, but haven't really seemed to tag Hernandez into that slot. David Freese is nearing free agency, and Kaleb Cowart is starting to lose his luster. With that, Hernandez seems to be the more fitting spot with Kyle Kubitza. He could see Major League time next year, though minimal, if the opportunity arises. However, 2016 seems to be the calling card for Hernandez to make his MLB debut.
For more updates on the Los Angeles Angels, their prospects, and our Top 100 Prospects Countdown, follow us on Twitter, @AngelsOnScout.
Taylor Blake Ward is a Senior Publisher for InsideTheHalos.com, and can be found on Twitter, @TaylorBlakeWard.