Sherman Johnson, Infielder

HT : 5'10
WT : 180 lb.
DOB : July 15, 1990, Tampa, FL
Throws : Right
Bats : Left
School : Florida State University (Tallahassee, FL)
Acquired : Drafted in 14th round (447th overall) of 2012 June Draft
Stock : Rising
Cool Notes : Honor Roll student through all four years of high school, member of 3.0 GPA Club at FSU, and ACC Academic Honor Roll member his sophomore and junior years at FSU
Despite being overlooked out of high school, not being offered any scholarships, Sherman Johnson walked on to FSU, and became not only a college talent but also a pro talent after being drafted by the Angels. "Clutch Johnson" should be helping the big club in years soon to come, and is someone all Angels fans need to know about.
SCOUTING REPORT:
Johnson may bring with him some of the most sound tools throughout the system, beginning with his approach at the plate. Johnson has a very balanced approach at the plate, and leans to the disciplined side more, something he's had with him since high school. He has excellent knowledge of the strike zone and is an on base machine when it comes to taking and swinging at the right pitches.
Johnson has calm, casual mechanics at the plate. He begins with a casual, tall, open stance, rocked back on his heels. His swing comes around with some added force, that also comes from a nice load on his front foot, which adds proper power. Johnson uses his mechanical swing as a timing mechanism, which hasn't caused problems against mixed speeds. This comes from Johnson's ability to read the ball out of the hand.
Defensively, Johnson is more than sound. He has great footwork, which he improved upon this past season from day to day practice with Denny Hocking. He also has soft hands, a quick release, a strong arm, and outstanding range, which could mean he sees time at shortstop. However, he fits better at second and third base, where he's spent the majority of the past few seasons, and has prime experience.
Johnson has more than adequate speed, and is a wise base runner. His baseball IQ allows his conservative approach at the plate transfer into a proper, aggressive approach on the base paths. He has 15-20 stolen base potential with a full season.
Something not shown is Johnson's level of competition and will to win and learn. Johnson has been known as not only a leader in the clubhouse, but also someone who doesn't mind taking in knowledge from the players with more experience. This was something that was taken notice of while in college, and hasn't stopped in pro ball.
STATISTICAL BREAKDOWN:
Johnson was a standout at Alonso High School for all four years of attendance, being named an All-County honoree his junior and senior seasons. Johnson was a four-year Honor Roll student, and served as senator of his high school leadership class and was an active member of the FCA and Chess Club. During his junior season, Johnson earned a Gold Glove Award, as well as being named the Best Defensive Player at the Saladino Tournament. Johnson was named team Offensive MVP as a senior, and also earned All-State Third-Team accolades.
Johnson had 21 at bats in his freshman year and collected 10 hits (.476), having seven of those hits come with runners on base. Johnson's first career collegiate hit was a grand slam on the first pitch in the eighth inning against High Point. Johnson had a season high two hits twice against UNC Asheville and Ohio State in the NCAA Regional.
Johnson posted a .377 batting average and .449 on base percentage in his sophomore year with 10 home runs and 58 RBI, in 68 games. Where Johnson truly shined was in big moments, posting a .378 batting average in NCAA Tournament Games and .455 average in the College World Series. In the NCAA Norwich Regional, Johnson hit .417 with three of his five hits going for extra base, scoring five runs and bringing four in with his bat earning MVP honors. Johnson had a hit and a walk in all three College World Series games, including a 10th inning home run against TCU.
Johnson hit a small slump his junior year at FSU, posting a .256 batting average with 18 doubles, one home run, 10 stolen bases, 51 runs scored and 40 RBI. He did see a rise in walks though, taking 59 free passes which lead the team, good enough for 0.91 walks per game. Johnson walked in 42 of his 65 games, including 13 multi-walk games, and a four walk game in the season finale against Maryland. In the NCAA Regional, Johnson went 5-for-11 against Bethune-Cookman and Alabama, being named to the All-Tournament Team, and helping FSU to their fourth straight NCAA Super Regionals appearance.
Johnson picked back up, batting .263 his senior year with 18 doubles, five home runs, 38 RBI, and started 67 games, totalling 196 consecutive games started in his final game of the season. Johnson lead the nation in walks with 69, drawing walks in 42 of his 67 games, and an average of 1.03 per game. Johnson began the season reaching base in all of his first 29 games. Johnson went 7-for-17 with three doubles, three RBI, and five runs scored in his four College World Series games, earning All-Tournament honors.
Johnson jumped into Rookie Ball out of the draft, and continued to shine with a .269/.427/.407 slash with 20 RBI, 38 runs scored, 12 doubles, two triples, and three home runs in 54 games. Johnson reached in 44 of his 54 games, having 12 go for multiple hits and 11 for for multiple walk games, two of those being four walk games. Johnson had 16 games where he reached base three times or more. Johnson collected a 13-game hit streak through early August, where he went a combined 20-for-51, with a pair of doubles, pair of triples, pair of home runs, 12 runs scored, seven RBI, and reaching base in 29 of 60 plate appearances
Johnson held on to his high pace game with a .261/.371/.372 slash with 20 doubles, six triples, four home runs, 32 RBI, and 74 runs scored in 105 games in Low-A. Johnson had 25 multi-hit games and 17 multi-walk games, as well as 17 multi-run games. Johnson hit .323 with a .903 OPS in the eighth inning of games or later, earning him the nickname, "Clutch Johnson."
This last season, Johnson showed he can compete at the higher minor league levels, posting a .276/.382/.465 slash in High-A, with 23 doubles, 13 triples, 17 home runs, 78 RBI, and 107 runs scored in 136 games. Johnson reached in 120 of his 136 games, having 27 of those games see Johnson reach base three or more times. Johnson found a trio of double digit on base streaks, including a 15 game, 18 game, and 20 game streak. In his final 22 games, Johnson went 37-for-86 (.430), with a .537 on base percentage, .814 slugging percentage (four doubles, four triples, seven home runs), 19 RBI and 30 runs scored (1.36 runs per game). Johnson hit a home run in four straight games right before his final two games of the year (five total), and went 12-for-19 with three home runs, a triple, double, and three walks in his final four games of the season.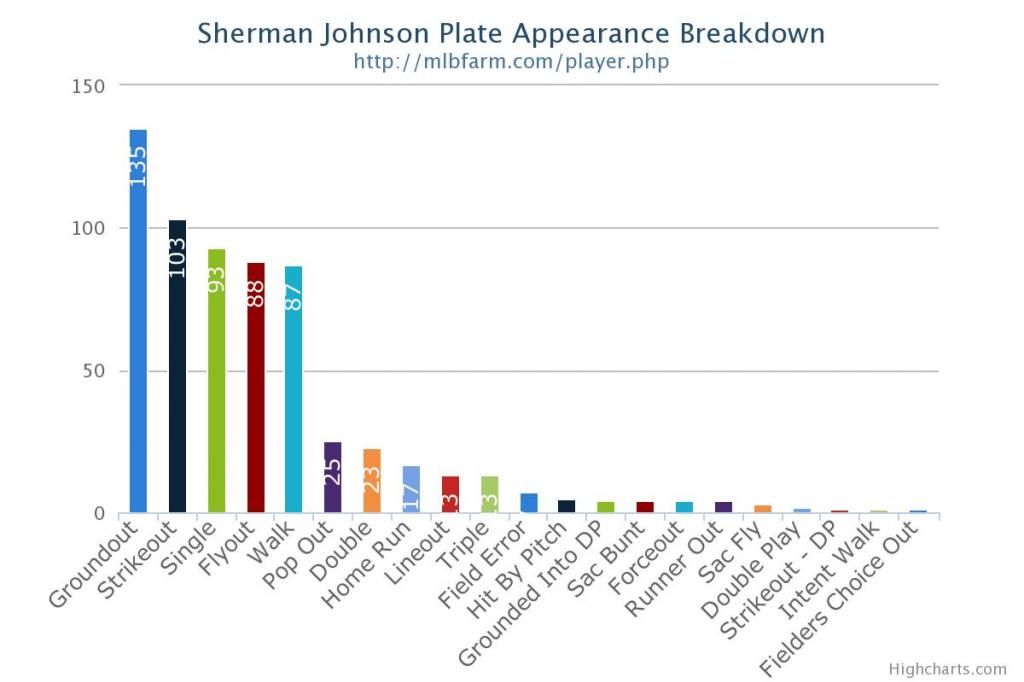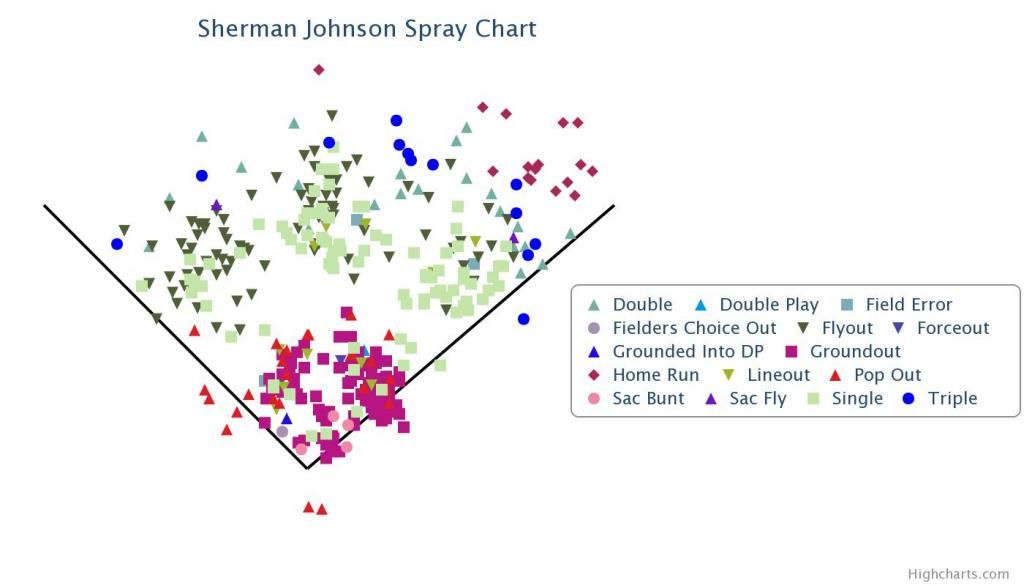 EXPECTED FUTURE:
Johnson shread apart High-A this past season, and should earn a spot on the Double-A roster and potentially Triple-A roster. Johnson hasn't been rushed much through his minor league career, but as he gets closer to the Major League level, he should make some big strides. Triple-A isn't out of the question in 2015, especially since his invite to the big club side of Spring Training this upcoming March.
Johnson settles in as a good utility infielder and outfielder, but it's nowhere near out of the question he has starter projectability. It may take some time, and he'll need to show he can compete at the highest minor league levels before this is set in stone, but Johnson could see Major League time as early as the 2016 season.
For more updates on the Los Angeles Angels, their prospects, and our Top 100 Prospects Countdown, follow us on Twitter, @AngelsOnScout.
Taylor Blake Ward is a Senior Publisher for InsideTheHalos.com, and can be found on Twitter, @TaylorBlakeWard.