Eric Stamets, Shortstop

HT : 6'0
WT : 190 lb.
DOB : September 25, 1991, Dublin, OH
Throws : Right
Bats : Right
School : University of Evansville (Evansville, IN)
Acquired : Drafted in 6th round (207th overall) of 2012 June Draft
Stock : Neutral
Cool Notes : Defined as "Best Defensive Shortstop in Minor League Baseball" by multiple outlets
A year after Eric Stamets was born, a trend began in the MLB Draft. The 207th overall pick saw three straight shortstops, as the Rockies took Jason Bates in 1992, and the Brewers went back-to-back years of taking a shortstop, picking Mark Loretta and Ronnie Belliard. Combined, the three played in 3,529 games and 3,252 hits. Stamets looks to add to that 207th overall trend of quality shortstops in the Majors.
SCOUTING REPORT:
To be called the "best" at a particular thing, people really have to think. We won't personally say it, but some professionals across baseball have noted Stamets as the BEST defensive shortstop in minor league baseball. We've seen him multiple times, and can't say we necessarily disagree. Stamets has an incredibly quick first step, takes direct routes, and has a range that is nearly unmatched even at the Major League level.
Part of this is that Stamets has incredible speed. Coming off his front foot, Stamets may be the fastest player in the Angels organization, which includes being faster than Mike Trout. Stamets uses this most effectively in the field, and has yet to really attack the base paths with it. He has great speed while rounding the bases, but hasn't registered in as a base stealer just yet for whatever reason.
As comes with all good defensive players, Stamets has a soft touch out of the glove, which is a great glove while we're speaking of it. Stamets has a quick transition from glove to hand, and has an explosive arm. It is safe to say if he's not the best defensive shortstop in the minors, he's right at the top of the list.
Stamets comes with a somewhat slap swing when it comes to his offensive game. He has a good follow through, but definitely takes some slapping motion in his mechanics. Stamets is a good contact hitter, seeing the ball well, and will put the ball in play consistently. He doesn't have a whole load of power, but it doesn't mean he won't tag a few every year and possibly be in the 5-10 range with a full season. His power picked up this last season, which may have come with some mechanical adjustments in his swing.
Stamets has good knowledge of the strike zone, but has little patience, rarely drawing high pitch counts of walks. What's nice about this is that Stamets rarely strikes out and puts the ball in the play consistently. The problem is that he isn't hitting the ball on the ground but instead in the air, taking away his speed as an opportunity to reach base. With some added patience, Stamets could become a more serious threat at the plate.
STATISTICAL BREAKDOWN:
Stamets was a rockstar at Evansville, where he finished his career with 171 consecutive games at shortstop, and becoming the fastest player in school history to 100 steals and 200 career hits. In his senior year, Stamets hit .316 with 41 runs scored, 27 RBI, 19 doubles, and 30 stolen bases. Stamets broke into the record books, breaking school records, including most steals in a season (43), defensive assists in a season (226), and single-game record for assists (10). Stamets was honored with Third-Team Louisville Slugger All-American honors (the eighth All-American in Evansville history), Missouri Valley Conference Defensive Player of the Year, MVC Freshman of the Year, and Freshman All-American by three separate companies.
Stamets took off out of the draft and landed in the Midwest League and Single-A. There, Stamets collected a .274/.323/.347 slash with 13 doubles, a triple, home run, 20 RBI, 34 runs scored and seven stolen bases in 62 games. Stamets found some good streaks, including an 11-game hit streak in early July, where he went 20-for-46 (.435) with a 1.023 OPS. Stamets truly shined against right-handed pitching as well, having a .301/.338/.383 slash with 13 extra base hits in 193 at bats.
Stamets kept a hot bat in High-A, posting a .281/.335/.375 slash with 28 doubles, four triples, four home runs, 53 RBI, 80 runs scored and 16 stolen bases. Stamets picked up a pair of 11-game hit streaks again, where he went a combined 31-for-89 (.348), with 20 runs scored, 12 RBI, and .852 OPS. Stamets reached in 18 of his final 20 games of 2013, reaching base an average of 1.6 times per game. Stamets posted a .354/.414/.500 slash against left-handed pitchers, collecting 14 extra base hits in 130 at bats.
Stamets struggled a bit this past season after getting tagged by the injury bug. He did manage to play in 106 games, and put up a .235/.293/.314 slash with 13 doubles, a triple, four home runs, 23 RBI, and 46 runs scored in the pitcher friendly Texas League. Stamets did find a nice stretch to end the season though, posting a .330/.340/.515 slash with seven doubles, a triple, three home runs, 14 RBI, and 17 runs scored in his 28 games in August.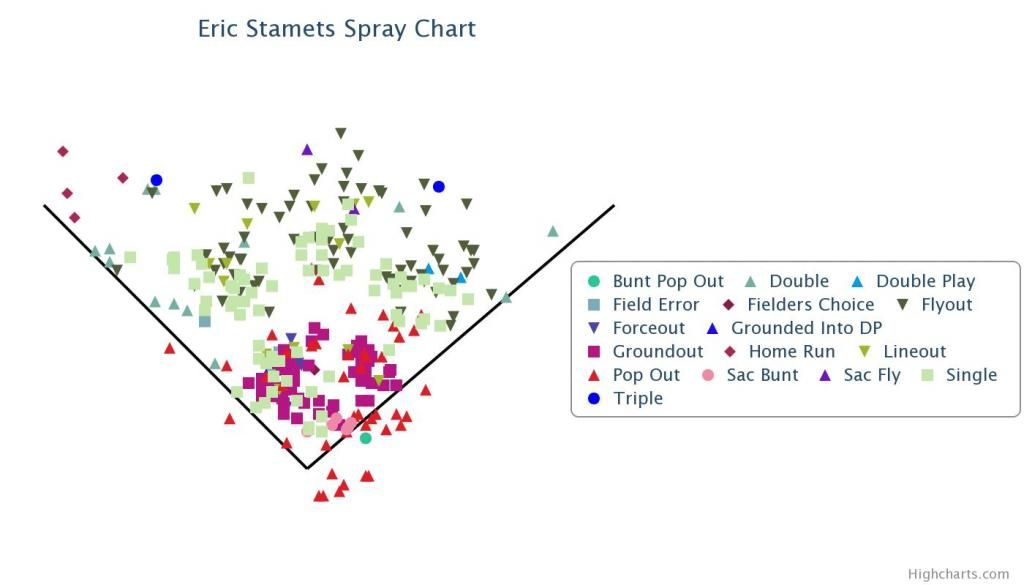 EXPECTED FUTURE:
Stamets struggled in Double-A, and may need a return to get back in the full swing of things. However, a trip to Triple-A out of a strong Spring Training in nowhere near out of the question. The nicest thing about Stamets is he's one of the only true shortstops the Angels have at the highest levels of the farm system currently.
Here's something unique to think about. John McDonald, who we all wish the best in his life away from baseball, spent the entire 2014 season with the big club and on the bench for the Angels. McDonald hit just .171 in 76 at bats, something Stamets should be capable of doing himself. There's no need to rush Stamets to the show, but, Stamets very easily could be an effective, younger, John McDonald for the Angels in 2015, if he's needed. However, it's most likely that he'll show up with the big club sometime in 2016.
For more updates on the Los Angeles Angels, their prospects, and our Top 100 Prospects Countdown, follow us on Twitter, @AngelsOnScout.
Taylor Blake Ward is a Senior Publisher for InsideTheHalos.com, and can be found on Twitter, @TaylorBlakeWard.