Jonah Wesely, Left-Handed Pitcher

HT : 6'2
WT : 205 lb.
DOB : December 8, 1994, Tracy, CA
Throws : Left
Bats : Left
School : Tracy High School (Tracy, CA)
Acquired : Drafted in 11th round (337th overall) of 2013 June Draft
Stock : Rising
Cool Notes : Big into Bikram Yoga / Enthusiastic about coffee in the mornings / Fan of Russell Wilson / Six Sibling Family / Sports Stockings and Akadema Gloves, that's pretty darn awesome
The Angels got a pretty nifty steal in the teen rounds of the 2013 draft in high school lefty, Jonah Wesely. There has been much excitement about Wesely and what he can bring to the Angels, and he hasn't disappointed in his short professional career. One of the most interesting and excitable prospects throughout the system is someone you need to keep an eye on for years to come.
SCOUTING REPORT:
Wesely came out of the draft as a well developed pitcher in the early teen rounds, who had clean mechanics, a strong fastball, wipeout off-speed pitch, and developing changeup. Wesely has refined his mechanics to stay repetitive, and added some plus side to all his pitch offerings since becoming a professional.
Wesely has a pair of fastball offerings, a standard four-seam, as well as a two-seam fastball, that both sit in the 88-92 range, tapping 93 at times. His four-seam has some good late bore, or downward, movement. Wesely uses this to get ahead and attack right-handed bats primarily. Wesely uses his two-seam, with more run than sink, to attack left-handed bats.
Wesely's best pitch is his curveball, that sits in the high 70's, and taps into the low 80's at times. It tends to get slightly slurve-like due to it's velocity, and has good downward, diving action to it. Nearly three quarters of Wesely's strikeouts come from this pitch, that flies away from left-handed bats and drops into right-handed bats. Wesely doesn't just use his curve as a putaway pitch, but isn't afraid to use to get ahead in counts as well, showing strong confidence in this pitch.
Wesely has been developing a changeup the past two years, particularly in instructional league this past season. It is held with a standard two-seam circle change grip, and has strong movement, diving to the bottom of the zone. Wesely stayed primary with his fastball and slider this past season, but with a newly developed changeup should be able to jump back into the rotation by staying behind this pitch, and really driving it into the zone as another off-speed offering.
Wesely has clean mechanics, that he has refined after losing a touch near the end of this last season. He stays back in his delivery, driving with his lower half, following through tall and with a kick nearly over his head. Wesely went from a tight arm to loose arm, as well as loose delivery thanks to Bikram Yoga in the off-season. Wesely stays closed longer than most at his age, and throws from a nearly 4/5 arm slot, helping him be deceptive and give the ball a faster look to it. Wesely has a quick and low effort delivery, which helps him keep an aggressive tempo and really attack batters with ease.
Physical development is a tough thing to notch towards Wesely because he came into professional baseball so well physically developed. He was drafted at 240 pounds, and is now down to 205. He's looking to jump into the 210-215 build range with the right muscle added by mid-season. With all this, he's grown well, or grown down to help loosen his arm and delivery. This could mean that his fastball could touch 94-95 with consistency in the near future.
Something Wesely is ahead of the curve on is his understanding of his body and pitching knowledge in general. He attacks inside, and puts away outside. He knows how to stay repetitive on the mound with his mechanics, which should mean all command and control (if there are any) can be tossed out the window quickly.
STATISTICAL BREAKDOWN:
In Wesely's senior season at Tracy High School, he posted a 0.988 ERA, sitting down 110 batters in 64 innings pitched (15.48 per nine), all while keeping bats to a .162 OBP. Upon being drafted, Wesely only threw one inning of scoreless work in Rookie Ball, where he allowed one hit and one run.
This past season, Wesely began as possibly the best reliever across the Angels system. Wesely did allow three runs in a four inning start in his second appearance of the season, but with that aside, Wesely did not allow a single run in his first nine relief appearances. In those nine appearances, Wesely went 19 innings, allowing just eight hits (3.78 H/9) and five walks (2.36 BB/9), while striking out 23 (10.89 K/9), and holding bats to a .129/.194/.129 slash. Wesely did struggle in the final half of the season, allowing 13 earned runs in 12.1 innings pitched (9.48 ERA).
Wesely finished the season with a 4.08 ERA, 1.330 WHIP, and .218 opposing average in the hitter friendly Pioneer League. Left-handed bats held a .149/.231/.234 slash against Wesely, picking up just two extra base hits in 52 plate appearances. Wesely also held the bats to a .214/.298/.310 slash with runners in scoring position.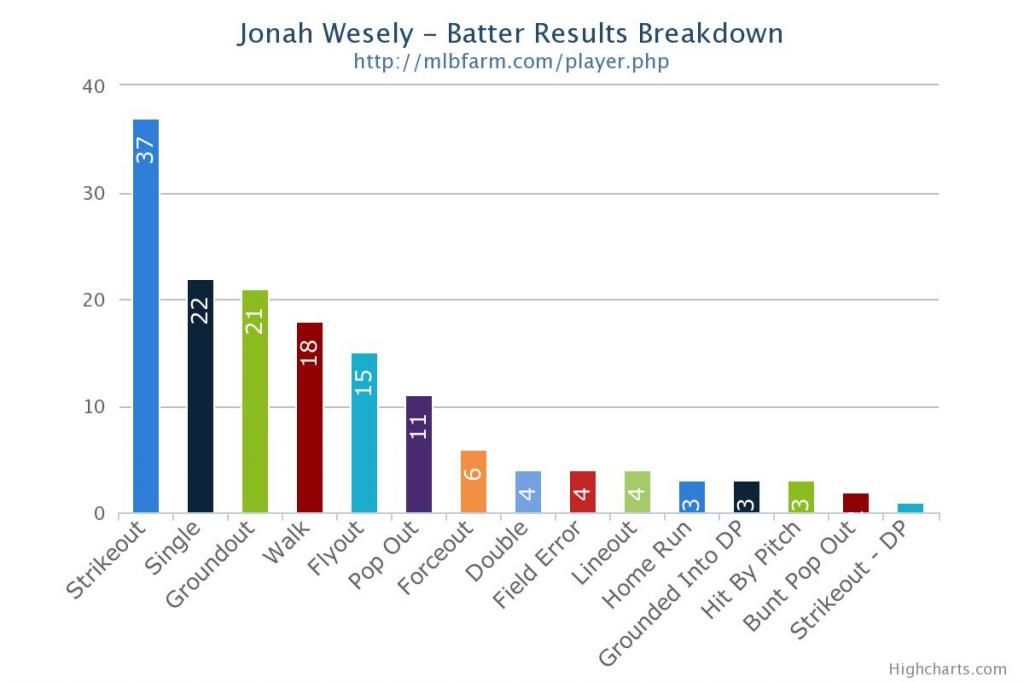 EXPECTED FUTURE:
Wesely held his own in the higher marks of Rookie Ball, and should have earned his spot on a Single-A roster for the 2015 season. With Greg Mahle and Chris O'Grady ahead of him, and his age being taken into consideration, Wesely doesn't need to be rushed to the highest levels of the minors, and should see most of his time in Low-A Burlington in 2015.
Wesely's changeup is a big make or break for him returning to the rotation, but the Angels could really use him as a lefty with stamina in the bullpen. If this is the case, and he remains in the bullpen, Wesely should make progressive strides each year towards the Majors, and without any slumps, should see MLB time by the 2018 season. This isn't to say it won't be the same as a starter, but a bullpen career seems to be set for Wesely.
For more updates on the Los Angeles Angels, their prospects, and our Top 100 Prospects Countdown, follow us on Twitter, @AngelsOnScout.
Taylor Blake Ward is a Senior Publisher for InsideTheHalos.com, and can be found on Twitter, @TaylorBlakeWard.