Kody Eaves, Second Baseman

HT : 6'0
WT : 175 lb.
DOB : July 8, 1993, Pasadena, TX
Throws : Right
Bats : Left
School : Pasadena Memorial High School (Pasadena, TX)
Acquired : Drafted in 16th round (507th overall) of 2012 June Draft
Stock : Neutral
Cool Notes : Owns an awesome Ford truck
Consistency is the key to a successful minor league career. Kody Eaves is the definition of consistency from the left-side of the plate against right-handed bats. One of the younger talents who is climbing the minor league ladder with ease is a prospect you must know about in the coming years.
SCOUTING REPORT:
Eaves is a very standard, good second base prospect. He has a quick first step in both directions, and has more than adequate range at second base. Part of this may come from his time in high school as a third baseman, as well as his arm. Eaves was a high school quarterback, and pitched a little as well, and has a plus arm. A simple word to put to Eaves is "smooth" as opposed to sound as second base defensively.
Eaves has a good approach at the plate, looking to put the ball in the play in all of his at bats. Eaves is a free swinging left-handed bat, that stays low and balanced in his entire swing, creating a lot of torque with his upper body. Eaves has good hands, allowing him to make hard contact all parts of the field, and finishes with a strong uppercut follow through that adds a little bit of power.
Eaves has good speed, and is right around the slower part of the really fast category. He won't steal 50 bases, but it's not out of the question he could steal 25-35 in a full season at any level. He has a jump ability on the base paths and can hit a second gear when rounding second, heading towards third, which is where a lot of his triples come from. Eaves is a good base runner as well, tending to always put himself in a scoring position while on the paths.
Eaves has some discipline problems, primarily against lefties. His aggressive appraoch has worked for him thus far in the lower levels of the minors, but he'll need to improve on his discipline and see more pitches as he hits the upper levels of the minors.
Eaves is still young, and has a lot of development left. Physically, he'll grow more into his six-foot, 175 pound frame, and it may mean added power and speed. He'll also need some mental development, which will come from more experience as he's only had one full 100+ game season of baseball in his career, which happened this last season. With that may come added discipline, which will make Eaves a more serious threat at the plate.
STATISTICAL BREAKDOWN:
After being drafted, Eaves reached in his first 10 professional games. Eaves had a streak of 14 games where he had multiple hits in nine, and finished the season with 12 of his final 23 games going for multiple hits. Over that final 23 games span, Eaves hit .318/.389/.470. Eaves finished his first professional season with a .261/.328/.400 slash with seven doubles, five triples, two home runs, 25 runs scorded, and 19 RBI in 42 games. Eaves had some rough splits, holding a .308/.380/.492 slash against right-handed pitchers and .133/.184/.156 slash against lefties.
Eaves finished his second full season with a .277/.326/.386 slash with 14 doubles, six triples, one home run, 24 RBI and 45 runs scored over 67 games. Eaves hit safely in 47 of his 67 games and reached in 57. Once again, Eaves thrived against right-handed pitching, posting a .291/.341/.409 slash with 17 extra base hits in 203 at bats.
Eaves had his first honest full season of pro ball this past season in Low-A, where he posted a .268/.308/.415 slash with 37 doubles, seven triples, 10 home runs, 45 RBI, 74 runs scored and 25 stolen bases in 130 games. 41 of Eaves games went for multiple hits and he found a stretch early in the season where he picked up hits in 25 of 29 games. Once again, to no shock, Eaves blasted right-handed pitchers with a .282/.323/.457 slash.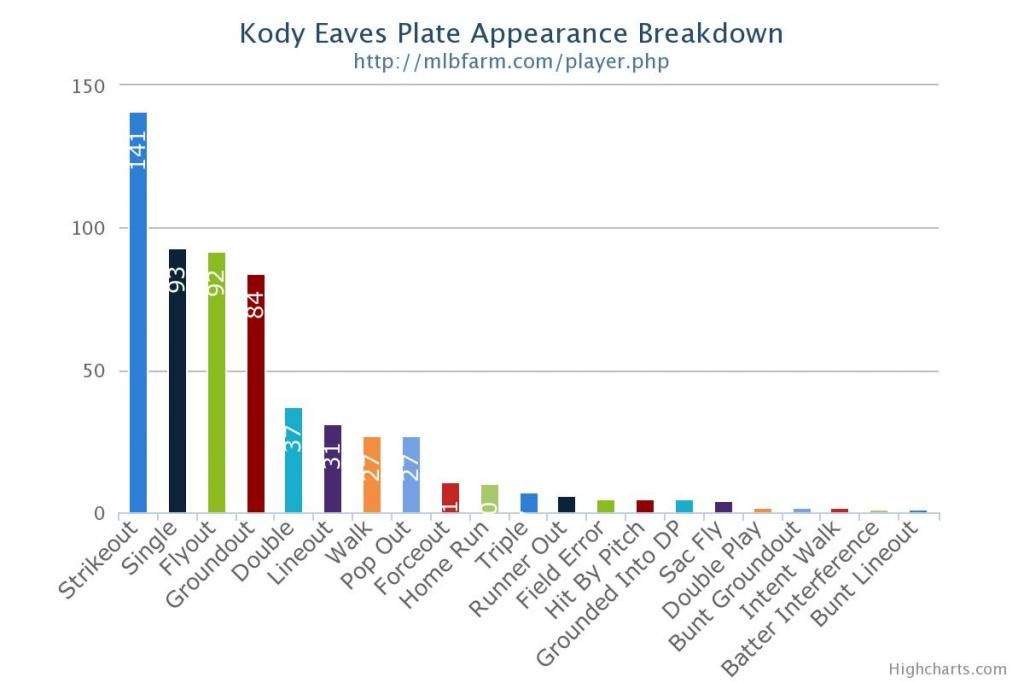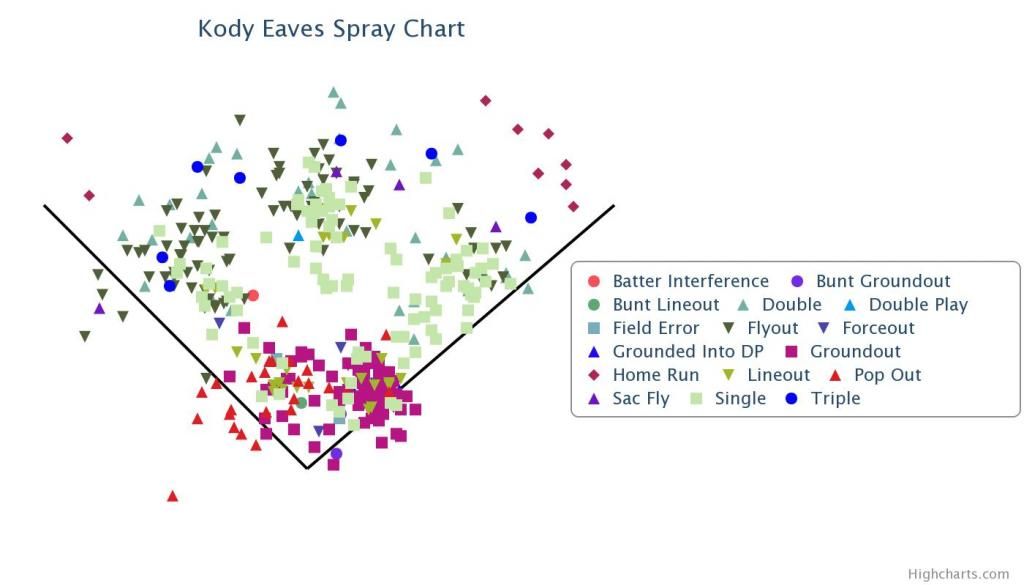 EXPECTED FUTURE:
Eaves had himself quite a decent season in Low-A, which should mean a trip to San Bernardino and ticket to High-A out of Spring Training in 2015. There, he will show his make or break talents as a platoon at second base, facing much tougher pitching. Time is on Eaves' side, so he can progressively work his way towards the Majors.
Eaves has very noticable splits, holding a .288/.335/.449 slash vs. right-handed pitchers, and .172/.266/.270 against lefties. It's nearly obvious that Eaves future will be as a platoon player, but looks to have Major League talent in the future. With that, his ETA is somewhat hesitant to make out, but our best guess would be 2018. He'll need to improve, especially against tougher pitching at the higher minor league levels to be noted as a full time starter in the Majors.
For more updates on the Los Angeles Angels, their prospects, and our Top 100 Prospects Countdown, follow us on Twitter, @AngelsOnScout.
Taylor Blake Ward is a Senior Publisher for InsideTheHalos.com, and can be found on Twitter, @TaylorBlakeWard.