Drew Rucinski, Right-Handed Pitcher

HT : 6'2
WT : 190 lb.
DOB : December 30, 1988, Neenah, WI
Throws : Right
Bats : Right
School : The Ohio State University (Columbus, OH)
Acquired : Minor League Free Agent 2013
Stock : Rising Drastically
Cool Notes : O-H-I-O! Go Bucks!
Can you think of an Angels player last season who was an undrafted pitcher, struck a few guys out with his splitter, and came from Indy Ball? If you said Matt Shoemaker, sorry, but you're wrong. Drew Rucinski is the new Matt Shoemaker for 2015, coming in as a guy with many questions, a great story, and a lot of reason to cheer for him and want him to excel beyond being a fan of the team.
SCOUTING REPORT:
Rucinski doesn't live on his fastball, but he throws it more than any other pitch, which is what most pitchers should do these days. Luckily, Rucinski has a good fastball with strong cutting movement in the 93-94 range. He can fire back, and get into the 95-96 range on occasions, and keep that velocity deep into games as well.
Here's the fun part of the scouting report. Drew Rucinski has a splitter!!! We love split-finger fastballs here at Scout, and Rucinski has the best one in the Angels system currently. It flattens out at the perfect time and drops right to the bottom of the zone, sometimes dropping into the dirt. If Rucinski can perfect this pitch even more, he could have one of the best arsenal mixings in the Angels farm system.
Rucinski comes with a good mix of off-speed offerings, with a slider, changeup, and curveball mix. The slider is the best with a late tilt, and drop at the end of it's path to the plate and it is thrown for strikes more than any other of his off-speed pitches. Rucinski has used his changeup effectively (picking up his first MLB strikeout with a changeup looking), and throws it for strikes. Rucinski's curveball is his something else offer that he throws to setup his slider on most nights.
Rucinski has a great knowledge of pitching on the mound, mixing pitches, spotting pitches well, which comes from his natural knowledge and good coaching. He pounds the zone, and sets up his off-speed pitches with his fastball, and has multiple put away pitches. Whether it be an elevated fastball, a dropping splitter, slider away, or frozen changeup, he can really send guys back to the dugout frowning. Rucinski will have to force more swing and miss opportunities to excel at the higher levels, but it hasn't been a problem yet, even at the Major League level.
Rucinski has a somewhat harsh delivery, with some heavy torque from his shoulder and back. This may cause some problems at a point, but right now, allows him to be very deceptive and hide the ball, almost to the effect of throwing across his body. This deception allows his velocity to be electric and really jump on right-handed bats. He keeps batters guessing with this delivery.
Rucinski commands all his pitches well, with the splitter being the lower of the five pitches, and there's no real signs of concern there. He's a real strike thrower, which sometimes mean he gets hit, but also means he's going to sit guys down regularly as well, as he gets a better feel for his changeup and splitter.
STATISTICAL BREAKDOWN:
At Union High School, Rucinski spent all four years on varsity. In his senior year, Rucinski went 8-2 with a 1.57 ERA over 71 innings, while Union went 28-6, helping Rucinski be named a First-Team All-State and All-Frontier Valley Conference selection. During his sophomore and junior seasons, Union wont the Oklahoma 6A State Championship.
In Rucinki's first three years at Ohio State, he held a 17-10 record, 5.50 ERA, 1.680 WHIP, seven saves, and .361 opposing average. In his sophomore year, Rucinski was named an Academic All-Big Ten Conference selection and OSU Scholar-Athlete. He was tied for fifth in the country with 12 wins, most in the Big Ten. In his junior season, Rucinski held a 2.10 ERA with 29 strikeouts in his first 12 appearances (26.2 IP). He also threw a complete game against rival Michigan, striking out nine and walking one.
2011 was an odd year for Rucinski. After holding a 2.95 ERA, 1.202 WHIP, and .262 opposing average in his final year at Ohio State, he was passed over in the MLB June Draft. After taking a quick look at Indy Ball with the Mahoney Valley Scrappers, the Cleveland Indians gave him a shot for five games, where he allowedfour runs in 8.1 innings on 10 hits and two walks. In Rucinski's final 13 appearances of 2011 (all in Indy Ball), he held a 1.20 ERA, 1.164 WHIP, and .234/.326/.271 opposing slash, while striking out 11.28 per nine.
In 2012 and 2013, Rucinski spent time with Rockford RiverHawks of the Frontier League. While there, Rucinski held an 11-10 record over 37 appearances, having three complete games. In his 203.2 innings pitched, he allowed 53 walks and 182 hits (1.153 WHIP), and 68 earned runs (3.00 ERA), while striking out 192 (8.48 K/9). He signed with the Angels in 2013, appearing in five games in High-A, holding a 1.86 ERA and 1.138 WHIP.
This past season, Rucinski really took off, posting a 3.15 ERA, 1.230 WHIP, and 10-6 record in Double-A. Rucinski had a stretch from June to mid July where he allowed eight runs on 39 hits and five walks over 49 innings pitched (1.46 ERA, 0.898 WHIP), while holding bats to a .224/.245/.310 slash. Rucinski also held bats to a .204/.212/.259 while ahead in the count, only allowing eight extra base hits in 216 at bats.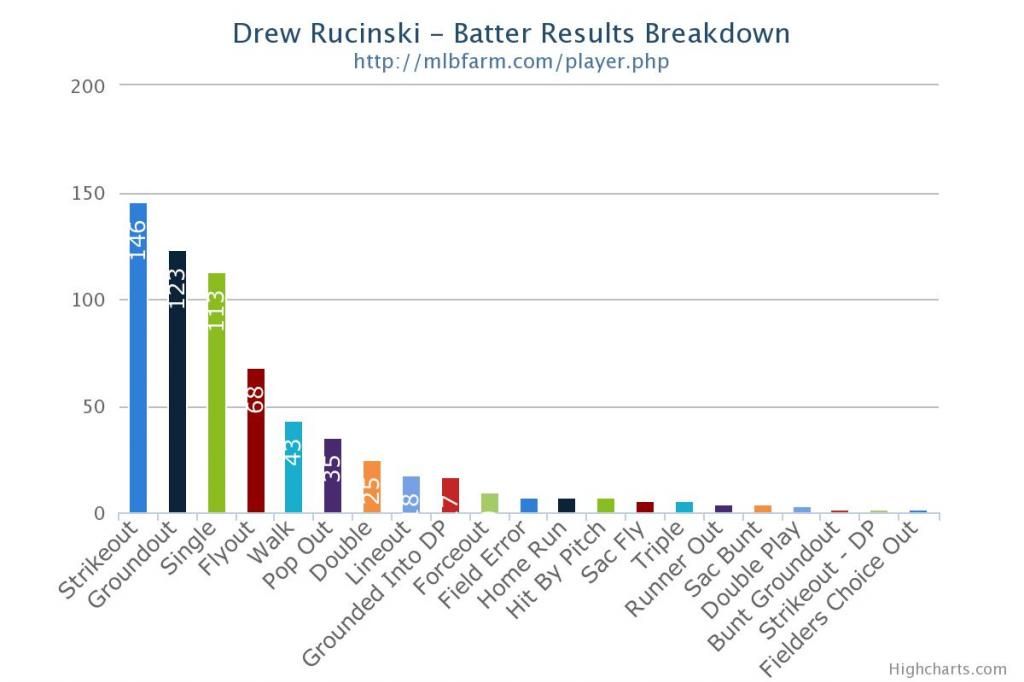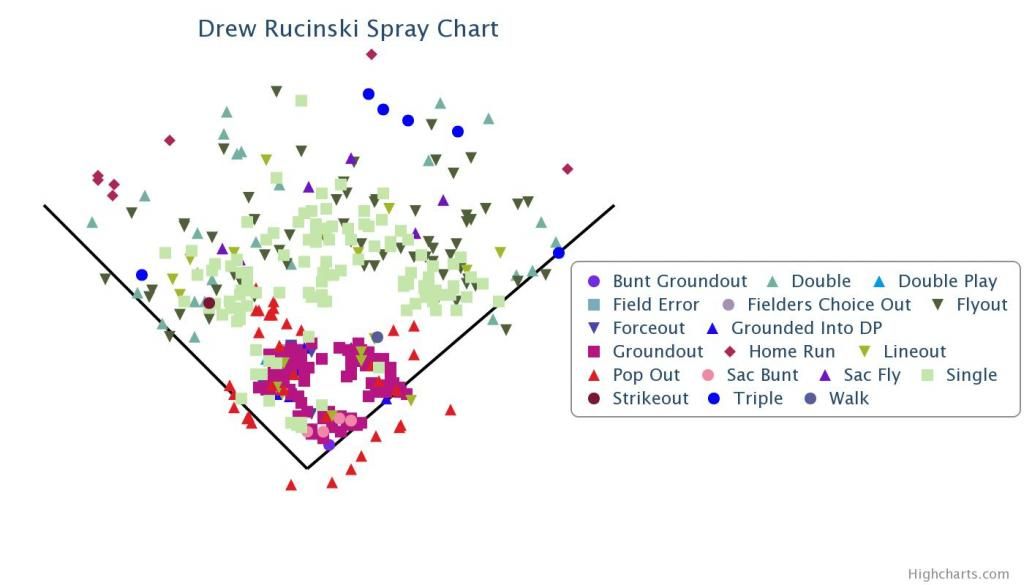 EXPECTED FUTURE:
Here's the tough spot. Rucinski looks to already be a Major League talent, and setup well as a possible fifth starter with Garrett Richards being down with an injury. However, a lot of starting pitcher depth was added this off-season, and Rucinski is at the tale end of that top part of the depth chart. With this, he'll need a strong Spring Training to make the MLB roster as a starter or swingman. He'll probably land in Triple-A, not due to a lack of talent, but instead, a new strength in depth.
Rucinski's delivery makes it tough to believe he could throw 200 innings regularly, but it doesn't mean he can't either, since no one can predict injuries. It is most likely that Rucinski will return to his relief days over time and be a nice addition to the Halos bullpen in 2015. He has an upside of being a fourth or fifth starter, and potential swingman.
For more updates on the Los Angeles Angels, their prospects, and our Top 100 Prospects Countdown, follow us on Twitter, @AngelsOnScout.
Taylor Blake Ward is a Senior Publisher for InsideTheHalos.com, and can be found on Twitter, @TaylorBlakeWard.