Cal Towey, Third Baseman/Outfielder

HT : 6'1
WT : 215 lb.
DOB : February 6, 1990, Kirkland, WA
Throws : Right
Bats : Left
School : Baylor University (Waco, TX)
Acquired : Drafted in 17th round (517th overall) of 2013 June Draft
Stock : Rising
Cool Notes : Father, Curt, and Uncle, Steve, played professional baseball
Consistency in baseball is vital. For Cal Towey, it's not a problem. Towey is a threat at the plate every at bat, whether he pounds you to the gap, or forces you throw a million pitches... okay, maybe a little far. However, there is not a guy in the Angels system that is as hard to get out right now as Cal Towey. The Angels awarded him with a trip to the Arizona Fall League to display his talents, and that should not be taken lightly. He's a guy they like, and someone you should too.
SCOUTING REPORT:
Towey has a nice, clean swing from the left-side of the plate. He really keeps things simple, using his whole frame in his swing. Towey has shown some swing and miss problems, which may come from his extended swing and torque in his upper body while taking hacks. However, it's hard to find a prospect in the Angels system with as much balance and simplicity in his swing than Towey right now. Towey has found a good routine in his pregame work, that has allowed him to stay consistent. Currently, Towey needs a little work with bringing his hands in, but with his work ethic, it shouldn't seem to be a concern.
Towey uses some torque in his swing which is where a lot of his power comes from. He's strong, there's no doubting that, but power comes from the body in most occasions and Towey knows how to use this to capitalize. Using his lower body to drive and upper body to provide some "oomph," Towey could jump into the mid teen numbers in home runs in the near future. Towey can truly drive the ball though, and particularly to the gaps. With that, we see Towey as a strong doubles kind of guy as opposed to home runs, which is no problem in our books.
Towey has excellent knowledge of where the strike zone is and can really work counts in his favor. He has knowledge of catching, which may have helped his progression, knowing the ins and outs of how to get a guy out from the mound and behind the plate. His discipline is his highest mark, but also means you'll see a lot of two-strike counts against him, and higher strikeout rates than you'd like. With Towey's hand-eye coordination and discipline, he should be able to matchup well at the higher levels and find a much higher batting average, which will lead to a higher OBP... and the list goes on and on.
Defensively, Towey won't shock you, but he won't disappoint you. He has some true athleticism, which has helped with his movement around the entire field. He saw time behind the plate, catching for awhile, but it never seemed to stick, and he was put back to his original third base position. At third, Towey has good footwork and can really jump to balls in hard hit places. He has a strong enough arm to make tough plays, and is just solid at the position in general. Towey jumped around to the corner outfield position where his athleticism showed. He has the abilities to not just play the hot corner, but is very useful in both corner outfield position roles as well. Towey could be seen prior to games, taking reps at whatever position he was playing that day. Whether it was taking grounders at third during BP, or shagging fly balls in the corners.
Towey has adequate speed. He's not going to steal a load of bases, but will be able to take good routes on the paths, as well as in the field, and nab a couple here and there. Towey does a lot of things right, and with his blend of good instincts, power and speed, on base ability, and hard work defensively, could be someone to really draw your eye to.
STATISTICAL BREAKDOWN:
Towey was a four-letter winner at Eastside Catholic High School in Bellevue, Washington. During his freshman year, Towey hit .329 with four doubles, 16 RBI and seven stolen bases as the Crusaders went on to a 17-5 record, winning the division and reaching the state quarterfinals. Towey hit .375 with seven doubles, three triples, 20 RBI and 12 stolen bases as a sophomore. During his junior year, where Eastside Catholic went 18-5, reaching the state quarterfinals again, Towey hit .508 with three home runs, eight doubles, four triples, 35 RBI and stolen 16 bases. In his final high school year, Towey helped his team to a 21-3 record, hitting .510 with seven home runs, 10 doubles, five triples, 37 RBI and 17 stolen bases. The Crusaders once again won their division with Towey being the hottest bat on the team. Towey was named a two-time First-Team All-League selection and was named a 2007 and 2008 Seattle Post-Intelligencer Top 10 Player.
After red-shirting his first year at Baylor, Towey jumped in to play 41 games in his freshman campaign. He began the season with a 1-for-24 slump (with eight walks), and broke out of the slump with a two-run triple. After the slump, Towey hit .395 in his final 29 games. Towey hit a trio of two-run home runs, including a game-winner against Oklahoma State. In the Big 12 Championship, Towey had a pair of doubles against Kansas State. Towey collected seven multi-hit games in his final eight games of the season.
Towey had a nice sophomore year, never grounding into a double play in 131 at bats. He also held a 16-game on-base streak, the third longest on the team. Towey had seven multi-walk games, including a trio of three-walk games. Staying in touch with walks, Towey drew seven over a three-game span at one point. Towey had a pair of times where he reached base in five straight appearances, against Kansas and UT-Arlington. Towey's season was cut short by seven games due to an injury, but not before he had an outing where he collected 11 total bases against Texas (two home runs, triple).
In his junior year, Towey was among Big 12 leaders in multiple categories, helping him be named to Second-Team Big 12 honors; 51 RBI (5th), four triples (7th), 39 walks (6th), .428 OBP (10th), four home runs (4th), .529 SLG (5th). Towey was hit by a pitch 16 times which registered a tie for third all-time in school history, and also tapped the record books with 16 sacrifice flies, second most in Baylor history. Towey hit in 18 of 24 Big 12 games, holding a .306 batting average with three doubles, two triples and four home runs, having seven of conference games for multiple hits. Towey reached base in 28 straight, before the streak was snapped against Texas A&M, and picked up hits in nine straight at one point. Towey walked with the bases loaded to break a 5-5 tie against UT-Arlington in a NCAA Regional Elimination Game, and went 2-for-4 with a home run in a NCAA Regional Championship game against Dallas Baptist, helping him be named a selection on the NCAA Regional All-Tournament Team.
In his final year at Baylor, Towey reached base in 46 of his 55 games, with 20 multi-hit games, 15 multi-RBI games, and scored multiple runs in nine games. Towey lead the team in RBI (45), triples (5), walks (36) and hit by pitches (14), while being second on the team in batting average (.291), slugging percentage (.457), on-base percentage (.429), hits (58), home runs (4) and totals bases (91). Towey hit a walkoff home run against West Virginia, and two days later, hit a game-winning grand slam against Oklahoma. Towey was named Big 12 Player of the Week, where in the two weeks he had a combined 15 RBI, seven runs scored, seven walks, three doubles, two home runs, and triple in eight games. Towey was named an All-Big 12 First Team member unanimously by coaches and media, as well as earning the same honors by the Waco Tribune-Herald. As the record books go, Towey was ranked third all-time in hit by pitches (40), sixth in walks (123), ninth in triples (9), 10th in on-base percentage (.425), 15th in starts (187), and 20th in RBI (131).
Towey didn't stop at college, putting up incredible numbers in pro ball. In his first year of being a professional, Towey put up a .317/.492/.543 slash (yes, that's a .492 OBP), with 16 doubles, six triples, eight home runs, 53 RBI, and 69 runs scored in 70 games. Towey picked up hits in 52 games, the same amount of games he drew a walk, and reached in 61. Towey reached base in 39 of his final 42 games, and drew walks in 19 of his final 22. Over that final 42 game span, Towey had a slash of .356/.517/.560, with 45 runs scored (1.07 per game), 47 hits 1.11 hits per game, 17 extra base hits (11 doubles, two triples, four home runs) averaging one every 7.76 at bats, 26 RBI, and 42 walks (one per game).
Towey kept up his hot bat, posting a .279/.364/.417 slash with 24 doubles, six triples, 10 home runs, 63 RBI and 72 runs scored in 128 games at High-A. Against lefties, Towey hit .321/.413/.467, and from the sixth inning or later in games, Towey posted a .315/.391/.454 with 32 runs scored and 25 RBI. From July 2nd to August 4th of this past season, Towey went on a tear, posting a .401/.503/.635 slash with 22 RBI and 28 runs scored in 29 games. Over the span, Towey had 14 multi-hit games and collected hits in 25 of the 29, while having three two double games (two where he had a home run as well), and had seven multi-extra base hit games (10 doubles, three triples, three home runs).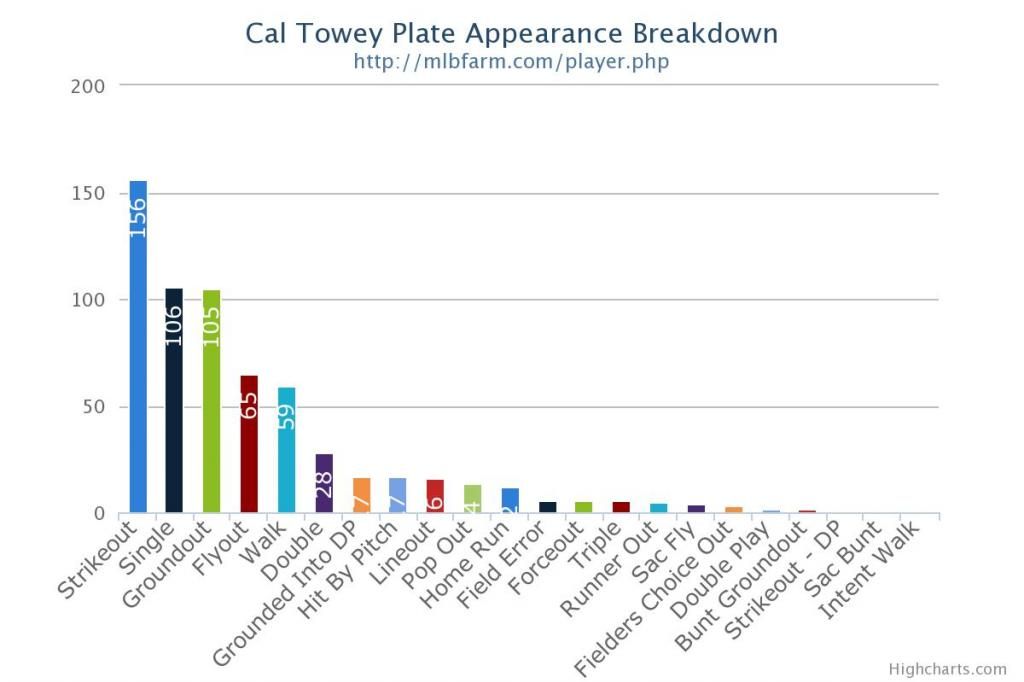 EXPECTED FUTURE:
Towey held a hot bat in High-A this past season, and after an even hotter time in the AFL, should have earned his spot easily in Double-A. Tougher competition should be what the Angels will need to see when it comes to Towey and where he truly is in his career. There's nothing noting that Towey couldn't see Triple-A time at one point in 2015, but it's likely a full season in Little Rock will be his calling card.
Towey was drafted at a high expense, his age. He'll be 25 at the start of this next season, which may cause some concern, but that's just the way things went. His experience should show vital at the minor league levels, and may cause an aggressive look at him going through the rest of the minors. His current ETA to the Majors is 2017, but with a pair of good seasons, he could see bench time by the 2016 season.
For more updates on the Los Angeles Angels, their prospects, and our Top 100 Prospects Countdown, follow us on Twitter, @AngelsOnScout.
Taylor Blake Ward is a Senior Publisher for InsideTheHalos.com, and can be found on Twitter, @TaylorBlakeWard.