Nate Smith, Left-Handed Pitcher

HT : 6'3
WT : 200 lb.
DOB : August 28, 1991, West Chester, OH
Throws : Left
Bats : Left
School : Furman University (Greenville, SC)
Acquired : Drafted in 8th round (247th overall) of 2013 June Draft
Stock : Rising
Cool Notes : Owns a Furman t-shirt that says "FU (Furman University) Cancer"
Furman University has provided 23 separate professional baseball draftees. Three of those were drafted by the Angels in the 2013 draft, but none that are as much of a standout as Nate Smith. Only one former Furman player has reached the Majors, and Nate Smith could change that very soon. This artist on the mound is creeping his ways into the elite prospects in the Angels farm system, and is working his way into a potential rotation role for the big club in the near future.
SCOUTING REPORT:
Smith is a finesse like pitcher, who doesn't really need finesse to get by. He uses his large frame in his mechanics to stay extended through his stride, and maintain balance the whole way through. He uses his legs to gain a large push towards the plate, and stay athletically forward through his entire delivery without falling off his landing spot and keep his balance. He has some torque in his shoulders and elbows, but not enough to where it will be a concern in the future. Smith stays smooth and low through his entire drive to the plate, which allows him to stay quick to the plate, which is where his loan deception comes from. Smith is very consistent with his flawless mechanics, and repeats his mechanics just as flawlessly. His fastball and changeup come from the same arm slot, which allows him to stay consistent in the strike zone as well.
When it comes to command and control, Smith is no heavy burden in our books. Smith lives on the corners and keeps the ball low. He needs some small improvement on keeping his fastball in the zone, and keeping his curve low as it sometimes slips, but this should come with more experience on the mound. With that said, Smith doesn't really bug us with his fastball or curveball command. He can put the ball where he wishes on nearly every pitch, and this goes for his fastball and pairing off off-speed pitches. He's a very knowledgable pitcher, and while hitting his spots, knows how to get guys out at the plate with ease.
Smith's fastball isn't all that flashy. It sits in the high 80's and low 90's, primarily from 88 to 91. It has some cutting movement to it, but not a ton. He knows how to hurl it in and when, but you won't see him elevating it to get guys hacking around the shoulders or eye balls.
Smith's off-speed pitches are the cat's meow though. His curveball has some good biting action to it, and he can change speeds with it as well, staying in the low to high 70's. He can throw it in any count, and it has real promise as a swing-and-miss pitch. It has good bite, but like we said sometimes slips and is caught high in the zone where he gets in trouble.
There is little doubt that anyone in the Angels farm system has a better changeup than Smith. It sits in the 75-80 MPH range and comes from the same arm slot as his fastball making it wildly deceptive. It has a heaviness and hard biting movement to it, as it nearly drops at the last second with ease. It creates not just swing and miss qualities, but when it is hit, has nearly no contact marks when tagged. If Smith lived on his changeup, and just threw it, he could still be more than just a quality starter (no, he won't just throw his changeup, and no that wouldn't work, we're just saying).
STATISTICAL BREAKDOWN:
Smith took off for Rookie Ball once being drafted, and did justice in Orem, with a 3.86 ERA and 1.171 WHIP. He got tagged a little hard in his final three starts, and prior to that in his first 12 appearances, held a 2.67 ERA, 0.925 WHIP, and held bats to a .212/.274/.383 slash. From the third to sixth innings of games, Smith did not allow a run and allowed just nine hits and two walks in 14 innings pitched, holding bats to a .187 batting average and .220 on base percentage. Left-handed bats were held to a .159/.240/.273 slash against Smith, having just three extra base hits in 44 at bats.
Smith began this last season as the Opening Day starter in High-A. That day, he went five innings of scoreless work, allowing just three hits and one walk. His next start wasn't as stellar, which spiked spiked his season ERA from 3.07 (pretty darn good), from 2.27. In his final eight starts, Smith held a 2.50 ERA, 0.913 WHIP, while holding bats to 6.26 hits per nine, 1.96 walks per nine, and a .190/.233/.336 slash in the hitter friendly Cal League, with a 6-3 record.
Smith made the leap to Double-A at an early mark of this past season and kept up his strong pitching statistics. He held a 5-3 record in 11 starts, with a 2.89 ERA and 1.090 WHIP. He got tagged in a pairing of his first three starts, but in his final nine starts, he held a 1.97 ERA, .189 opposing average, and 1.160 WHIP, while keeping hitters to just 5.71 hits per nine. Smith held leadoff bats to a .123/.219/.140 slash, while they only collected one extra base hit in 57 at bats.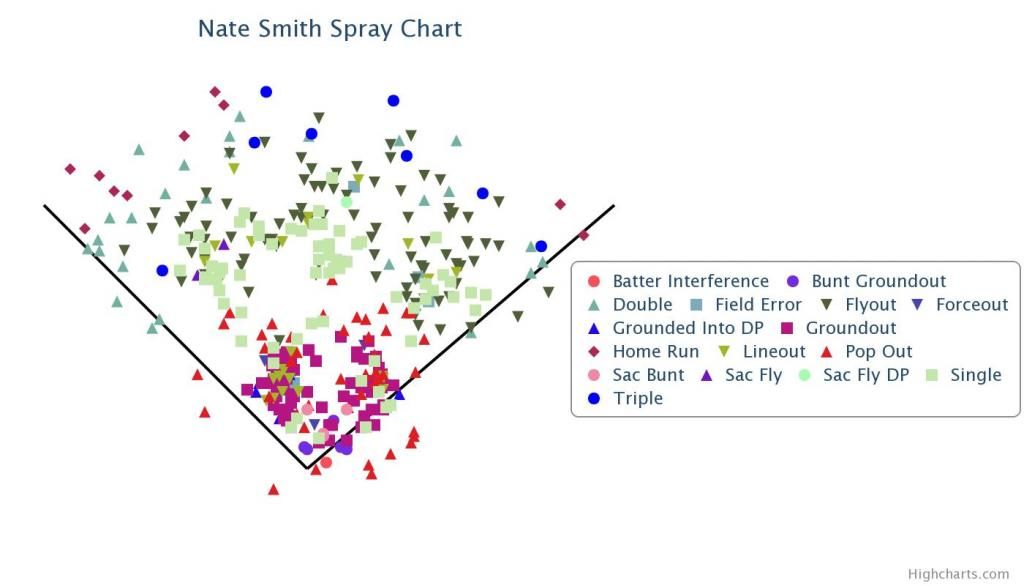 EXPECTED FUTURE:
Smith saw a nice load of time between High-A and Double-A this past season. With his fly ball counts being as high as they are, a trip to Triple-A is a pretty big question mark. Salt Lake is a hitter's paradise, and any fly ball to the outfield can just suddenly take a notch over the wall and become a souvenir. It would seem smart for the Angels to keep Smith in Little Rock for another year just to keep his confidence high, and maybe send him to Triple-A late in the season.
Even without a trip to Salt Lake, Smith should see Major League time in 2016. He could even fight his way into a full-time starting role at the back end of the rotation. He's not going to be an All-Star, but that doesn't mean he isn't a quality piece for the Angels. His ceiling currently sits in the back end of the rotation, but he could sneak his way into the middle rotation spot, and become a decent #3 pitcher in the future.
For more updates on the Los Angeles Angels, their prospects, and our Top 100 Prospects Countdown, follow us on Twitter, @AngelsOnScout.
Taylor Blake Ward is a Senior Publisher for InsideTheHalos.com, and can be found on Twitter, @TaylorBlakeWard.