Natanael Delgado, Outfielder

HT : 6'1
WT : 170 lb.
DOB : October 23, 1995, Los Cacaos, Dominican Republic
Throws : Left
Bats : Left
School : N/A
Acquired : International Free Agent 2012 for $280,000
Stock : Neutral
Cool Notes : Legitimate international teen prospect
Not much brings excitement to a farm system like an international teenage sensation. For the Angels, that sensation is Natanael Delgado. A product of Josue Herrera, Delgado caught the attention of Angels international scout, Mark Russo, and has taken off since that moment, making massive strides forward in the minors. Delgado has some negative quirks that come with teenage prospects, but with some small fixes, could become one of the better prospects the Angels farm system has seen for quite some time.
SCOUTING REPORT:
Delgado has a fresh, loose swing from the left-side of the plate. He has long limbs, and quick wrist, which allows him to create good bat speed and spray the ball across the field. Delgado does a good job of extending his frame and swings through pitches, as opposed to simply connecting with the ball, with a strong follow in the tale end of his swing. Coaches have focused on giving him a routine during batting practice to improve his timing, which has shown to be a problem early. He's also learning to use his legs a little better to use his entire frame in his swing and fix his physical timing as well. Delgado is learning to stay in control when behind in counts, and not just hack when he's in trouble.
Delgado has been relatively quiet in the power department, but that comes with his age partially. Like we said above, Delgado takes advantage of his long limbs, which helps him create some good torque in his swing. He really needs to improve his timing to take full advantage of squaring the ball up and swing through the pitch with hard contact. Currently with his timing problem, and harsh hacks, added with his aggression, his strikeout rates are grossly high. More power will also come as he fills out into his full frame.
Delgado comes in at 170 pounds right now, soaking wet. At six-foot-one, you can only imagine he's going to become a strong man with a perfect baseball frame in the future. Not to say he's just mearly a "boy," but at 18-years-old, Delgado has so much to build as he becomes a grown man. With added muscle, his power will improve and so will his speed and athleticism. Also, as he ages, he'll see more time in the game of baseball, and understand it to an even better level than he's currently at. This will improve nearly every aspect of his game, which should include; lowering his strikeout rates, more discipline at the plate, better base running and fielding, and better timing. A premier point in Delgado's game is his ability to take information and apply it. It's more than evident that he loves the game and wants to be the best player possible with willingness to listen to coaches and use his natural skill-set to make things happen.
Think back to when you were a teenager playing high school baseball. You swung at everything, and we mean everything! Discipline just isn't something Delgado has in his skill-set yet. He's aggressive in every sense of the word, and strikeouts more than he makes contact, which happens when you put a teenager in professional baseball. He has an eye for contact which obviously helps, but he'll need to improve in taking pitches out of the zone and not just hacking in every at bat to excel at the higher levels. Delgado earned high marks from coaches this last year though in one discipline department and that was not swinging to hit the ball out of the park on every swing. Delgado has really taken steps in the right direction to begin improving his game at the plate, and become a very polished hitter, but the discipline may never be excellent or good, he'll always be aggressive.
Delgado has long legs that he uses to his own advantage on the base paths and in the field. He's not really a threat to steal many bases, but he's nowhere near slow in any department. In the field, Delgado's above average speed is nearly his only quality. He's young and still learning to read the ball off the bat and take proper routes to the ball. He suits best in left field due to all of this, but with his athleticism, he could see time in right field eventually. As he gains more experience in the field, his athleticism and natural will to play ball should make him an average fielder at the least. Delgado does come equipped with a nice arm though, as he throws in the high 80's, but with hardly any accuracy, due to his shoulder only throwing motion and lack of follow through in his throwing mechanics.
STATISTICAL BREAKDOWN:
After being a DPL All-Star and DPL Elite Travel Team member in 2012, Delgado was signed and ran stateside for his first taste of professional baseball in AZL Rookie Ball. Delgado finished his first year of pro ball with a .271/.311/.422 slash, with 16 doubles, two triples, three home runs, 33 RBI and 23 runs in 51 games. Delgado truly thrived against left-handed pitchers, posting a .368/.455/.553 slash with seven of his 14 hits in 38 at bats go as doubles. Delgado had a 25-game stretch from late June to early August where he went a combined 35-for-101 (.346), picking up hits in 22 of those games, finishing the streak with a 10-game hit streak. Over the stretch, Delgado held a .377 on base percentage, and .524 slugging percentage, helped by his 10 doubles (one game saw three doubles), triple, and two home runs. Delgado saw his lowest strikeout rate of his career during the stretch, K'ing just 20 times in 106 plate appearances (18.6%).
This past season, Delgado saw a new level of Rookie Ball in Orem, where he posted a .301/.333/.464 slash in 38 games before his season was cut short to an injury. Delgado picked up hits in 29 of his 38 games, reaching in 31. In his first 30 games, Delgado held a .325/.356/.508 slash, with eight doubles, three triples, three home runs, 18 RBI and 21 runs scored. With runners in scoring position, Delgado hit .346 with 19 RBI in 52 at bats.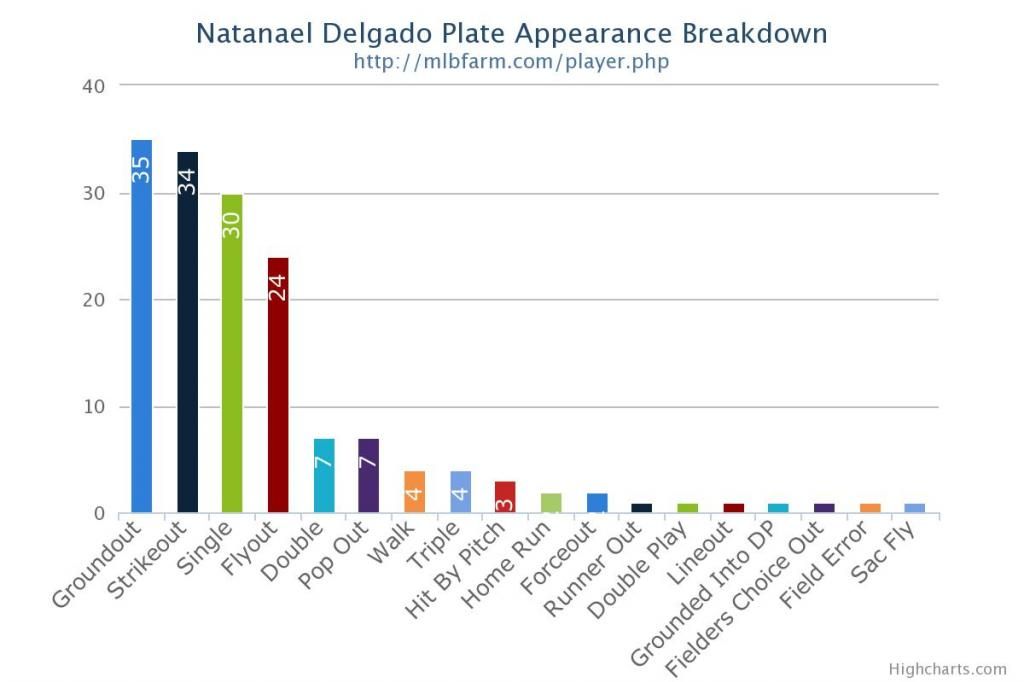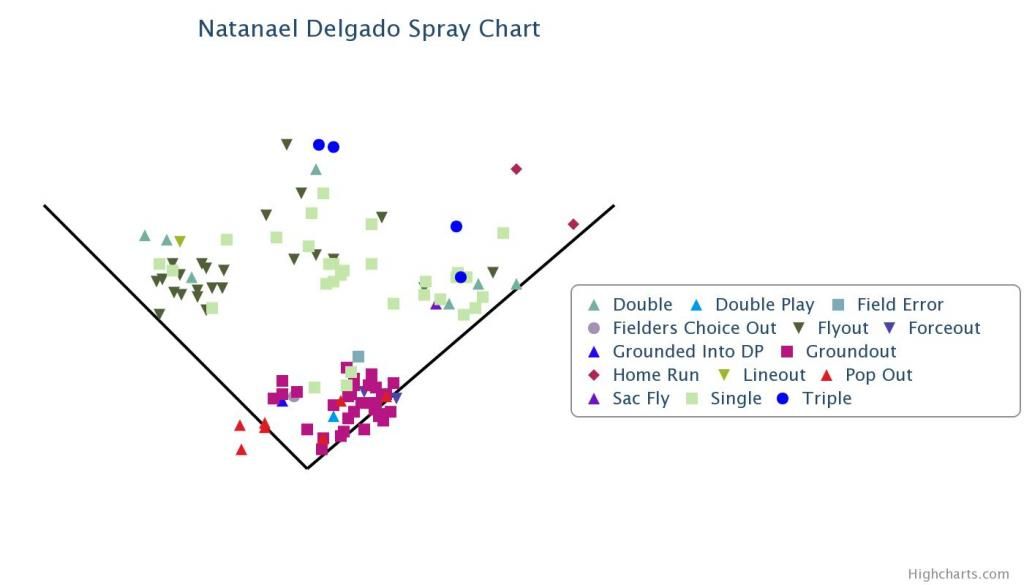 EXPECTED FUTURE:
Delgado showed favorable numbers in Rookie Ball, even in his teen years, and should see the his final teen year in Single-A. Yeah, a teenager playing in Burlington. How cool is that? There's a slim shot he has another year in Rookie Ball, with his age being on the ease like side for the Angels, but it's nearly obvious he'll make the leap.
The Angels have all the time in the world with Delgado, and he's has progressed well already in his short time in the minors and has only showed signs of moving forward steadily. You have to plan a point at one point or another when it comes to a guy like Delgado. But if he figures out upper level pitching with ease, he should make the Majors as at least a fourth outfielder by the 2019 season. He has starter potential, and could take over the reigns of the Angels corner outfield spot full-time by the 2020 or 2021 season.
For more updates on the Los Angeles Angels, their prospects, and our Top 100 Prospects Countdown, follow us on Twitter, @AngelsOnScout.
Taylor Blake Ward is a Senior Publisher for InsideTheHalos.com, and can be found on Twitter, @TaylorBlakeWard.