Kaleb Cowart, Third Baseman

HT : 6'3
WT : 225 lb.
DOB : June 2, 1992, Adel, GA
Throws : Right
Bats : Switch
School : Cook High School (Adel, GA)
Acquired : Drafted in 1st round (18th overall) in 2010 June Draft
Stock : Falling
Cool Notes : Coolest Southern drawl we've ever heard
In 2010, the likes of Bryce Harper, Chris Sale, Manny Machado, Matt Harvey and more MLB All-Stars were taken in the first round. The Angels had five picks that year, and had the first one come in the form of Kaleb Cowart. Cowart hasn't tapped into the levels that those others listed have yet, but it doesn't mean the tools aren't there and he could be on his way. Cowart may be the most criticized prospect in the Angels farm system, and that may be due to two years of rough numbers in Double-A. Think about this though. He's only 22-years-old, in Double-A! Yeah, that's kind of a big deal. Rumors have said Cowart may be headed to the mound if he has another rough year, but we expect something big from this young man in 2015.
SCOUTING REPORT:
Cowart comes with some nice tools. He has a smooth, line drive swing and can really pound the ball to all parts of the field. His swing is slightly longer than you'd like, despite it bringing some nice power with it. Cowart has had trouble squaring the ball up lately, and really needs to swing through the ball more to make better contact in the future. He does have a nice swing though, and the hitting tool is still there despite poor contact numbers. Another problem is Cowart's timing, which is also courtesy of his long swing. If he can shorten his swing, timing and contact should improve drastically.
Cowart has made strides forward already in the offensive department. First off, he's no longer a switch hitter and bats only from the left-side now. Secondly, he's changed his loading mechanics, taking away a high kick at the beginning of his stride. Finally, he's eliminating any excess body movement in his swing.
Cowart has good power, primarily due to his nice frame. He has quick bat speed, and when he stays back in his swing, he can really mash. That long swing makes the power come in even more at times, but also causes some swing and miss issues. Cowart has the ability to pull his hands in and drive inside pitches to the outfield with ease.
Cowart is a big boy, and in the right sense. He stands at six-foot-three with 225 some pounds of muscle that keeps him strong and elusive. He's recently moved to Atlanta, and has a new diet, which has allowed him to gain some nice muscle these last few off-seasons. At the Goldin Athletic Training Association, Cowart has been taking in 5,000 calories a day, and changed his diet to grilled chicken, brocolli and protein shakes. Why tell you any of this? Well, Cowart has been lifting nearly every day he hasn't been playing baseball and has really added some strength to his upper body. No one is a bigger critic of Cowart than himself, and his will towards becoming a better ballplayer is really showing.
with that added body strength, which is very evident, he's added speed and power to his game. He stole more bases last year than ever before in his life, and a lot of it has to with his new leg strength. He's already fast, and can take off with a nice first step. He's also a notoriously strong base runner, with more than enough knowledge of what's going on around him to take another base with ease if needed. He doesn't run the bases like a young man, but instead, like a seasoned veteran.
Cowart has good discipline and an advanced approach while at the plate. He doesn't always fall into favorable counts, where he has some trouble once behind in the count. However, he knows the difference between a ball and a strike, and can come from behind while at it. He's not very feared due to his recent struggles, and pitchers have really attacked him, not giving him much chance to draw the walk in every plate appearance.
Defensively, Cowart may be one of the best, if not the best third baseman in the minor leagues. He was known as a pitching prospect out of high school with a mid 90's fastball, and it's very evident in the field right now. He really hurls the ball across the infield from third base once he has the ball, and makes no mistakes in the transition from glove to hand, making him even harder to reach against. His glove is just as good as any right now. Cowart has an electric first step to the ball and is light on his feet, allowing him to range towards any ball that comes his way.
STATISTICAL BREAKDOWN:
After a simple year of being drafted and playing just seven professional games, Cowart leaped for Orem for his first full season of pro ball in 2011. While there, Cowart posted a .283/.345/.420 slash with 12 doubles, three triples, seven home runs, 40 RBI, 49 runs scored and 11 stolen bases in 72 games. Of those 72 games, 23 were multi-hit games, and 13 of those came in his first 23 games. In his first 25 games, Cowart held a .404/.454/.551 slash with 17 runs scored and 16 RBI (all while he had an 0-for-8 game).
Cowart saw both Single-A affiliates in 2012, first in Cedar Rapids, where he posted a .293/.348/.479 slash with 16 doubles, three triples, nine home runs, 54 RBI and 42 runs scored in 66 games. Cowart collected 21 multi-hit games, and 11 multi-RBI games. Cowart had himself a nice 10-game hit streak, seven of those being multiple hit games, at the end of May, where he went a combined 21-for-41 (.512), reaching base in 28 of his 47 plate appearances (.595 OBP), and holding a .805 slugging percentage (extra base hit every 4.5 at bats). In 69 games in High-A, Cowart posted a .259/.366/.426 slash with 49 RBI and 48 runs scored. In High-A, Cowart reached base in 53 of his first 58 games, holding a .290/.401/.484 slash, reaching base an average of three times every two games.
Cowart's first taste of Double-A was pretty rough to say the least. He slashed just .221/.279/.301 with 42 RBI, 48 runs scored, 20 doubles, a triple, and six home runs in 132 games. Cowart did blast lefties though, with a .279/.328/.377 slash in 122 at bats. Cowart also excelled while ahead in the count, slashing .298/.456/.458.
This past season, Cowart struggled mightily with a .223/.295/.324 slash with 18 doubles, four triples, six home runs, 54 RBI, and 48 runs scored. Cowart's strongest mark of the season was in June, where he hit .269/.343/.387 in June with six stolen bases. Cowart did see a career high in stolen bases though with 26 on 33 attempts.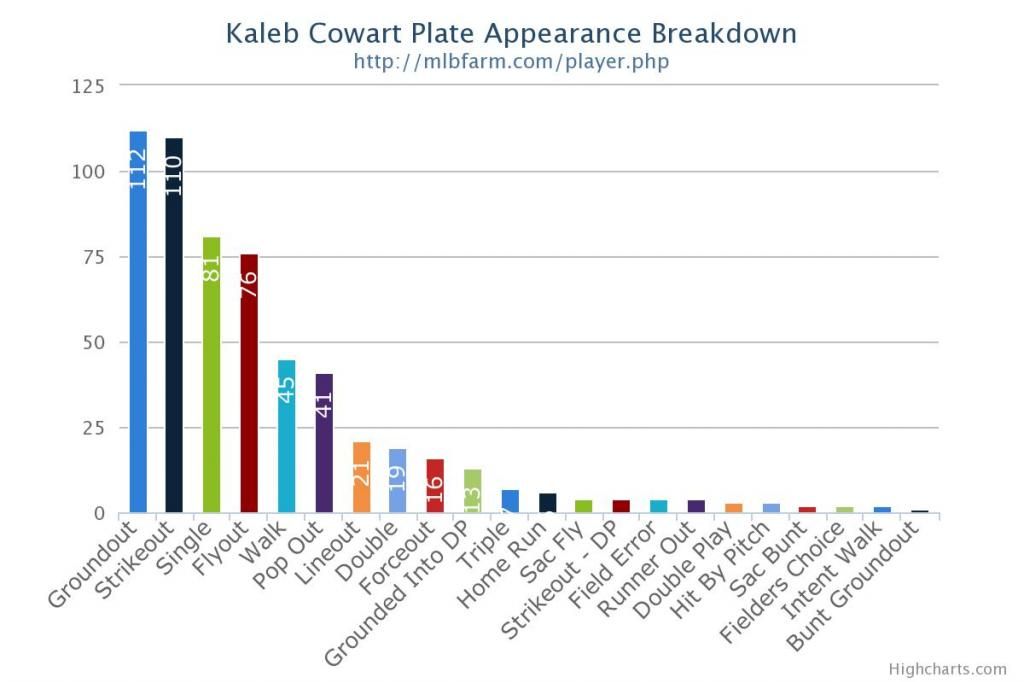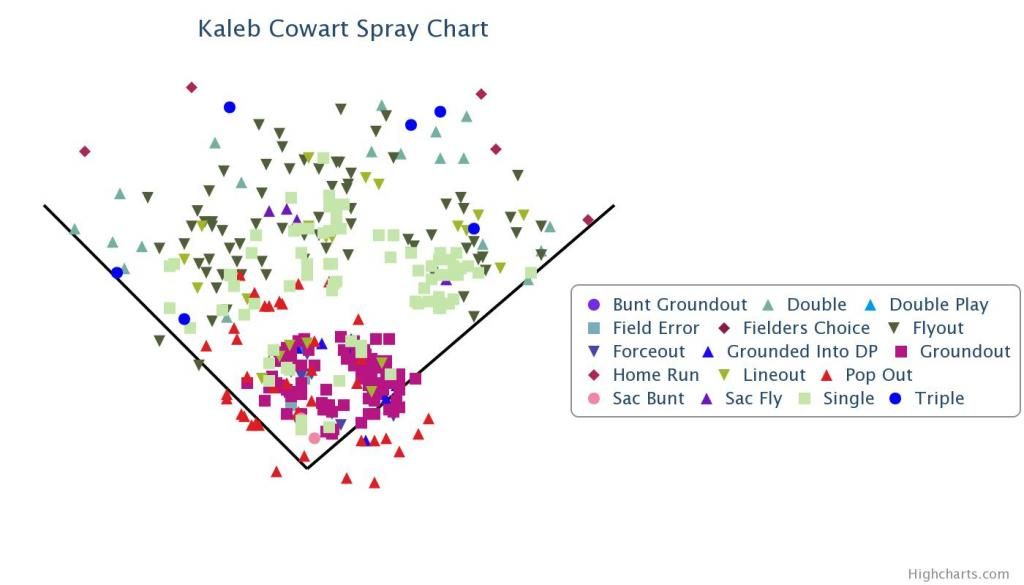 EXPECTED FUTURE:
Future is the key to Cowart. This next season is a big one in his growth and development. He should see a third year in Double-A, where he'll still be younger than most of the competition. With a good year, he could remain at the top of the Angels prospect charts, and possibly see some Triple-A time. If not, he might be moved to the mound in two years.
Yes, a pitcher. Kaleb Cowart was a highly touted pitching prospect in high school, and there's been talk about him making the move to the mound. Without going deeper into that, Cowart could keep up his position player development and get Major League time late in the 2016 season. The Angels drafted him planning on him being a starter but have picked up the likes of Kyle Kubitza to take strides ahead of him, while having Brian Hernandez in the lurks as well. Cowart has a lot of questions, and all those will be answered by the end of this next year. But, expect large things from this young man, and for some of you, be ready to take back the bad things you said about him.
For more updates on the Los Angeles Angels, their prospects, and our Top 100 Prospects Countdown, follow us on Twitter, @AngelsOnScout.
Taylor Blake Ward is a Senior Publisher for InsideTheHalos.com, and can be found on Twitter, @TaylorBlakeWard.