Jeremy Rhoades, Right-Handed Pitcher

HT : 6'4
WT : 225 lb.
DOB : February 12, 1993, Wheaton, IL
Throws : Right
Bats : Right
School : Illinois State University (Normal, IL)
Acquired : Drafted in 4th round (119th overall) in 2014 June Draft
Stock : Neutral
Cool Notes : Chicago Bulls and Blackhawks fan / Brother, Taylor, played baseball at Bowling Green
Jeremy Rhoades is a guy who really excites us. He's one of those early round guys who can really limit damage from the mound in different ways. Also, he's got one of the best sliders in the entire Angels organization.
SCOUTING REPORT:
Rhoades comes with some serious mechanical questions. He really drives with his legs, which is a good thing, but sometimes falls off the mound with an inconsistent landing spot due to rushed motions, which is not good. Rhoades does hide the ball well, keeping it behind his body throughout his motion and then hurling it from a three-quarter arm slot. However, he really uses max effort on both his shoulder and elbow, which could mean limited innings and a spot in the bullpen instead of rotation. This may come from his catching days in high school, which ended due to a broken finger, but it is something he'll need to take control of to stay consistent and healthy throughout his career. It may also add some ticks to his fastball as well.
When it comes to Rhoades being a starter or reliever, there are a few things to look at. He puts some extensive stress on the shoulder and elbow, which leads to the bullpen. However, he is without a doubt one of the more athletic pitchers in the system, and takes that to the mound with him in every appearance. While in high school, Rhoades was a pitcher, catcher, and shortstop. With that said, he has the athleticism and stamina to remain a starter currently. He's also six-foot-four and 225 pounds, which really means his athletic frame is an advantage leading him to staying a starter. Another notch for the bullpen side of the argument is Rhoades early college days, where he was a closer. Now, he wasn't outstanding as a closer, but he has that mentality of going after guys and working at a quick pace.
Rhoades has a pair of fastball offerings, consisting a standard four-seam and a cut-fastball. Rhoades four-seam sits primarily in the low 90's, mostly from 90-92, but has jumped to 94 at rare times. With a little more coaching and some mechanic quirk adjustments, he could turn this into a consistent mid 90's fastball with decent movement. His cutter sits about five miles per hour slower than his four-seam, and has actual cut to it, but isn't really anything that will blow you away.
Rhoades uses a changeup and slider as his off-speed offerings. We won't talk about the changeup, because it's decent at best. His slider though... oh my! Rhoades comes with a wipeout slider that features incredibly late tilt. It has some slurve like movement to it, but really slings through the zone and is a very nice swing-and-miss pitch. Rhoades slider sits in the low to mid 80's, as well as his changeup.
Rhoades can throw all his pitches for strikes, which really is a high mark of his game. When it comes to command, Rhoades' fastball isn't fast enough for him to miss his location a lot, and so far, he's done a good job of it. When it comes to the changeup and cutter, he can place them where he likes, and throw them for strikes. Rhoades' slider... we can't get enough of it. He can place is wherever he wants, and really capitalize with it. Command and control haven't been a problem at any point in Rhoades' career, and we only see it getting better with time.
STATISTICAL BREAKDOWN:
At Wheaton Warrenville South High School, Rhoades was a two-year starter, and two-year member on the golf team (yep, he's a pitcher). During his senior year, Rhoades held a 6-4 record and 2.21 ERA, while striking out 81 batters in 69.1 innings pitched. He was named an All-DuPage Valley Conference selection, All-Area honoree, and was named the most valuable pitcher by his team.
In Rhoades first year at ISU, he held a 4-4 record and 4.57 ERA in 45.1 innings pitched. Rhoades struck out 32 batters in his freshman campaign, including five alone in a three-inning scoreless outing against Southeast Missouri. In a rivalry game against Illinois, Rhoades matched his work of three-innings of scoreless work, but struck out four, instead of five. Rhoades also worked a pair of scoreless outings against Austin Peay and Bradley.
Rhoades had nothing close to a sophomore slump, but instead, boasted one of the best years in school history as a sophomore. Rhoades held a 2-1 record in 26 relief appearances, picking up six saves. Rhoades held a 1.54 ERA with 37 strikeouts in 41 innings, while holding bats to a .224 average. Three of Rhoades' six saves were perfect outings, including a four and one third outing against Southern Illinois that gave ISU their first outright Missour Valley Conference regular season title in school history. In the Missouri Valley Conference Championship, Rhoades went six innings of work, picking up a save as well. He was named a First-Team All-Missouri Valley Conference selection.
In his final year at ISU, Rhoades shined again. In 19 appearances (eight starts), Rhoades held a 6-4 record, 2.35 ERA, and 1.161 WHIP. Rhoades had two of his eight starts go as complete games. Rhoades had his highest strikeout total since high school, striking out 92 in 76.2 innings pitched (10.8 K/9), while walking just 25 (2.93 BB/9). Bats were held to a .226/.294/.265 slash, only hitting eight extra base hits (no home runs) in 283 at bats. Rhoades was named an honorable mention for the Second-Team All-MVC Team.
Upon being drafted this last season, Rhoades saw some decent numbers in short stints at Rookie Ball. His 4.42 ERA escalated on a trio of four run outings. Rhoades did have seven of his 14 outings go as scoreless outings, including his second professional appearance where he went a perfect three-innings, while striking out five of the nine batters he faced. Lead off bats were held to a .176/.282/.324 slash in 34 at bats against Rhoades.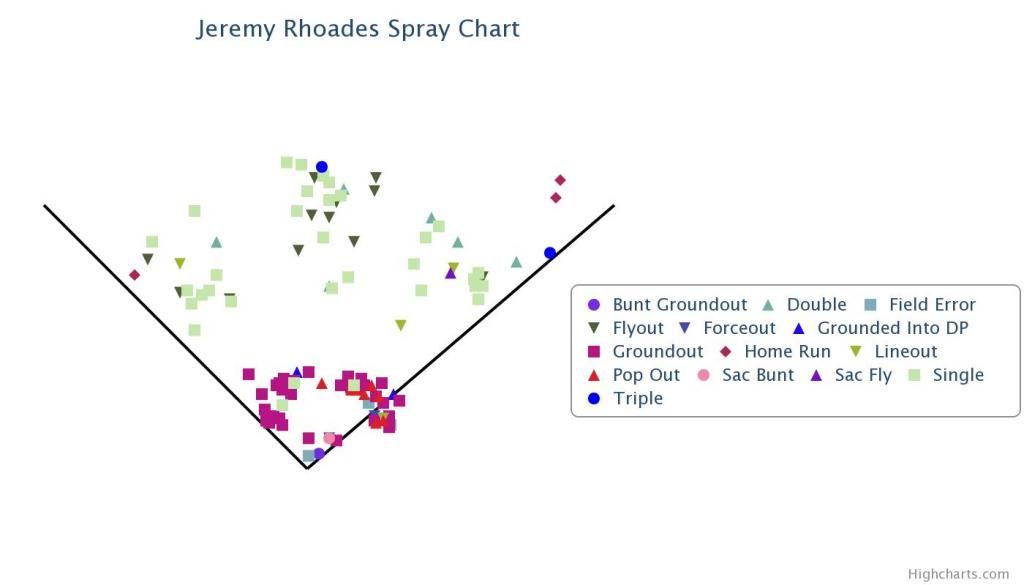 EXPECTED FUTURE:
Rhoades is obviously of age and talent to advance beyond Rookie Ball next season. With that said, Burlington should be his landing spot out of Spring Training. That's where the Angels will have a nice and easy way to figure out if he'll be hanging around the bullpen, or pitching every five days in the rotation. With some early success, the Angels could push Rhoades to High-A by mid-season, but it may take a very, very good start.
The Angels have to make a decision on Rhoades, and whether he'll be a starter or reliever. If he's a reliever, they can quick track him to the show, and he could see Major League time as early as the 2017 season. If he's a starter, the Angels may take some more time adjusting his mechanics, and it should be a year or two delay for his Major League ETA.
For more updates on the Los Angeles Angels, their prospects, and our Top 100 Prospects Countdown, follow us on Twitter, @AngelsOnScout.
Taylor Blake Ward is a Senior Publisher for InsideTheHalos.com, and can be found on Twitter, @TaylorBlakeWard.