Victor Alfonso Alcantara, Right-Handed Pitcher

HT : 6'2
WT : 190 lb.
DOB : April 3, 1993, Santo Domingo, Dominican Republic
Throws : Right
Bats : Right
School : N/A
Acquired : International Free Agent 2012
Stock : Rising
Cool Notes : Best natural "stuff" in the Angels system currently / Ceiling is being lifted, with floor being the basement
Victor Alcantara is scary good. He has the best natural stuff in the system, but really has trouble locating that stuff. He was gifted, with a trip to the MLB Future's Game this past season, and there was good reason. There aren't many prospects that come with the excitement and questions and "what the heck?" kind of comments like Alcantara does. The cool thing is you might be able to see this young talent this upcoming season at an affiliate near you (nice little advertisement for the affiliates, eh?)
SCOUTING REPORT:
Alcantara comes with easily the best fastball in the Angels farm system currently. It truly dances around in it's path to the catcher's mit, and is something not many can catch up to. Alcantara throws his four-seam fastball, with some two-seam movement, primarily in the 94-96 MPH range, but has jumped into the 97-98 range at rare times. He actually touched 100 a few times this past year and once was recorded at 101 MPH. That not only turns our heads, but makes us feel that Alcantara could be in the high 90's and triple digits with a full-time bullpen role and a little more physical development.
Alcantara is pretty well filled out at six-foot-two and 190 pounds. He still looked somewhat small when we saw him late in the season, but he definitely wasn't scrawny. With some added muscle, you can expect some more stamina added, as well as a tick or two of velocity to his fastball.
Alcantara has a nice mix of off-speed offerings between his changeup and slider. Some have confused his slider with a cut-fastball due to it's velocity and late movement. His slider sits in the high 80's and has touched the low 90's at times, with late life. It sweeps as well as any slider in the Majors, with good shape and late break to it. The only problem is his ability to keep it in the strike zone. Alcantara really doesn't use his changeup as much as he should, because it's honestly pretty decent. It comes from a two-seam grip and has some arm-side run to it. He has a good feel for it, and it sits primarily in the mid to high 80's from 84-88. He has the ability to throw his changeup for strikes and really has both offerings come as flailing, swing-and-miss pitches, as batters sit waiting for something to come 95 MPH at them. Between his fastball and off-speed offerings, Alcantara really has the stuff to go after guys and get outs with ease.
Mechanically, Alcantara is somewhat all over the place. He always pitches from the stretch, using little effort in his pre-stride motion. He really jerks his body from there on out though. He hides the ball behind his head, and then seems to hurl from his shoulder and elbow with an awkward arm action, making him even more deceptive. Alcantara stays closed throughout his entire stride, and it sometimes leads to him falling off the mound to the first base side dominantly. The problem with this is he starts to turn his entire body throughout his motion, losing control of not only his body (primarily swinging his head in a harsh manner), but pitches as well. He really has little balance, and needs to simplify things to become an elite pitcher.
Alcantara really has better control and command than it seems. He throws the ball downhill well and pounds the lower half of the zone, usually tagging some dirt on occasions. The big problem in his control is his non-repetitive release point which is part of his awkward mechanics. His mechanics really ware on him, and that causes some serious control problems late in games. Alcantara does have strong work ethic though, and has truly tried to settle down on the mound and become more repetitive in his motions, helping him maintain command and control.
Alcantara's future seems to almost already look to the bullpen. He fires so hard from a harsh motion that you can only imagine what that's doing to his arm. He is a calm guy on the mound, and really controls his emotions in every situation. He does get amped at times, which is expected from a young man, but he pitches better when he stays under control and doesn't just try gunning guys down, which means a rotation role isn't out of the question. If he can ease into some mechanical adjustments, the Angels could honestly see an "ace" kind of guy in Alcantara, nearly similar to Garrett Richards.
STATISTICAL BREAKDOWN:
Alcantara began his professional career in the Dominican Summer League, and ran away with an incredible season. He posted a 2.13 ERA and 1.264 WHIP, while holding bats to a .199 average and 6.37 hits per nine. Alcantara really shut down bats, holding them to a .199/.311/.227 slash and kept left-handed bats silenced with a .143/.316/.190 slash with just two extra base hits in 63 at bats. In his final six starts of the season, Alcantara held a 3-1 record, with a 0.76 ERA and 0.933 while holding bats to 21 hits in 35.1 innings pitched (5.35 H/9), 12 walks (3.05 BB/9, with five walks in his final appearance), and 40 strikeouts (10.18 K/9). Bats were held to a .170/.250/.187 slash in those final six games.
Alcantara really got rocked in his first year stateside, posting a 7.47 ERA and 1.830 WHIP in Rookie Orem. There wasn't really a point where Alcantara found a groove, but made one good start where he allowed one hit with three walks in a five inning performance in early August.
Alcantara found consistency again this last season with a 3.81 ERA and 1.260 WHIP in Low-A Burlington, holding bats to a .219/.312/.288 slash. Alcantara only had two of his 20 starts go scoreless, but found some nice grooves, like the one he had from late June to mid August. During that stretch, Alcantara had a 2.65 ERA and 1.090 WHIP, while holding bats to 7.36 hits per nine, 2.45 walks per nine, and a .229 batting average and .597 OPS. Right-handed bats struggled against Alcantara, with a .194/.312/.259 slash against him, striking out in 30% of at bats.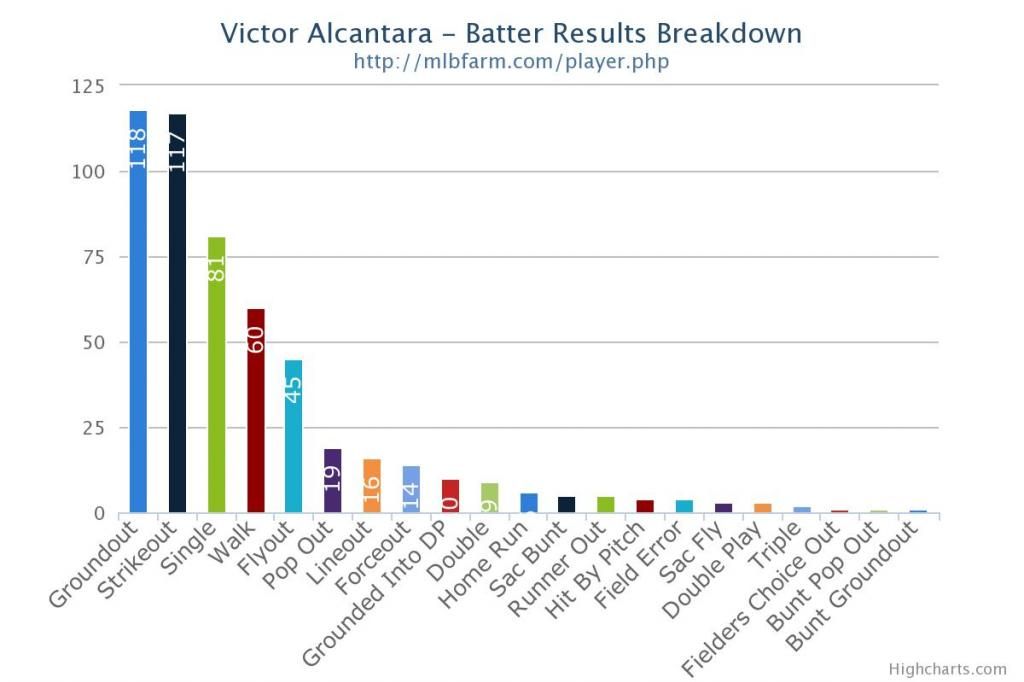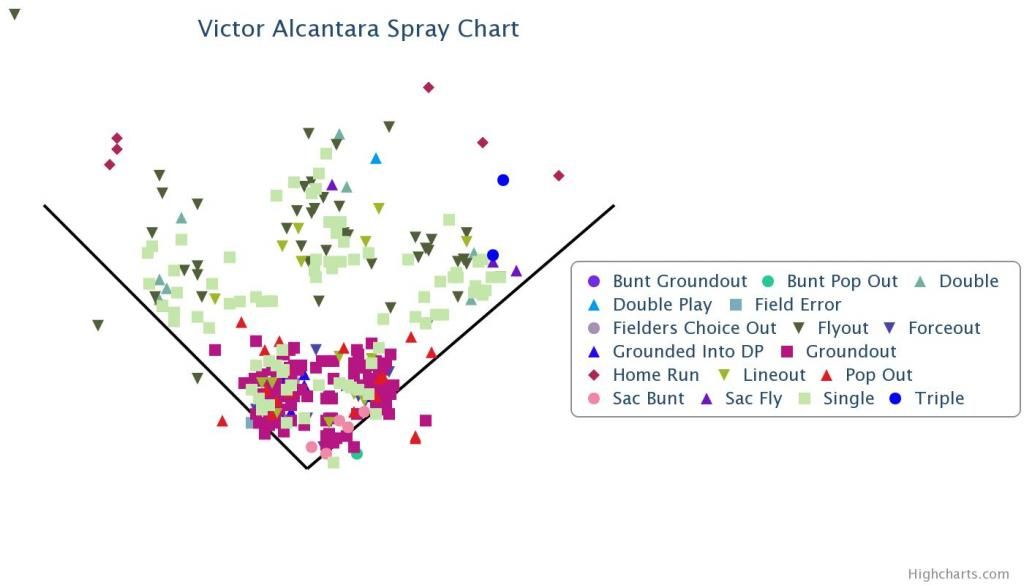 EXPECTED FUTURE:
We might get some heat for saying Alcantara has "ace" potential, and comparing him to Garrett Richards, but for those with doubt, you can more than likely see him in person in 2015. Alcantara made the late season leap to High-A at the end of this last season, and there's little doubt after a strong season in Burlington that he'll be back in High-A for the 2015 season.
The Angels have time with Alcantara, and will more than likely use that time to fix his mechanics and decide what role he'll play in the future. Alcantara has some high ceilings that are somewhat unpredictable. He has closer like stuff, and could definitely be a guy who has importance as a seventh inning guy or set-up man. He also has the stuff to become a gifted starter. Either way, Alcantara should see Major League time by the 2017 season in some way or another, and become a future talent for years to come for the Halos.
For more updates on the Los Angeles Angels, their prospects, and our Top 100 Prospects Countdown, follow us on Twitter, @AngelsOnScout.
Taylor Blake Ward is a Senior Publisher for InsideTheHalos.com, and can be found on Twitter, @TaylorBlakeWard.