Alex Yarbrough, Second Baseman

HT : 6'0
WT : 195 lb.
DOB : August 3, 1991, Allen, TX
Throws : Right
Bats : Switch
School : University of Mississippi (Oxford, MS)
Acquired : Drafted in 4th round (147th overall) of 2012 June Draft
Stock : Rising
Cool Notes : Sources claim he's good friends with Tyler Seguin (about as cool as it gets)
Sometimes, during minor league games, you can see players that are clearly more talented than the rest of the competition. That's the case we had when we saw Alex Yarbrough. Potentially the future of second base for the Angels, Yarbrough comes to play with an amazing bat, nice glove, and hard work ethic that will allow him to excel.
SCOUTING REPORT:
Yarbrough is known for his bat. It's simple, the guy hits the ball, hits it well, and that's it. He's a switch hitter who has slightly more power on his right side but a more gentle swing from the left-side. That's not to say his swing from the right-side is bland, or he has no power from the left-side though. He has decent power from both sides, but isn't really a guy you'd expect to tag a ball over the fence. Yarbrough does get marks for effort though, as he's added muscle over the off-seasons, with the focus of adding more power to his game. His contact comes from outstanding hand-eye coordination, and a swift swing. He has a line drive approach with a compact swing, which is shorter from the left-side of the plate (thus, the right-side power).
Yarbrough's discipline may need a few quirk changes. He's incredibly aggressive and doesn't draw as many walks or high pitch counts that you'd like to see from a guy who could reach base loads with his contact abilities. Yarbrough swings at strikes and really doesn't get pulled off the plate much or show signs of not knowing the strike zone. The problem with that at the higher levels is that he's been going after pitcher's pitches, and not making great contact on them. A nice thing about Yarbrough's aggressive approach is that he really tags the ball while attacking from the plate, and finds most of his power early. During his time in High-A, Yarbrough worked with manager, Bill Haselman (no longer with system), on being more selective and really finding his pitch before swinging.
For whatever reason it is, Yarbrough gets poor knocks on his defensive game. We don't get it. He has a strong arm, and it's even strong enough to where he could spend time in left field and limit the running game. His glove is pretty outstanding, and nearly flawless while he's ranging to his glove side. He is limited when it comes to his range, as he's not the fastest guy in the world, but it will never be near being called a liability. He's really quick on his feet, and has a nice first step which has improved after some work with the Angels infield instructors this past season. He has no trouble standing in front of hard hit balls, and finding ways to scoop them up. He really has a nice release, especially while turning a double play. If there was one poor mark we noticed, it was his range to the middle of the infield, but he made up for with outstanding lateral speed. Oh, by the way, he was named the best defensive second baseman by Cal League managers during his time in High-A.
Yarbrough has okay speed. That's about it. He's not fast, but he's nowhere near slow. He has great baseball instincts and is an outstanding base runner, more than a few times catching the defense napping. He's probably capable of stealing 10-15 bags a year, even at the highest levels, but you can't expect him to be a guy taking off constantly. You can't expect him to get much faster either, because he's really filled into his full physical frame at six-foot and 195 pounds of proper muscle.
STATISTICAL BREAKDOWN:
Yabrough jumped out from Ole Miss and took off straight for Single-A out the draft. He collected a 12 doubles, nine triples, 27 RBI and 35 runs scored in 58 games. 20 of Yarbough's 58 games went for multiple hits, including eight three-hit games and a four-hit game, finishing the season with five consecutive. In those final five games, Yarbrough went a combined 13-for-26 with three doubles, two triples, four RBI and 10 runs scored, lifting his season slash from .261/.297/.367 to .287/.320/.410. From the third to fifth innings of games, Yarbrough hit .379/.416/.582.
Yarbrough picked up his bat in his sophomore pro season, posting a .313/.341/.459 slash in High-A, with 32 doubles, 10 triples, 11 home runs, 80 RBI and 77 runs scored. Yarbrough picked up hits in 102 of his 136 games played, having 56 multiple hit games, 16 three-hit games and four four-hit games. In 45 games from May 20th, 2013 to July 10th, Yarbrough held a .355/.393/.567 slash with 12 doubles, four triples, seven home runs, 35 RBI and 33 runs scored. Over the same span, Yarbrough collected 22 multi-hit games, and hit safely in 40 of those 45, beginning the stretch with a 14-game hit streak.
Yarbrough was named the Texas League Player of the Year this past season, helped by his .285/.321/.397 slash with 38 doubles, four triples, five home runs, 77 RBI and 66 runs scored. Yarbrough lead the league in games (136), at bats (544), hits (155), doubles (38), and sacrifice flies (11). Yarbrough was among league leaders in RBI (77), which was best for second in the league, and was third in batting average (.285), trailing just two, including his teammate, Brian Hernandez, and also had the third most extra base hits (47) and total bases (216).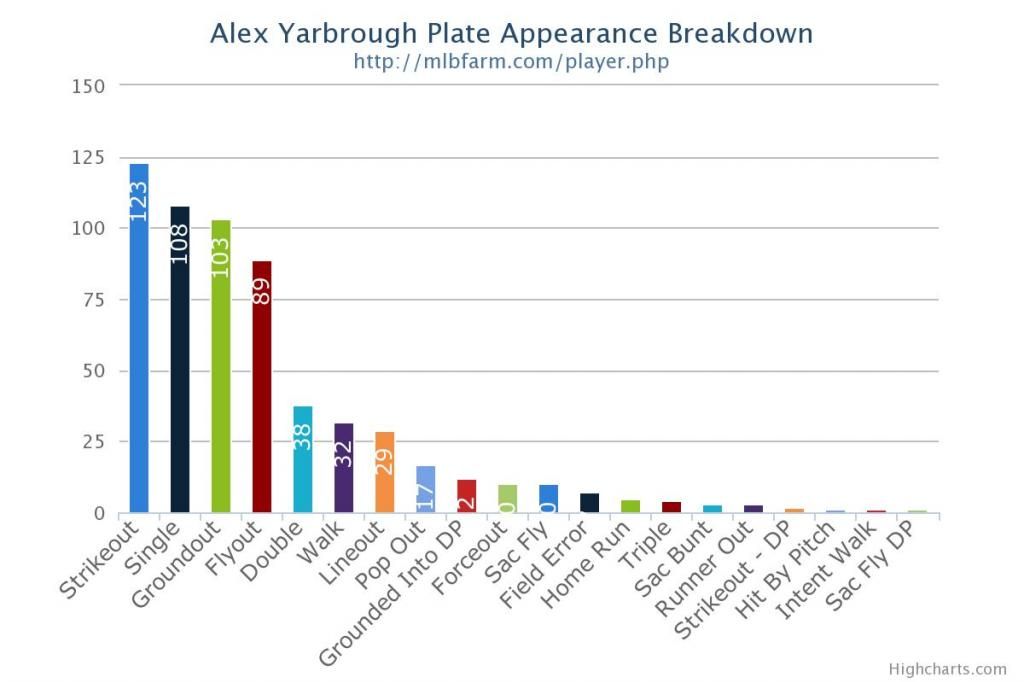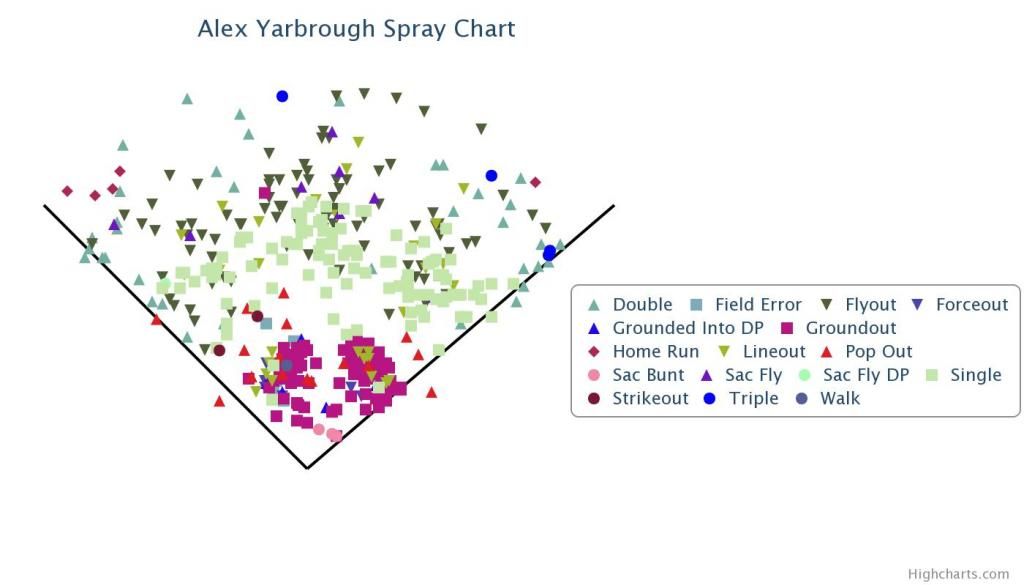 EXPECTED FUTURE:
Yarbrough obviously did just fine in Double-A. Here's the issue. The Angels added three guys to their organization that are technically "ahead" of Yarbrough at the moment at second base. Between Grant Green, Taylor Featherston, Josh Rutledge, and Johnny Giovatella, Yarbrough is kind of in a poor spot. He'll see Triple-A time next year, there's no denying that, but he may have to share time at second base instead of playing 130+ games (Yarbrough has only missed eight games combined in the last two years).
Yarbrough seems to be the plan for the future. He's the only guy out of that list above that hits from the left-side of the plate, and he pretty much has the best glove of them all, with the best projected bat. The guy that is truly ahead of Yarbrough above the rest is Josh Rutledge, who can begin arbitration in 2016, and won't be a free agent until 2019. It's a tough spot for Yarbrough, but we really expect him to see the Majors by early 2016, and potentially be a full-time rookie starter by the 2017 season.
For more updates on the Los Angeles Angels, their prospects, and our Top 100 Prospects Countdown, follow us on Twitter, @AngelsOnScout.
Taylor Blake Ward is a Senior Publisher for InsideTheHalos.com, and can be found on Twitter, @TaylorBlakeWard.