Cameron Bedrosian, Right-Handed Pitcher

HT : 6'0
WT : 205 lb.
DOB : October 2, 1991, Senoia, GA
Throws : Right
Bats : Right
School : Coweta High School (Sharpsburg, GA)
Acquired : Drafted in 1st round (29th overall) of 2010 June Draft
Stock : Rising
Cool Notes : Father, Steve, won the 1987 Cy Young Award
The 29th overall pick has seen names like George Brett, Adam Wainwright, and recent talents like Lonnie Chisenhall and Joe Panik. You can begin adding Cam Bedrosian to that mix of names, as he's already began making a name for himself among Angels fans with Major League time last season. His father, Steve, was one heck of a pitcher, with a wipeout slider and some nifty awards (Cy Young) to his final resume. Cam is looking to follow in the footsteps of his father, and create a bigger name for himself and become one of the elite closers in Major League baseball soon.
SCOUTING REPORT:
Bedrosian is given high praise for his arsenal, and natural stuff, which consists of a four-seam fastball, slider, and cut-fastball. His four-seam is his go-to-pitch, and sits primarily in the mid 90's from 93-96 MPH. He can dial back a little, and add some velocity when needed. Where Bedrosian gets in trouble is leaving the ball up in the zone, which was no concern in the minors, but at the Major League and Triple-A level, left him in some rough situations. His fastball has some natural lift to it, and is something batters have trouble with due to it's deception on it's way to the plate. The trouble with this is it has flattening movement at times due to it's elevation, and can really get tagged hard.
Bedrosian has a pair of off-speed offerings, consisting of a slider and cutter. His cutter hasn't been used much, and is somewhat new to his arsenal, but has been given high praise in the minors thus far. Bedrosian opted to let go of his curveball and turn it into a slider. Bedrosian's slider is possibly his best pitch. It has some good late movement to it, when it moves, and nearly looks like a sinker at times with it's late drop. It's been a very effective swing-and-miss pitch.
Bedrosian has had some release point issues, but doesn't have many concerns from his current delivery. He's very high energy and high impact in his mechanics, which can create some erratic pitches (see release point mentioned above). He does have a nice ability to hide the ball well, using his arm almost as a cannon, dropping it below his hip and slinging it forward. Everything else in his mechanics though are near flawless.
Bedrosian has trouble commanding his off-speed pitches, and sometimes his fastball as well. When he leaves pitches up, they really get hit hard, and it just so happens that Major Leaguers love to hit fastballs. Release point seems to be the problem, and if he can fix this, oh my... you're looking at a Major League All-Star kind of talent. The focus right now is to have Bedrosian be the closer of the future for the Angels, and all it will take is some small quirks and adjustments to make better command and control.
STATISTICAL BREAKDOWN:
After being drafted in 2010, Bedrosian was limited to just 12 innings in Rookie Ball, where he allowed six runs on 13 hits and seven walks, while striking out 10. If you took away Bedrosian's first appearance (one inning of relief), he would have held a 1.64 ERA for the season. Bedrosian did not pitch in the 2011 season after having Tommy John surgery.
Bedrosian was put in the rotation in Single-A after Tommy John, and it really just didn't go well. He did find a few nice spots, having three of his 21 outings go scoreless, and 13 go for three runs or less.
Bedrosian allowed 14 runs in his first five innings pitched (25.20 ERA) in 2013, on 11 hits and six walks (3.400 WHIP). In his next 58 innings pitched between Low-A and High-A, Bedrosian held a 2.79 ERA and 1.224 WHIP, while striking out 11.64 per nine. Also in his final 42 games of 2013, he held bats to a .222/.342/.328 slash. Bedrosian had 22 scoreless outings in his final 25 appearances.
This past season could not have been much better for Bedrosian. He began the season with one of the best months in minor league baseball history, striking out 26 in his first 10.2 innings pitched. You read that right! He made 81.25% of his outs at the plate, striking out 26 of the first 39 batters he faced. This included a streak between both High-A and Double-A where he struck out ten batters in a row, including the first six he saw in Double-A. While in High-A, Bedrosian struck out 15 of the 20 batters he faced. Bedrosian had a span where he struck out 21 of 26 batters faced, allowing just one hit and two walks over that span. Over the rest of his 2014 season in High-A and Double, Bedrosian held a 0.95 ERA and 0.611 WHIP, while holding bats to a .090/.172/.116 slash, while striking out 17.20 per nine.
Bedrosian earned a callup to the Majors, where he had his struggles, but that's expected from a 22-year-old who never saw Triple-A. Bedrosian had a perfect 1-2-3 inning in his debut, and then struggled, posting a 6.84 ERA and 1.747 WHIP between MLB and Triple-A. Bedrosian did hold bats to a .264/.382/.387 slash as a 22-year-old at the highest levels.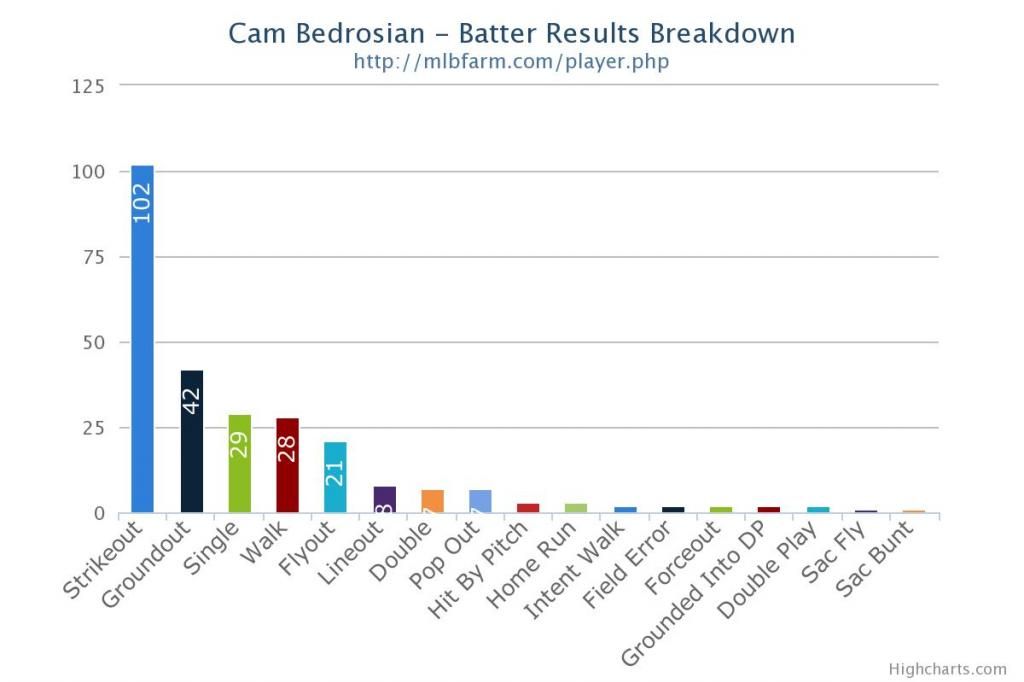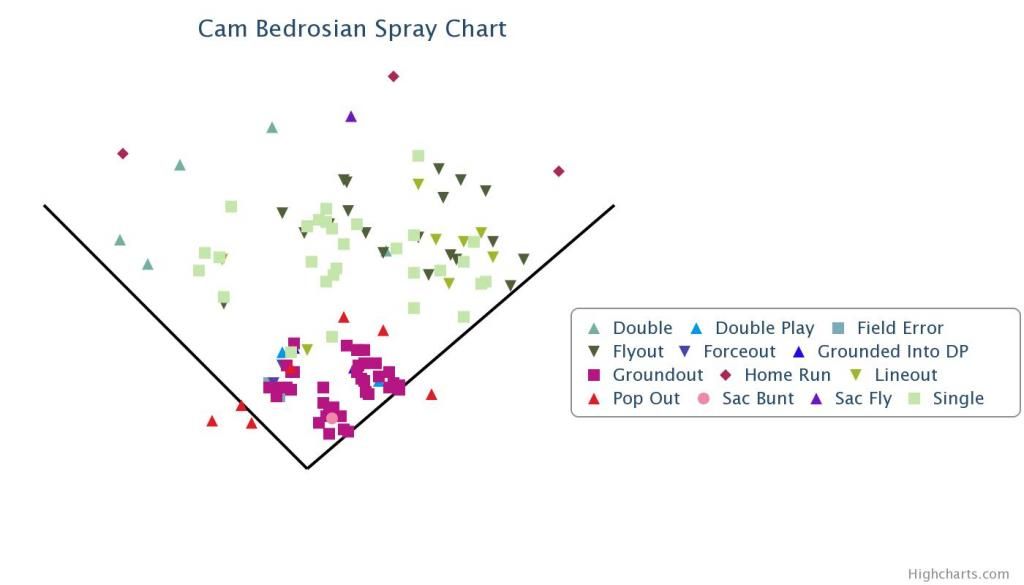 EXPECTED FUTURE:
Bedrock saw some time in the Majors this past season after beginning in High-A. He was more than just good in the minors, but he truly was great, being named the Minor League Reliever of the Year by MiLB.com. It's expected that 2015 will see some outstanding numbers in the minors again, but instead of at the mid levels of the minors, the highest level, at Triple-A. Don't hold out on Bedrosian being with the big club though, as he very easily could be in the Halos bullpen for the full 2015 season.
The future is depending all on that control department (see scouting report above). Right now, Bedrosian fits well as a seventh inning guy, but the plan is to have him be a closer. Huston Street's contract comes to a close at the end of the 2016 season. So? How about that Cam Bedrosian kid taking over the ninth inning role in 2016 and being a full-time closer for years, and years, and years... and maybe a few more years?
For more updates on the Los Angeles Angels, their prospects, and our Top 100 Prospects Countdown, follow us on Twitter, @AngelsOnScout.
Taylor Blake Ward is a Senior Publisher for InsideTheHalos.com, and can be found on Twitter, @TaylorBlakeWard.