Nick Tropeano, Right-Handed Pitcher

HT : 6'4
WT : 200 lb.
DOB : August 27, 1990, West Islip, NY
Throws : Right
Bats : Right
School : Stony Brook University (Stony Brook, NY)
Acquired : Traded from Houston Astros in 2014, in exchange for Hank Conger
Stock : Neutral
Cool Notes : Nickname is "NiTro" / Had a one-pitch strikeout of Vinnie Catricalla in the minors
As lovers of nicknames here at Scout.com, when this prospect came over, we were ecstatic. Nick "NiTro" Tropeano, made us ecstatic too, because he's one of the prospects we enjoy watching and writing about. This finesse artist is someone Angels fans will enjoy for years to come, and he could be the finest asset to what they need to move forward.
SCOUTING REPORT:
Tropeano is very effective with his fastball, commanding it to all parts of the plate and having a trio of different fastballs to offer. Primarily, his fastball, whether it be from a four-seam or two-seam grip, sits in the 88-93 range, touching 94 on rare occasions. His four-seam has natural run to it, and his two-seam has some good sinking action to it, enough to be registered as a sinker. Tropeano throws a splitter, but rarely, and it has some nice diving action in the low to mid 80's. Tropeano gains a strong amount of groundballs with these pitches, keeping them low in the zone at all times, rarely elevating his four-seam for a punchout.
Tropeano's best offering is his changeup. He has no fear throwing it, and uses his fastball to set it up well. It comes with armside run, and really drops out underneath due to it's heavy backspin. It comes from the same arm slot and same arm speed as his fastball, but sits roughly 10-15 miles per hour slower than his fastball, truly making it an effective swing and miss pitch. The true blessing to his changeup is his ability to throw it for strikes, and throw it against both right and left-handed bats.
Tropeano has an average slider that shows some promise, coming in at an 11-6 drop, nearly as a curve. It has some swing and miss potential and he used it for two of his five strikeouts in his Major League debut. He has the ability to throw it for strikes and command it well, despite it not being a great offering. It has a late break to it, with the 11-6 drop, and comes in around the same speed as his changeup, taking away some of it's deception.
Mechanically, Tropeano has some concerns due to his harsh delivery. Tropeano spent some time on the disabled list last season with arm tightness, which causes some concern, and we'll keep an eye on it. He has a small jerking motion at the beginning of his delivery, but eases out once coming to release the ball. With this does come some nice deception though, as he hides the ball behind his hip somewhat before coming around. Tropeano has a nice follow through, finishing square to the plate and ready to play defensively. Despite the effort it takes for Tropeano to go through his entire delivery, he stays balanced throughout and should be able to eat up innings for quite some time. This is helped by his physical frame and natural athleticism.
When it comes to placing the ball, Tropeano is elite. He can command all his pitches to both sides of the plate, and really stay aggressive due to precision. He's a smart pitcher who can both pitch-to-contact and go for the punchout when the count is in his favor. Tropeano rarely gets hit hard, and that's mostly due to his ability to live on the lower half of the plate and still be able to throw strikes while doing so.
STATISTICAL BREAKDOWN:
In his sophomore and junior seasons at Stony Brook, Tropeano was absolutely lights out. Combined, he held a 20-5 record, 2.15 ERA and struck out 10.30 per nine (221 K in 193 IP), while walking just 2.47 per nine (53 BB). During his senior year, Tropeano had a 0.935 WHIP, and allowed just 6.09 hits per nine innings, and 0.677 per inning.
Once drafted, Tropeano continued his success in Short-Season A Ball, posting a 2.36 ERA, 1.181 WHIP and .212 opposing average. Tropeano allowed just two runs in his final six starts (28 innings pitched), and had his final four go scoreless. Over the six game span, Tropeano allowed just 15 hits and nine walks, while striiking out 42. Over the same span, Tropeano held bats to a .150/.220/.180 slash, while striking out 38.52% of the batters he faced.
Tropeano spent his sophomore professional season between both Single-A affiliates. Beginning in Low-A, Tropeano held a 2.78 ERA and 1.179 WHIP, while striking out 9.996 per nine. Tropeano had five of his 15 outings go scoreless, and five others go five innings of two run or less work. Lefties held a .187/.270/.260 slash against Tropeano, striking out in 31.85% of plate appearances.
Tropeano got rocked around at the beginning of his time in High-A, in the most hitter friendly ballpark in all of the minor leagues. He did finish the season with a 3.31 ERA and 1.316 WHIP, going 6-3, and picking up a win in the California League title game. In his final five starts, Tropeano went 31.2 innings, allowing 28 hits, walking seven, and striking out 29, while holding bats to a .235/.277/.336 slash.
Tropeano's trip to Double-A was somewhat of a struggle against tougher bats. He posted a 7-10 record, 4.11 ERA and 1.339 WHIP. In his first nine outings, Tropeano held a 1.70 ERA. while ahead in the count, Tropeano held bats to a .186/.183/.230 slash, striking out 78 in 183 at bats
This past season, Tropeano posted a 3.03 ERA, which lead the Pacific Coast League, and 0.98 WHIP and .202 opposing average. Tropeano had six of his 20 starts go scoreless, and had eight more go for one run or less. Tropeano hit an unlucky spot in his season, where he suffered from arm tightness, and wasn't the same the rest of the season. Before the injury, in 14 games, Tropeano held a 2.09 ERA, 0.914 WHIP, .188 opposing average and .580 opposing OPS.
Tropeano got to have a little fun this last season in the Majors as well, making his debut on September 10th, 2014. During his Major League time, Tropeano allowed 19 hits, nine walks, and 11 earned runs in 21.2 innings pitched, while striking out 13. He held bats to a .241 average, and struck out five in his debut.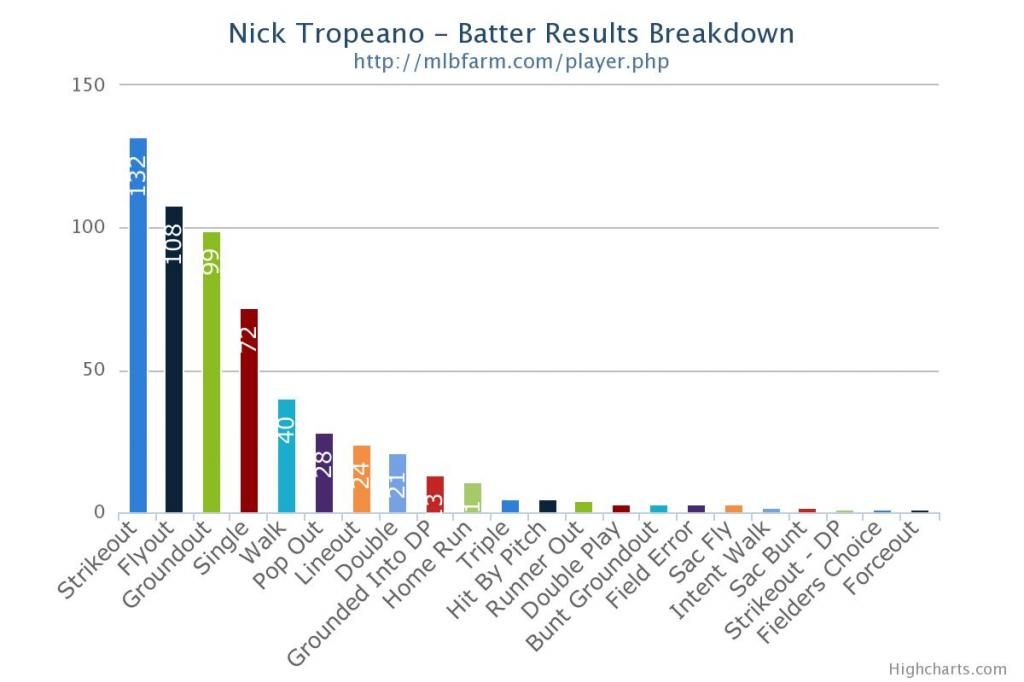 EXPECTED FUTURE:
Tropeano is ready to make the leap to the Majors. It's simple. He's putting up great numbers in the minors, pretty much always has, and doesn't really need to do a whole lot more down there. The Angels have somewhat ran out of space in their rotation, but the depth is nice. Tropeano could be a nice mix for a long-relief role in the bullpen, and swing over to the rotation when needed next season. He should see most of his time in Triple-A, just getting more prepped for the Majors.
Tropeano has a nice ceiling. He doesn't throw hard, and doesn't have a wipe out arsenal to be a top of the rotation starter. He seems to fit well as a #3, #4, or #5 starter, #3 being the ceiling. However, he's shown that he can eat up innings and keep bats quiet while doing so. Despite a career that doesn't seem to say "All-Star" with it, Tropeano should be able to make nice, due time in the Majors over his career.
For more updates on the Los Angeles Angels, their prospects, and our Top 100 Prospects Countdown, follow us on Twitter, @AngelsOnScout.
Taylor Blake Ward is a Senior Publisher for InsideTheHalos.com, and can be found on Twitter, @TaylorBlakeWard.