Andrew Heaney, Left-Handed Pitcher

HT : 6'2
WT : 185 lb.
DOB : June 5, 1991, Oklahoma City, OK
Throws : Left
Bats : Left
School : Oklahoma State University (Stillwater, OK)
Acquired : Traded from Los Angeles Dodgers in 2014 in exchange for Howie Kendrick
Stock : Rising
Cool Notes : Was a member of three different teams within a 12-hour span (Miami, LA Dodgers, LA Angels)
The Angels had to part ways with one of their longest tenured players to acquire Andrew Heaney, but Jerry Dipoto had a plan for the future in picking up this young southpaw. Heaney comes in as not just as the #1 prospect in the Angels system on our list, but is one of the top prospects throughout all of minor league baseball. There isn't a lot to him, other than he's just really good, thanks to his baseball IQ. Welcome the final member of our Top 100 Countdown, the top prospect, the numbero uno, the ace of it all... Andrew Heaney.
SCOUTING REPORT:
Heaney doesn't have any pitch that shines above the rest, or any others in the Angels farm system, but the precision of each pitch is what makes him one of the best prospects in baseball. Heaney has a low-effort delivery, staying simple and balanced throughout his delivery. He has an easy arm action, hiding the ball, giving him added deception from a three/quarter slot, which also allows the ball to jump out of his hand and look like it has added velocity.
Heaney repeats his mechanics well, which allows him to command all three of his pitches, and throw strikes regularly. Heaney has outstanding baseball IQ from the mound, showing his wit and poise each time he takes the mound. With his IQ and ability to paint pitches where he likes, Heaney comes with an advanced approach on the mound, allowing him to expand and create his own strike zone. Heaney attacks batters early in counts and finds ways to overmatch guys late in counts to put them away, or force weak contact.
Heaney's fastball sits anywhere from 91-95 regularly and can touch into 97 MPH at times. Heaney is crisper in his lower velocity register, as expected, but he locates his fastball at any speed well low in the zone. He has no fear of elevating it on two-strike counts to fool guys around the eyes. This pitch tends to get straight at higher velocities, but while in the lower 90's, it has a nice lift to it.
Heaney has a pair of off-speed offerings, consisting of a slider and changeup. His slider comes in as a wipeout pitch, dropping out of the zone with a late, sharp break in the low 80's. Heaney utilizes his slider best in two-strike counts and as noted above, can throw it wherever he'd like and throw it for strikes. Heaney has a solid changeup, that allows him to keep batters off-balance. It comes from the same arm angle as his fastball, and has nice downer and running movement, breaking away from right-handed bats.
STATISTICAL BREAKDOWN:
Over three years at Oklahoma State, Heaney combined for a 3.18 ERA and 1.196 WHIP. Opposing bats were held to a .246/.310/.334 slash, while having just 53 extra base hits come in 942 at bats against Heaney. Heaney struck out 246 batters, and walked just 69, for an average of 8.78 strikeouts per nine and 2.47 walks per nine.
In his first year of pro ball out of the draft, Heaney saw some struggles, posting a 4.33 ERA in six appearances, with a 1.407 WHIP. Heaney struck out 30 batters in 27 innings pitched, while walking just six, and held bats to a .280/.323/.342 slash. In his final start of the season, Heaney went six innings of two run ball, on four hits, while striking out nine.
Heaney's sophomore professional year went much different than his first. In High-A, where Heaney began the season, he held a 0.88 ERA and 1.005 WHIP, while striking out 66 in 61.2 innings pitched. Bats were held to a .193/.264/.270 slash, and had two of his six earned runs in High-A come by way of a home run. Heaney went scoreless in his final six outings in High-A, going 27 innings of 16 hit, six walk work, while striking out 22. In Double-A, Heaney held a 2.94 ERA, having four of his six starts going five innings of one run work or less.
This past season, Heaney jumped around from Double-A, to Triple-A, to MLB. In Double-A, he held a 2.35 ERA and 1.081 WHIP, while holding bats to a .223 opposing average. In Triple-A, Heaney shined, posting a 3.87 ERA, while striking out 9.79 per nine. Bats were held to a .234/.291/.367 slash in the hitter friendly Pacific Coast League. In the Majors, Heaney held a 5.83 ERA and 1.329 WHIP. Heaney held left-handed bats to a .212/.278/.333 slash in 33 at bats.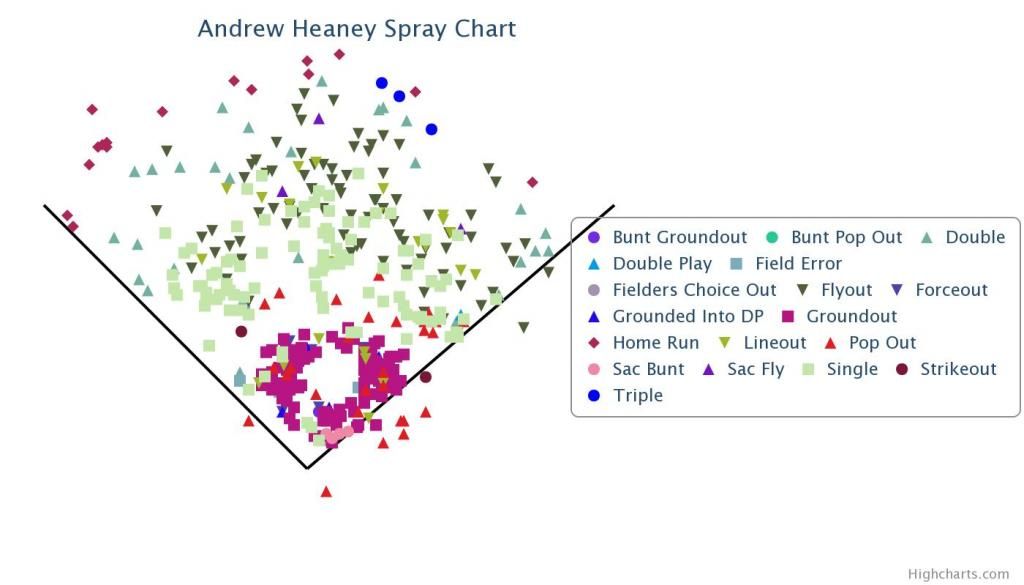 EXPECTED FUTURE:
When it comes to 2015, there's a few question marks that come with Heaney. There's still a few things to have him develop, but it's nothing major, and he's about as close to Major League ready that you can be. Garrett Richards won't be ready by Opening Day, and the Angels need a guy for that fifth spot in the rotation. He'll have to prove he's completely set for the Majors, and compete against Hector Santiago for that fifth spot, but regardless, he's expected to see Major League time with the Halos in 2015.
When it comes to the future of Heaney, the sky is the limit. He's seen as a potential #2 in any Major League rotation. With the Angels bringing Tyler Skaggs in recently, as well as drafting Sean Newcomb in this last draft, they could see three southpaws at the top to middle of their rotation for years to come, thanks to Jerry Dipoto acquiring Andrew Heaney.
For more updates on the Los Angeles Angels, their prospects, and our Top 100 Prospects Countdown, follow us on Twitter, @AngelsOnScout.
Taylor Blake Ward is a Senior Publisher for InsideTheHalos.com, and can be found on Twitter, @TaylorBlakeWard.