Jared Ruxer, Right-Handed Pitcher
HT : 6'3
WT : 190
DOB : July 29, 1992 (23), Indianapolis, Indiana
Throws : Right
Bats : Right
School : University of Louisville (Louisville, KY)
Acquired : Drafted in 12th Round of 2014 MLB Draft
Last Year's Ranking : #63
Dr. James Andrews has done wonders with elbows, and recently worked on a Los Angeles Angels prospect, helping him maintain a career as a baseball player. Jared Ruxer had Tommy John surgery just two days before he was drafted, which brought him from a potential fifth round pick or better to a 12th round pick and potential steal for the Angels. Ruxer recovered quickly, and was able to see time on the mound last season, giving everyone an idea and look of how well he could succeed at a professional level. Though he's a year behind in development, Ruxer is catching up quick and becoming a threat in the system as one of the top pitching prospects.
SCOUTING REPORT:
Ruxer comes equipped with a three-pitch mix, and tends to kick it all off with his fastball. Though the velocity hasn't reached back to it's peak after surgery, Ruxer was flashing high 80's near the end of the last season and threw his fastball around 89-92 most nights, touching 94 at times. It has some good running movement to it, and he commands it well, setting up his off-speed offerings.
As Ruxer works the fastball in early counts, he has a changeup that allows him to mix speeds without flashing his breaking ball. Though his changeup needs some work, he has a good feel for it and has been able to locate it with some ease. As it develops, he'll be able to stay competitive through opposing at bats and get back to forcing outs at the plate with his breaking pitch.
That breaking pitch comes in as a curveball with a sweeping motion and downer action. Ruxer has no problem going to this pitch in any count, and uses it as his primary out pitch. It has a heavy drop in it's final descent, and has high marks as a swing and miss pitch. As Ruxer progresses in his career, he may turn this into a power curve that he can bury to either force batters to swing over top or miss entirely.
Mechanically, Ruxer seems very sound. He delivers the ball with some ease from a three/quarter arm slot, keeping the ball behind him and throwing from behind his right shoulder. Though this can cause some cross body paths in his delivery, there are no signs that he will be erratic or have shoulder and elbow issues in the future. With a new elbow, Ruxer's health is improving daily, and he is filling into his large frame which should add both stamina and velocity to his fastball.
VIDEO : FanGraphs

Scouting Report from Taylor Blake Ward - Senior Publisher for Scout.com
STATISTICAL BREAKDOWN:
Ruxer was a three-letter winner at Lawrence Central High School, and earned draft honors when the Cleveland Indians selected him in the 29th round of the 2011 MLB Draft. This came off of a 6-1 season with 59 strikeouts and a 3.04 ERA in his senior year, which earned him All-State, All-Conference and All-County honors. As a sophomore and junior, Ruxer went 11-3 with 96 combined strikeouts and a 2.12 ERA his junior season.
In a strong freshman campaign at Louisville, Ruxer collected a 3.38 ERA and 8-3 record, while holding a 1.203 WHIP. This all combined earned him such honors as Louisville Slugger Freshman All-American, NCBWA All-American, Big East Rookie of the Year and Third-Team All-Big East honors. He highlighted his season with his debut start against his home state's college, pitching five innings of two run work while striking out four, and also had a season high six strikeouts against top ranked Kentucky.
After a sophomore slump where Ruxer saw a 5.63 ERA, he jumped into his junior campaign as one of the Cards' stars. He finished the year with a 2.27 ERA, 7-1 record and 68 punch outs in 75.1 innings, prior to having his season end with an elbow injury. In his final three starts at Louisville, Ruxer was the definition of consistency, allowing one run in each and going six innings in each. He highlighted his collegiate career by striking out 11 against Toledo. In his junior year, bats were held to a .229/.289/.288 slash.
After a year of recovery, Ruxer took professional ball by storm last season, starring as one of the team's best starting pitchers and boasting a 4.85 ERA, 1.382 WHIP and 33 strikeouts in 29.2 innings (10.0 K/9). Ruxer held bats to a .241 average in his first seven starts in the hitter friendly Pioneer League. He was plagued with one poor start where he allowed five runs in two innings, which took his ERA from 3.57 to 4.85.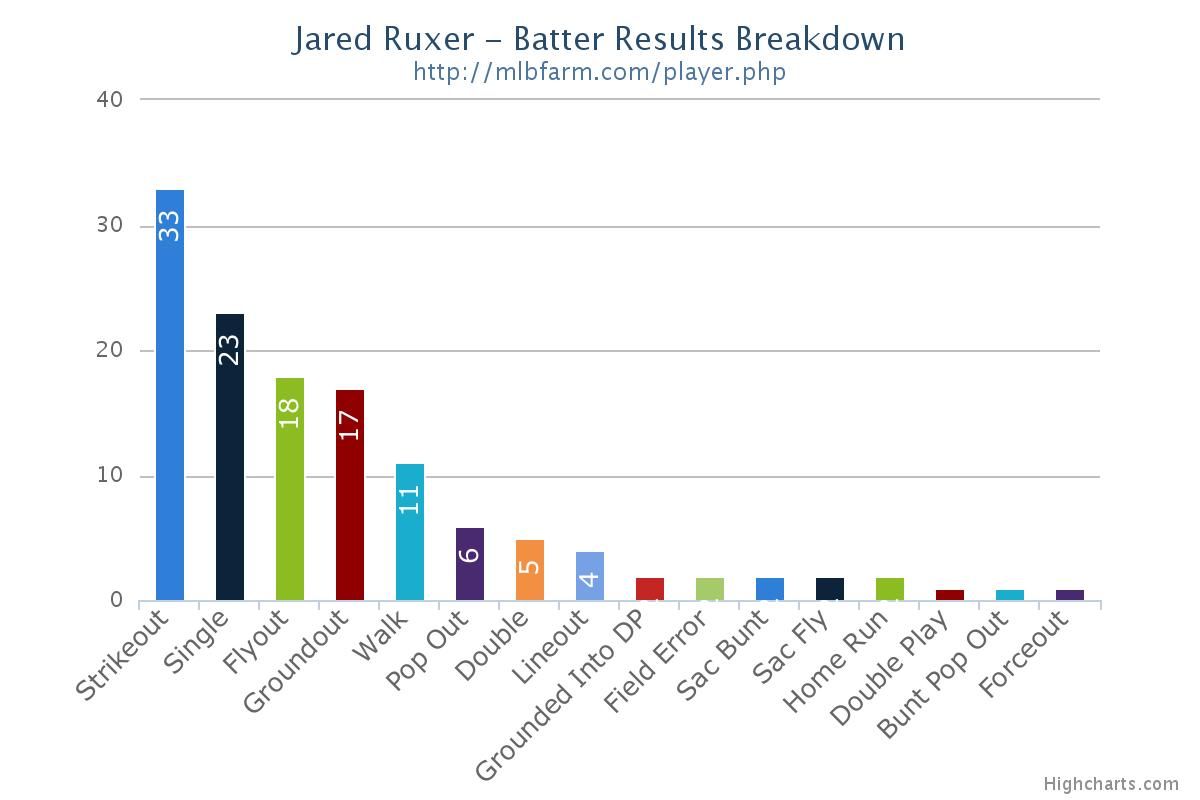 EXPECTED FUTURE:
Cases like Ruxer fall into an odd category when looking at the depth charts. He's 23-years-old and has yet to see Single-A due to elbow injuries, but doesn't seem to fit the charts for a skip over Low-A. With that said, Spring Training will be key to Ruxer's career, and as to whether he'll land in Burlington or Inland Empire next season.
Ruxer fit the mold of a late rotation or long relief arm before Tommy John, and the tools are beginning to show he still fits that mold. Though more will need to be seen from Ruxer, a move to the bullpen may be good for him to keep his arm healthy and progress him aggressively. Next season will be a large season for Ruxer and his future as a pitcher at the professional level.
For more updates on the Los Angeles Angels, their prospects, and our Top 100 Prospects Countdown, follow us on Twitter, @AngelsOnScout. Keep up with our countdown on Twitter with the hashtag, #LAATop100Prospects.
This article was published by Taylor Blake Ward, who serves as a Senior Publisher for Scout.com, and can be found on Twitter, @TaylorBlakeWard.