Sidney Ponson made his first start since coming off the DL and allowed only two runs over 5 innings pitched. What's crazy is he allowed 8 Padres to reach base, allowing 7 hits and a walk. After today, Ponson is undefeated at 4-0 and owns a 2.92 ERA. Whodathunkit? It's been a feel good story of redemption of sorts, seeing Sidney have success after being surrounded by controversy. What's been the secret of his success? Well, in a nutshell his K rates are about the same as the last few seasons, which is under 5 per 9 innings pitched. That's pretty low. His walk rates have stayed about the same, which is around 3 per 9. That's pretty average. And his HR per 9 rate is a little over 1, which again is pretty average. And he's still inducing the same amount of grounders, which is a little over 50%, and the same amount of line drives, which is around 20%. So what gives?
A couple things: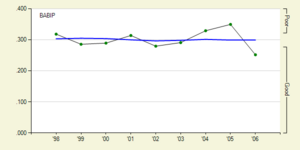 Hitters are still putting balls in play verses Ponson, but they are falling for hits at a far, far lower rate. Try .352 with Baltimore last year to .252 (not including today's start) so far this season. That's just insane. This tells us mostly that Ponson's defense was a total let down for him last season for Baltimore, and his defense in St. Louis has been his savior. The Cardinals are currently leading the NL in DER (Defensive Efficiency Ratio) with .732, while the Orioles DER last season was a little below-average with .693. For Ponson, the O's defense constantly betrayed him, with a DER of a porous .650. That was the lowest DER of pitchers. I'm sure there are other factors in play, like the move from Camden to Busch III, etc. But as I said, the defense has been the real heroes of his season thus far.
What else has helped Sir Sid? Try a sky-high strand rate.
Typically, pitchers who get a lot of strikeouts leave a lot of runners on, but Ponson doesn't strike a lot of guys out. As you can see, the last two seasons he had no luck at all. This season, he seemingly has all the luck in the world. I don't know if it's a change in karma or what, maybe he's on step 9 and is making amends and then some, and therefore his luck is turning around for him.
All in all, Sidney has been a good addition to the Cardinals so far, but his record and ERA don't tell the whole story. With a good defense and a good bit of luck, he's been successful, but don't be suprised if he falls to earth soon.
(Thanks to www.fangraphs.com for the graphs)