Today's Mavs Donuts presented to you
from the gang at Red Rock Bar & Grill, our favorite North Dallas hangout!
DONUT 1: The roster at the moment ...
After a dozen days of waiting, the
Dallas Mavericks
roster is coming together, with 13 guys either cemented in or sitting atop Mark Cuban's in-box.
How it stacks up:
DONUT 2: At center ...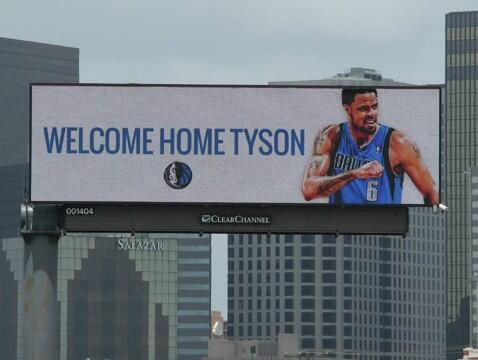 Tyson Chandler starts, of course. But minutes must be managed and worries that he might miss a double-figure number of games loom. Interior kid
Greg Smith (with the finalization of the "nothing'' trade
) is next. Then maybe the re-signing of Bernard James. But wait: What about the DeJuan Blair tradeaway to the Wiz?
We've got the Premium scoop on
why that's on hold, as the Mavs - who would like to keep DeJuan as a burly 4/5 if possible -- may have just come to the realization that they were "bidding against themselves''
by cooperating with such a deal.
DONUT 3: At the 4 ...
The
Dirk Discount signing
is coming; the Mavs have been wise to keep this three-year, $30-mil agreement loose, for reasons will will explain below. Behind Dirk? We like to think of Brandan Wright as somebody who can help here. ... and the Mavs are on-record as being able to visualize TY and Wright playing together at times, a Twin Tower of rim protection.
But more help is needed.
DONUT 4: At small forward ...
Chandler Parsons will be the do-everything (on offense) guy. There is some Nellie point-forward stuff there; "I'm not saying he's "White Magic,'' Donnie Nelson told me late Monday. "But some of those Chris Webber-type things on offense? He can do those things.''
Behind him is the one-year minimum deal for Richard Jefferson, who can still shoot (41 percent on 3's last year in Utah) but is otherwise fading; he's far from an upgrade from departing sixth man Vince Carter but as an end-of-rotation shooter? OK. (signing coming). Jae Crowder, of course, is also in the rotation.
But obviously this is all about Parsons - who is not shy about saying so.
"Honestly, I was offended by the whole process," Parsons told Yahoo Sports on Monday. "(Houston) publicly said that they were going out looking for a third star when I thought they had one right in front of them. I guess that's just how they viewed me as a player. I don't think I've scratched the surface of where I can be as a player and I think I'm ready for that role.''
Parsons arrives in Dallas with a three-year, $46 million contract in his pocket and a Texas-sized chip on his shoulder, too.
The Rockets, of course, prioritized the chasing of LeBron, Carmelo and Bosh -- maybe to team with Parsons ... or maybe to supplant him, eventually.
"You can't knock them for always trying to get better,'' Parsons said. "Daryl Morey is very aggressive, is a genius, a great GM and I have nothing but respect for those guys. And they are looking to make their team better. That's what they were doing. I just thought I could be that guy that could do that."
Parsons averaged 16.6 points, 5.5 rebounds and four assists with the Rockets last season. The Mavs, in getting him to sign the offer sheet and then freezing themselves out of other pursuits while waiting for Houston's match-or-release decision, impressed him by prioritizing him.
"They really showed how much they cared for me," Parsons said. "They didn't want me to wait for Bosh. They didn't want me to wait for 'Melo. They came forward first."
Parsons called Mark Cuban "the best owner in all of sports'' and sounds ready to serve the Mavs on and off the floor.
"I'm the best recruiter in the NBA," said Parsons, who last year helped lure Dwight Howard to Houston. "Whatever Mark and the Mavericks need, they got me to do that."
We've got
more on this story -- and Mavs fans' discussion of it -- here on DB.com Boards.
DONUT 5: At shooting guard ...
It would be lovely to see Ricky Ledo grow quickly enough to be a factor here in a reserve role. But in every way, Monta Ellis is your man. And he tells 105.3 The Fan just how fired up he is about it.
"If the season started today, I still think that we have the team, the ability and the right guys to make it as far as we want,'' Monta said. "I love this team. We put ourselves in a great position."
DONUT 6: At the point ...
You may not have a "the man'' here. Dallas prioritized Devin Harris and got the MFFL to agree to a three-year deal in the $9-mil range. Will the Mavs, who love the idea of Devin leading the second wave of talent, employ a point guard worthy of starting ahead of him?
Raymond Felton? Maybe. Gal Mekel? He's undercooked.
Dallas resident Mo Williams, a scoring point? Workable as the Room-MLE recipient of $2.73 mil.
"We've been trying to figure out a way to get Mo in a Mavericks uniform for three years now,'' Donnie tells us. "We are hopeful we can work something out."
DONUT 7: What about the money? ...
There is no cap-related limit on the number of Merry Minimums a team can sign to fill out its roster. Sarge would be in that category, as is Jefferson.
The two Chandlers are expensive. But Dirk, Devin and Monta are playing for a total of $21 mil. The budget is balanced.
We were guesstimating that Dallas maybe sits here with $1 mil in cap room available. But ...
DONUT 8: An amnestied Boozer? ...
The precise starting numbers for Dirk and Harris in particular are only approximately known. But here's David Lord's darn-close approximation: $11,853,377 for both. Total.
What if Dallas needed more room to do something important? Could the Mavs go back to Dirk and rearrange his money? Yup. But there are no plans to do that.
Now, what if Dallas wants to bid on Carlos Boozer (there's your backup 4!)? They need cap room to do that ...
Now, if you thought
the Parsons Pinch was a nail-biter
, know this: The full amnesty process might run us to July 19. So ... be patient!
Ah, but there is a "but.''
Donnie tells me that such a bid is unlikely because Dallas doesn't really have that hoped-for $1 mil of room.
"Naw, all we've got is a few spare nickels laying around,'' he said. "And all of those really need to go to Dirk and Devin, who deserve them.''
So the dollars at this time --
based on Donnie's guidance and based on D-Lord's Premium breakdown here --
truly suggest no Boozer bid.
DONUT 9: Can Dallas invent space? ...
The Mavs could trade-dump Felton ... and it would make sense to do so it opens up the avenue to a superior point guard. (We like pipedreaming, so for fun let's throw Eric Bledsoe's name in here.) That'd give Dallas $4 mil in cap room + the aforementioned $1 mil = $5 million for another guy.
If they gave up B-Wright as well - something they are far more hesitant to do than they are with Felton -- that's $10 mil in room.
Go ahead. Pipedream about a $10-mil purchase.
Or, do you create money to increase your bid on Mike Miller, the shooting small forward who right now is only eligible to take that $2.7 mil room-MLE here? How about Jet as a Merry Minimum?
"We're always looking,'' Donnie told me. "We're certainly not done.''
DONUT 10: Inside Cuban Vs. Morey ...
The hub to all these moves, of course, was the Parsons acquisition.
DB.com has the inside story from the angle of the Cuban-Morey rivalry - with help from Mark Cuban himself
.
Does Cuban now wish to send a technological middle finger down to his Rockets rival? Read about it exclusively at DB.com.
DONUT 11: Welcome aboard! ...
As has been the case for 14 seasons around here, we've got Mavs coverage coming all day and night with DallasBasketball.com. Stay tuned,
and hang out on DB.com Boards
as well for all the goods from inside the games, the practices and the front office ... through Summer Shopping and beyond!
And please consider DB.com Mavs Premium ... a subscription to the best in inside info that cost just a dime a day and also gets you access to all your other favorite teams, college and pro!
DONUT 12: The Final Word ...
"We got a chance to win. Coach Carlisle is the best coach in the NBA. It's the perfect situation for me. I'm ready for more leadership. I'm ready for a bigger role. They came at me with a high max offer and viewed me as a franchise player. That's what I wanted." - Chandler Parsons.