Maybe this will finally end the seemingly endless Felix Hernandez trade rumors.
As first reported last Thursday by Bob Nightengale of USA Today and confirmed to beat writers today in Peoria, the Mariners and Hernandez have agreed to a new contract that extends through the end of the 2019 season. The club will make it "officially" official tomorrow with a 2pm press conference in Seattle. Per club policy, the financial terms of the deal will not be announced, but Nightengale's initial report pegged the total value over the next seven seasons at $175 million, which would make it the richest deal signed by a pitcher in baseball history. Others have since reported that the breakdown actually is only for the 2015-2019 seasons (starting when his current deal expires) at an average salary of $27.1m per year. Either way the total comes out the same as the initial report -- a lot of money.
If his history is any indication, Hernandez figures to be worth the investment.
The role of "face of the franchise" in Seattle has been held in the past by players like Alvin Davis, Ken Griffey, Jr., Edgar Martinez and (somewhat begrudgingly) Ichiro Suzuki. But none of those players really took hold of the community and embraced everything Seattle the way that Felix has. Hernandez, even at a very young age, seemed to get that there was more than his own on-the-field responsibilities to take care of because of his stature on the team and in the community.
On the field all Hernandez has done for the Mariners thus far is win 98 games (3rd most in club history) with a franchise best 3.22 ERA, franchise best 1.21 WHIP, franchise best SO/BB ratio (3.10), win a Cy Young Award and make three All-Star appearances while consistently turning in among the best seasons of all American League hurlers, particularly over the last four years. Since the start of 2009 he has the most innings (954) in baseball, the 2nd most starts (134), the third best ERA among qualified starters (2.81), third most strikeouts (894), third most complete games (18) and shutouts (7), fourth highest pitcher fWAR (24.2) and despite all the talk of him not winning enough games, he also has the seventh most wins in baseball (59) in that time even though he has received the ninth lowest run support per-nine (3.80) over that span. He's thrown 51 games of 8 or more innings allowing one earned run or less -- a stat that covers more than 20% of all of the starts in his entire career.
He's been incredibly durable and incredibly consistent. And looking once again at all of the numbers above, he's also been consistently incredible. Add to that the fact that Felix won't turn 27 until after the 2013 season starts and you can see that if any pitcher is worthy of setting a new record for the richest pitcher contract in baseball history, Felix is.
Fans turn out in bigger numbers and with seemingly more excitement when Felix pitches, thanks in part to the Mariners embracing Felix and promoting his starts with the King's Court section at Safeco Field. And he seldom lets his faithful followers down. He's enthusiastic and excitable on the field -- although he is much more mature in his celebrations, and more notably his disappointments, than he was as a teenager -- and he is always wearing a smile when he's not pitching, often leading the charge out of the dugout for any late-game heroics that the club turns in. He's never complained about his lack of run support and he's always been "pro-Seattle Mariners" in all of his interviews -- the ultimate company man.
And getting back to him embracing the "face of the franchise" role, Felix also does things like this: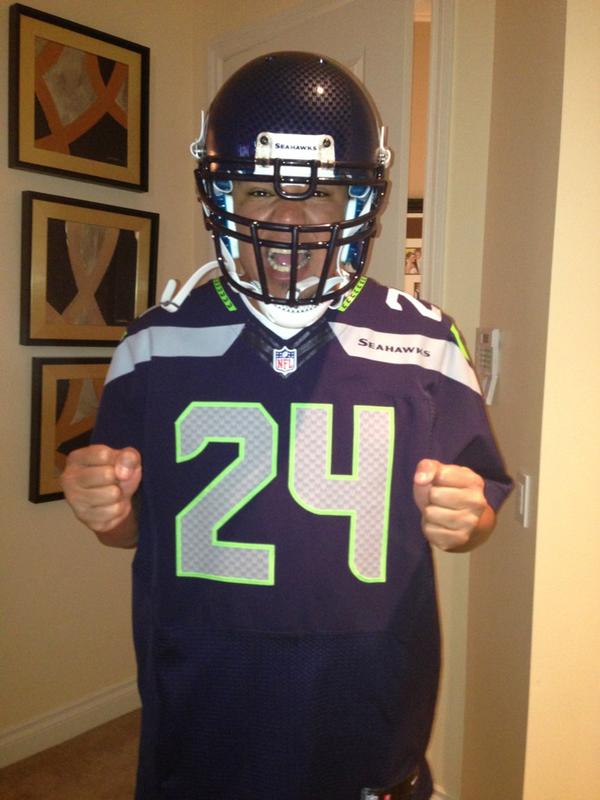 @RealKingFelix GO HAWKS!!! #SeahawksBlue Friday
Yes, that is a picture of him in a Marshawn Lynch jersey and Seahawks helmet. Hernandez sent that picture out on Twitter prior to the Seahawks' 2nd round playoff game against the Falcons.
Felix's new deal will presumably keep him in Seattle through the end of his 15th season (even without a no-trade clause, Hernandez's 10-and-5 rights -- which include veto power of any trade -- will kick in midway through the 2015 season), making him the 2nd-longest tenured player in Mariners history at that time, only three years behind the great Edgar Martinez. He will most likely sit atop nearly every significant franchise pitching leaderboard by then. And at that point he'll only be 33-years-old.
The ownership of the Mariners have had their priorities questioned in the past with some of the player moves that they have made, with accusations of them being more concerned with good people than good players. Regardless of how those previous situations played out, the fan base should be counting themselves as lucky that Chuck Armstrong, Howard Lincoln, Jack Zduriencik and the rest of the club saw that signing Hernandez to this extension was the only real option that they had.
ESPN's Buster Olney said on Twitter that this deal sets Felix up to be, "What Cal Ripken was to the Orioles. Face of the franchise in a Hall of Fame career." Sounds good, doesn't it?
Getting this done as the Mariners head into a 2013 that they hope is a springboard season for the club is a big deal. Hopefully one that the Mariners can build off of to put Felix Hernandez in a position to win a World Series in the future with Seattle.
Looking for more Mariners player interviews, news and articles? Want to keep up with which prospects are hot and cold for the M's? "Like" SeattleClubhouse on Facebook and follow SeattleClubhouse's Rick Randall on Twitter at @randallball.