April 1, 2013


San Diego Padres (0-0)
New York Mets (0-0)

@


Citi Field
1:10pm ET



OPENING DAY 2013 LINEUPS
:
1. Chris Denorfia, RF
            2. Erveth Cabrera, SS
           3. Carlos Quentin, LF
           4. Yonder Alonso, 1B
       5. Jedd Gyorko, 2B
      6. Nick Hundley, C
          7. Cody Ransom, 3B
                8. Cameron Maybin, CF
             9. Edinson Volquez, P
1. Collin Cowgill, CF
       2. Daniel Murphy, 2B
     3. David Wright, 3B

4. Ike Davis, 1B
    5. Marlon Byrd, RF
   6. Lucas Duda, LF

7. John Buck, C
      8. Ruben Tejada, SS
       
9. Jonathon Niese, P
Pitching matchup
SD
: RHP Edinson Volquez (0-0, 0.00 ERA)



Edinson Volquez walked six batters but allowed just one run in the Padres' loss to the Reds on Wednesday. 

it was a distinctly volquez-ian start from the right-hander, who managed to allow only one run in his five innings despite the walks. volquez will be the opening day starter for the padres, a move that speaks to the state of the friars' dismal rotation.




NYM: LHP Jonathon Niese (0-0, 0.00 era)




jon niese struck out seven batters in 4 1/3 innings in the mets 6-2 win over the astros on wednesday.

niese, 26, held the astros scoreless, allowing just two hits and two walks in the start. it was a sharp final outing for the mets opening day starter. the lefty is poised for a breakout year after posting a 3.40 era and winning 13 games in 2012.
When manager Terry Collins reported to spring training, he singled out four or five players to whom the Mets could not afford injury.

Chief among them was left-hander Johan Santana, who not only suffered injury but may have thrown his last major league pitch. Santana re-tore the anterior capsule in his left shoulder, the Mets announced Thursday, and he decided days later to undergo surgery to repair it.



"You do something for so long and you're so successful at it, and to have a setback like this, it kind of hits everybody in here hard, just because of the kind of teammate he's been," Mets third baseman David Wright said.

It is the same injury that Santana suffered in September 2010, when he underwent surgery and missed 19 months. Santana returned to pitch a successful first half of the 2012 season, going 3-2 with a 2.38 ERA through his June 1 no-hitter. But he was not the same pitcher after that, going 3-7 with an 8.27 ERA over his last 10 outings.

Collins worried at the time that he might have contributed to Santana's shoulder damage by allowing him to throw 134 pitches in his no-hitter, at the start of his third month back from surgery. But Santana may have put himself even more at risk this spring.

Rather than throw during the offseason, Santana decided to rest completely from August -- when the Mets placed him on the disabled list with lower back inflammation -- until February. He arrived at camp and immediately began throwing off a mound, taking regular bullpen sessions like any other pitcher. The Mets claimed he was healthy.

But after Santana's second bullpen session, the Mets backed off his program due to what they termed "left shoulder weakness." That started a he-said, she-said tiff with general manager Sandy Alderson, who openly criticized his pitcher for not arriving to camp in shape.

To prove that he was healthy, Santana surprised everyone by pitching an unscheduled mound session the next day, which also could have contributed to his issues.

Alderson said that the Mets "just don't know when this occurred," which is somewhat beside the point. What matters is the Mets will again be without Santana for the entire season, and possibly the rest of his career. Santana's last guaranteed contract year expires after this season, and the Mets will buy out his $25 million option for 2014 after that.



LHP Jon Niese has drawn his first career Opening Day assignment for the Mets. The team originally named LHP Johan Santana its Opening Day starter, but Santana's left shoulder weakness created a hole that they needed to fill. Enter Niese, who posted a 1.53 ERA over his first four Grapefruit League starts, and is coming off a season that saw him set career highs in innings, strikeouts, wins and ERA.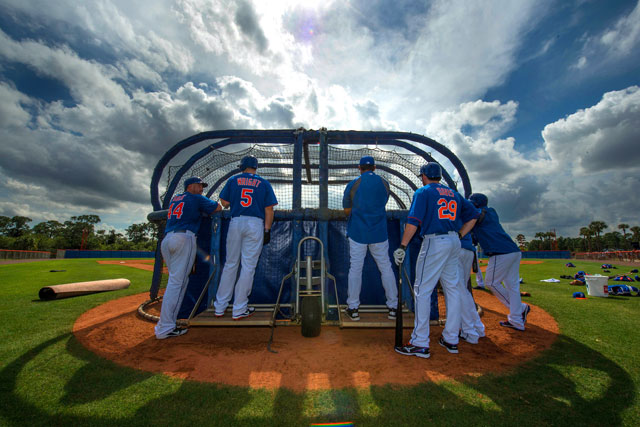 TIDBITS
:
Wright on!

David Wright has at least 1 hit in every home opener since making his first opening day roster in 2005.

Wright is hitting .375 (12-32) with three home runs and nine rbi on opening day.

Wright is making his ninth opening day start today, tying him for the third-most in team history with jerry grote and howard johnson.  only tom seaver (11) and bud harrelson (11) have started more opening days in franchise history.
News and Notes

:


Collins and trainer Ray Ramirez watched closely as backup infielder Justin Turner (calf) ran the bases at Citi Field. Turner was deemed healthy enough to remain on the roster, and the Mets made their final cut by optioning 3B-1B Zach Lutz to Triple-A Las Vegas.


Rusty Staub, a member of the Mets' Hall of Fame, will throw out the first pitch Monday as the club celebrates the 40th anniversary of its 1973 pennant.


The Mets will honor hundreds of Hurricane Sandy responders and volunteers in a ceremony on the field before the 1:10 p.m. game. The team donated 1,000 opening day tickets to storm responders and those affected by the destruction.


Days before the opener, the Mets were offering free seats to games later in the week to fans buying opening day tickets.


Despite losing their first eight openers, the Mets are 33-18 on opening day - the best mark in baseball.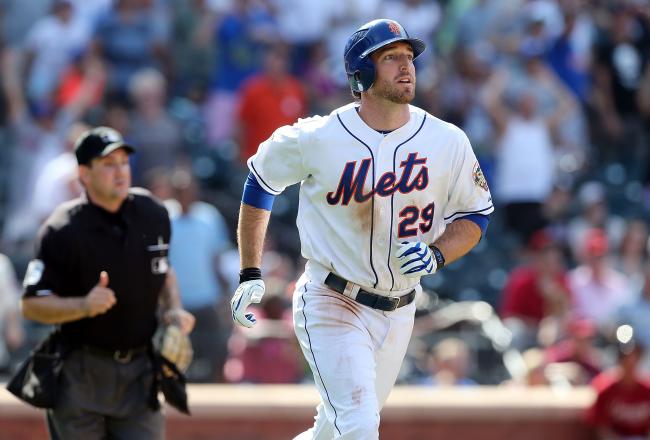 GAME PREVIEW
:
NEW YORK — Two main attractions will be missing when the New York Mets host San Diego in their season opener Monday.
Chase Headley, the biggest bat on the Padres and last season's NL RBI leader, is sidelined for a few weeks with a broken thumb.
Johan Santana's future is far more precarious.
After re-tearing the anterior capsule in his pitching shoulder, the one-time Mets ace is scheduled for another surgery Tuesday that he hopes can save his career.
So the opening day assignment goes to Jonathon Niese, suddenly thrust into the role of No. 1 starter for a team that traded Cy Young Award winner R.A. Dickey during the offseason. "It's Jon Niese's turn. He's now that guy," manager Terry Collins said Sunday at Citi Field.
Born on the day the Mets won the 1986 World Series, Niese established career bests across the board last season when he went 13-9 with a 3.40 ERA in 190 1-3 innings. The fast-working lefty will face a Padres lineup also minus promising young catcher Yasmani Grandal, suspended for the first 50 games after testing positive for testosterone. Left fielder Carlos Quentin should be ready to go, though, after he was slowed this spring with discomfort in his surgically repaired right knee. Top prospect Jedd Gyorko takes over at second base.
Niese said this spring he won't try to "fill anyone's shoes." But he acknowledged Sunday that he'll probably be a little anxious on opening day. New York announced the decision to go with Niese on March 21 — the same day David Wright was appointed team captain — after Santana stalled at spring training.
"It's kind of sunk in now," Niese said. "I'm not going to treat it as an opening day. I'm going to treat it as a midseason start. I'm going to prepare the same and just be ready for it. I don't think we really have an ace on this staff. I think everybody contributes equally."
Pitching for the Padres will be Edinson Volquez, set to make his third consecutive opening day start. He got the ball last year for San Diego and in 2011 with Cincinnati.
Solid arms for sure, but this matchup of fourth-place teams that held their money tight last winter probably won't make many national headlines on a day when the likes of Stephen Strasburg, Justin Verlander and Felix Hernandez are on the mound. Not to mention across town, the Yankees will be hosting the rival Boston Red Sox at the exact same time. "I love Eddie out there, especially that first game with his stuff. You know he might throw a few pitches but he's going to get outs. He's nasty," Padres outfielder Will Venable said. Volquez, an All-Star with the Reds in 2008, has a tendency to be wild. But he played a pivotal role for the Dominican Republic team that won the World Baseball Classic this spring. The right-hander was 11-11 with a 4.14 ERA last season after he and Grandal were part of the four-player package Cincinnati sent to San Diego for pitcher Mat Latos in December 2011.
"Edinson Volquez is very capable of throwing a hell of a game," Padres manager Bud Black said. "I think our guys are physically and mentally ready to do it. They're in a good frame of mind."
Of course, the Mets are optimistic at this stage as well. Nearly the entire squad showed up for a voluntary workout Sunday to prepare for the opener. Wright and second baseman Daniel Murphy are expected to play after both were sidelined by ribcage injuries until just a few days ago.
"I feel good physically," said Wright, who was on a hitting tear for Team USA when he got hurt at the WBC. "It would have been nice to have maybe a few more at-bats toward the end, but I didn't have that luxury." Collins addressed his team Saturday night, marking the end of a long spring training. "It's time to get after it. It's time to start putting together all the things that we worked on," he said. "I told the guys yesterday, 'If you've ever wanted to be on the biggest stage, this is it.' There's nothing like opening day in New York."