September 18, 2007 was not the final Nationals game at RFK. That would be September 23, and I was there for it, sitting in cheap seats way out in the outfield. But the game on the 18th marked my last baseball game in Section 515, Row 4, Seats 7 and 8, and it was a worthy send-off.
I grew up in south central Pennsylvania, three hours from Philly, two from Baltimore, four from Pittsburgh. I was a die-hard Phillies fan by age six (it helped that they were starting a run of playoff appearances culminating in a World Series title, and had two future Hall of Famers). We went to a couple of big league games every year. I imagined someday I would live in a major league city, get season tickets, and go to the game all the time. Instead, I ended up in DC after college, and until 2005 all I could do was go up to Camden Yards a few times a season and wish I had a real home team. When the Nationals finally came to town, my childhood wish was granted. Top half of the upper deck, fourth row, almost directly behind home plate. I dare say I loved those seats, and I have a lot of great memories from those three years.
Going into 2008, I was one of the few who actually expected to miss RFK. Sure, the new ballpark would have better food and open concourses, would undoubtedly smell better, and there probably wouldn't be a mysterious puddle under the seats next to mine (even if it hadn't rained recently). But I still worried that we were in for a park where the game was secondary to other bells and whistles, provided for people who didn't really love baseball--a "Baseball-Centric Maximized Entertainment Experience™," as I described a 2006 game in Houston. What I liked about RFK is that it was pretty much all about the game (and the Racing Presidents). RFK was a dump, but it was our dump.
This game was my shot at "Season Ticket Holder Appreciation Night," which meant getting in at 4:30 to watch the Nats take batting practice. We watched from the lower level as the Nats took hacks, and eventually migrated to the upper deck where we waited in vain for a mammoth home run. Then, with time to kill, we walked the whole stadium. Did you know there were stands on the very bottom level of RFK where you could get fried catfish, or a pastrami sandwich? I had no idea, and I was kind of bummed about it, finding about these things so late.
The Mets got four runs in the first, and it looked like another blowout (the 2007 Nats were not as completely terrible as some later versions, but did lose 89 games). The Nats chipped away with an Austin Kearns home run in the second and a Nook Logan triple plus a Felipe Lopez sac fly in the third, but the pitchers kept giving the runs back. The Nats had two men on in the fourth when pinch-hitter Justin Maxwell hit a fly ball that looked like it had a shot but was caught on the warning track (noted on my scoresheet as "a loooong 7"), that would have sent the crowd into a frenzy if it had made it out. Finally the Nats put up five runs in the fifth, capped by Ronnie Belliard's three-run homer which put that Nats up 9-7 and did in fact set off that frenzy. Chad Cordero had to make it interesting in the 9th, giving up one run and loading the bases before getting the final out—a completely fitting way to cap off those seasons at RFK.
Odd scoring note: My scoresheet had Winston Abreu as the winning pitcher, as he was the pitcher of record when the Nats took the lead, but the official scoring gave the curly W to Jesus Colome. Apparently Abreu didn't pitch "effectively" (he did make the hole deeper, giving up two runs), so no win for him.
Nationals Park has exceeded my expectations. I've heard it criticized as not being exciting enough to be a top-tier ballpark, lacking in interesting features to make it stand out, but I'm OK with that. It's just a good place to watch a game. I'm plenty happy with my new home in section 312. But sometimes, I am actually nostalgic for this view.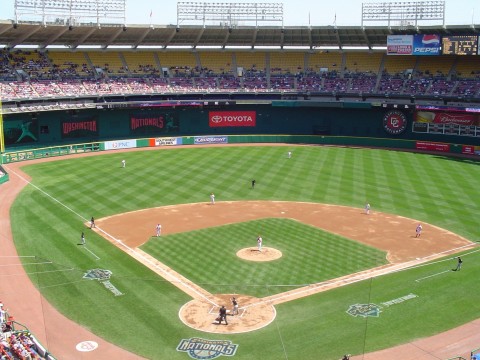 Like this story and want to read more? Click here to see every entry in the Every Nats Game's a Story project. You can also click here if you'd like an RSS feed of only ENGAS posts.