"He played left tackle at Notre Dame,"
Dallas Cowboys
coach Jason Garrett said of rookie Zack Martin. "He started 52 games, but I think we all felt he could play tackle, he could play guard, and he could play center. And he's a really, really smart football player."
He's also really, really earning the first-team snaps at right guard and is therefore one of the top Cowboys talking points of the summer.
Even with all that versatility, Martin won't threaten the jobs of Pro Bowler left tackle Tyron Smith or seasoned veteran right tackle Doug Free. With last year's first-rounder Travis Frederick anchoring center, the guard spots are the battle ground.
Veteran guards Mackenzy Bernadeau and Ron Leary find themselves battling rookie Martin -- and each other -- to stay atop the depth chart.
"Obviously, yeah, drafting another offensive lineman is a challenge for you," Bernadeau said, "but it's a part of the business. It is what it is."
The veteran guard entering his seventh season doesn't believe in worrying about things that cannot be controlled. (Note him using a "Garrettism'' here.) The only thing a player in his position can fixate upon is personal improvement and, "Trying to be the best player you can for the team."
Bernadeau's running mate Ron Leary started 16 games for Dallas last year and as they both cite their status as "brothers'' believes competition is a good thing.
"There's always competition," Leary said. "That's the great thing about this league though: it's always about competing and the best competitors and the best players are going to play."
Last off-season and preseason, Leary and Bernadeau were penciled in to start at left guard and right guard, respectively. Once Dallas successfully signed reluctant standout guard Brian Waters shortly before Week 1, Leary (presently working through a 2012 DWI issue) played left guard all year while Bernadeau backed up Waters and replaced him upon his injury in Detroit last October.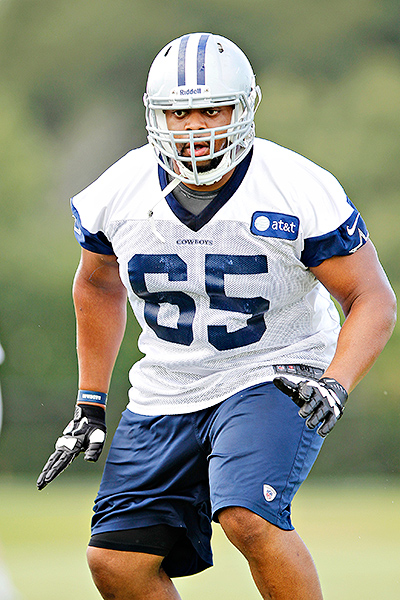 Waters was a proven veteran with two All-Pro selections and six Pro Bowls on his resume. He was an older player who mentored many offensive linemen on the 2013 Cowboys. Waters is not likely coming back (though he perennially makes that decision only after training camp.) Bernadeau says one of his personal goals to help the team get better is to coach the younger guys on the offensive line. Leary concurs, and also lends what advice he has.
Said Leary: "I try to help young guys out. I mean, right now, we're all learning. I've still not got it down pat. So, I'm still trying to get better; anything I can do to help. I don't shy away from telling anybody anything."
Said Bernadeau: "I think everyone on the offensive line is considered a leader ... as long as you know what you're doing."
Bernadeau reports the camaraderie along the offensive line is, "great." The unit gets along well together, and everyone shares in the responsibility of being a leader through knowledge of the offensive system and taking quality reps in practice.
Garrett understands the significance of having great offensive line play.
"It just helps everybody play better," said Garrett. "If your offensive line is playing better, your runners are going to play better, your quarterback is going to play better. As a result, your receivers are going to play better. Your defense is going to play better."
All of that is a result of competition between Martin, Bernadeau and Leary ... and now, ex-Jags starter Uche Nwaneri, who Fish says gets rave reviews as a "steal'' from inside the Dallas personnel department. So, competition. ... which Leary believes is always a good thing.
"I don't have a problem with competing at all," said Leary, knowing that quite possibly his competition is at left guard with his "brother'' Bernadeau and more, and that the addition of Martin makes the Cowboys better, no matter who wins the in-team battle.