Royals general manager Dayton Moore has always had a way of working behind the scenes and surprising people with unforeseen trades and signings. That trait came to the forefront again Tuesday when this news from Ken Rosenthal came across the Twitter wire:
Sources: Jonathan Broxton to #Royals on 1-year deal, pending physical. Creates options with Soria: Start him, trade him, keep him at closer.
This move was surprising for a few reasons, the least of which certainly not being the now overcrowded bullpen in Kansas City. As Rosenthal noted, the move also raised questions about what the Royals intend to do with Joakim Soria. We'll get into those topics later. First, let's take a look at Broxton, a pitcher whose star faded in the blink of an eye and was, perhaps, a victim to his and his team's willful ignorance about an injury.
Still only 27 years old, Broxton debuted with the Dodgers in 2005 as a 21-year-old and immediately showed good swing-and-miss stuff despite struggling with his control. In 2006, he became a reliable part of the Los Angeles bullpen and would remain that way through 2009. He spent time as a set-up man before taking over as the full-time closer in 2009.
Broxton was a dominant force during those years. The only season he failed to strike out at least 11 batters per nine innings pitched was 2007 when that figure hit 10.9. In fact, he finished in the top-ten in strikeouts per nine innings every year from 2006-2009, placing 5th, 9th, 4th and 1st among NL hurlers with at least 60 innings pitched. It was lights out in Los Angeles when he came in to protect a Dodgers lead.
Broxton started the 2010 season with similar outstanding results. He held opposing hitters to a .585 OPS in the first half en route to recording 19 saves. He struck out 55 in 38.1 innings of work and allowed just one home run. He did allow more hits than usual (34), but that could have been chalked up to bad luck given his peripheral statistics. His ERA was a sparkling 2.11.
However, something happened to the flame-throwing right-hander from Georgia in the second half of 2010. On July 13, Broxton threw a scoreless ninth inning and picked up the save for the National League All-Star team. Everything appeared to be business as usual, but his first appearance after the break foreshadowed the second half to come.
On July 18, Broxton entered a game in St. Louis with a man on second base and the Dodgers leading the Cardinals 4-2. After getting Matt Holliday to fly out, he gave up an RBI single to Randy Winn and walked Skip Schumaker before getting out of the jam by coaxing a weak groundball out from pinch-hitter Albert Pujols.
The Dodgers went quietly in the top of the ninth, setting the stage for Broxton to do his thing and close out an LA victory. He gave up a leadoff single to Yadier Molina before recording two outs on a sacrifice bunt and a fly ball. But he couldn't finish off the Cardinals. Broxton walked Jon Jay, surrendered a game-tying single to Allen Craig and the walk-off hit to Holliday.
It was all downhill from there. By the end of the season, Broxton's ERA had inflated north of 4.00, thanks to an atrocious second half. Opposing hitters smacked him around, batting .326/.452/.457 against him. Broxton walked more hitters (21) than he struck out (18) in just 24 innings. The Dodgers stuck with him until removing him from the closer's role on Aug. 14 after another ninth-inning implosion, this time against the Phillies.
Through it all, Broxton and manager Joe Torre publicly insisted the All-Star was injury-free:
"I just told Brox we're going to take him out of that role right now," Torre said. "He just needs to go out and have a couple of good outings to get that feeling back. This game gives you enough pressure, and he adds to it. Physically, he is fine. But for right now, we won't use him in save situations."
"I'm fine," Broxton said. "I'm just a little wild right now, but every pitcher goes through it. Hopefully, I can get it out of my system and be back to my normal self."
Even the writers joined in the fun. After that initial blown save against the Cardinals, Tony Jackson of ESPNLosAngeles.com blamed "some of the demons that occasionally haunted [Broxton] on some of baseball's biggest stages." This presumably was a reference to Broxton surrendering a crushing walk-off double to Jimmy Rollins in game four of the 2009 National League Championship Series.
As it turns out, the problem with Broxton likely wasn't a lack of confidence or postseason demons. He probably wasn't physically OK all of 2010, either. After struggling again in April and May of 2011, the Dodgers placed Broxton on the 15-day disabled list on May 6 due to pain in his right elbow, pain he reportedly didn't reveal to the team until a couple of days prior.
On June 26, Broxton suffered a setback in rehabbing a bone bruise in his right elbow. He was shut down two days later and in September had arthroscopic surgery to repair a bone spur in his elbow.
That kind of surgery is considered to be relatively minor, but the way the Dodgers and Broxton handled that situation is another reminder as to why struggling baseball players – especially pitchers – should not always be taken at their word when they say they're in no pain.
The results of Broxton's physical are pending, but the Royals must be confident that their newest acquisition will be pain-free come spring training. He's not sure thing to stay healthy over the course of the season, so the Royals are betting $4 million the surgery cleared up what led to his ineffectiveness the past two seasons.
Among other things, a lot of Broxton's problems since the latter part of 2010 could be the result of the injury preventing him from getting a good hard break on his slider, especially against right-handed hitters. In 2009, Broxton owned righties; they hit just .190/.263/.277 against him. However, they blasted Broxton to the tune of a .292/.363/.431 mark in 2010.
This appears to come down to a couple of things: Broxton threw his slider at a slower rate of speed; according to FanGraphs PitchFx, his average slider velocity was about 86.9 mph in 2010, down from 88.2 and 88.1 in 2008 and 2009, respectively. While his slider actually had more sink in 2010 (negative-1.4 compared to 2.0 in 2009), I believe this is the result of gravity pulling a slower, rolling pitch downward.
This became a problem because he also wasn't able to keep the slider down in the strike zone. These FanGraphs heat maps represent the location of Broxton's slider against right-handed batters from 2008 to 2010. These are from the catcher's point of view. The lighter areas represent a higher frequency of pitches thrown in that location.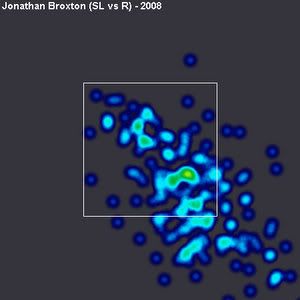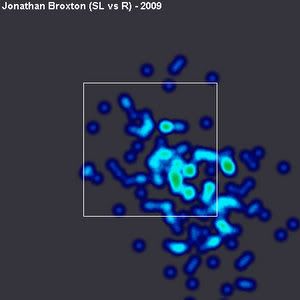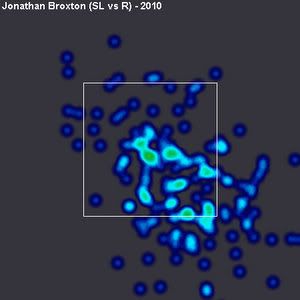 The graphs indicate Broxton missed up in the zone with the slider more often in 2010, whereas in 2008 and 2009 he frequently put it in an unhittable spot against righties. Essentially, I think Broxton became a one-trick pony and hitters found it easier to wait for the fastball and not worry if they got the slider, because that pitch was up in the zone more anyway.
If the pain in his elbow is what led to him to lose velocity and location on that pitch so often in his last full season, Broxton could reclaim his old form. If that's not the case or the surgery didn't fix the issue, it could be more of the same struggles for him in 2012.