DONUT 1: When Miami opposes the Dallas Mavericks, they meet the one NBA foe that they make look faster than a speeding bullet, the one foe they make look more powerful than a locomotive, the one foe that is able to leap Miami in a single bound. … and to do so now in 14 consecutive regular-season meetings.
They are the "Superfriends.'' In the regular season, though, somehow Dallas is always super-er.
Let's dig into the how's and the why's ...
DONUT 2: There are all sorts of streaks to be calculated here. Ready?
The Heat's 12-game winning streak ended Monday the same way it started -- with a loss to the Mavericks, who recorded another success by defeating the Heat 98-96 at AmericanAirlines Arena. In doing so, Dallas crushed the Heat's dozen-game run … something it seems to have a knack for.
The Mavs (22-5) have made a habit of shattering opposing teams' streaks. Those six victims and their long runs ended: In order, Boston (5), New Orleans (8), Oklahoma City (5), San Antonio (12), Utah (7) and now Miami (12).
The Mavericks are the curators of the Ancient Streak Burial Grounds.
Meanwhile, the Mavs themselves have won 14 straight over Miami (not counting the NBA Finals, of course. Ahem.)
And this year? At 22-5, Dallas is winning 81.5 percent of its games. The 2006-07 Mavs went 67-15. And won 81.7 percent – the fourth-most successful regular season in NBA history.
"I don't make a huge deal out of the streaks,'' Mavs coach Rick Carlisle said. "We are just trying to play solid basketball and win as many games as we can."
When you are on pace to win 66 or 67 games, you are accomplishing that, Rick.
DONUT 3: Miami is now 21-9. Two of those losses – losses so few observers thought would ever pile up so – are to Dallas. The "Superfriends'' – one of the many cute nicknames given Miami's trio of standout players – are a terrific assemblage of talent, all snark (and players-only meetings) aside. You saw that in the late-going of the game, when the Mavericks were out-playing and out-executing them as a team, but Wade and LeBron were able to go "iso'' and plow into defenders to earn free throws.
But the Heat's Big Three had problems they could not overcome.
Heat holdover Dwyane Wade had 22 points, but on a key late-game possession, he couldn't get to the basket thanks to the stifling defense of Dallas center Tyson Chandler. (Once again, Chandler's Heart-and-Soul Food makes a game-winning play without ever touching the ball.) That caused Wade to kick the ball out to Chris Bosh, who scored 19 points but missed that crucial 3-point try with the Mavericks leading by three points.
And then there was LeBron James, like Bosh a high-profile summer addition to Wade's team. James was held scoreless in the first half and was ineffective all night, his 19 points (on 6-of-17 shooting) disguising just how much he struggled.
"LeBron got in foul trouble and got out of rhythm,'' Carlisle said politely.
I'll be less polite: James' full linescore was garbage. … another one of those "Hoarders'' episodes. Beyond the 6-of-17 – and remember, he didn't even score a basket until 28 minutes into the game – he piled up fouls, turnovers and Needless Behind-The-Back Passes.
He lost his confidence there for a moment … evidenced by when Miami chose him to shoot a technical-foul free throw and he Haywooded it … and then worse, he covered up his shaken confidence by acting like he was too cool to be bothered by it.
And then he tossed another meaningless pass behind his back.
'What Should I Do?' asks LeBron.
Um, I dunno. Score a point in a first half of an important professional basketball game?
DONUT 4: And then there was a true MVP candidate … and his occasional struggles.
Mavericks forward Dirk Nowitzki led all scorers with 26 points. I guess you would call this a "quiet 26 points''?
The UberMan started quickly but ended by making a total of just eight of his 21 shots. But he contributed nine rebounds, was a plus-16, and was aces from the line on all 10 tries – including a couple of trips that sealed it.
BBIQ Alert: On Dallas' final two backcourt possessions, the Mavs immediately shuffled the ball into Dirk's hands. Once on an inbounds pass, then on Shawn Marion's defensive rebound, there was no messing around.
There was execution. Late-game execution.
That's how you lead the NBA in wins after trailing at halftime. That's how you lead the NBA in winning percentage after trailing after three quarters.
Mark Followill notes that in the NBA, on average you win a game when trailing after three quarters 20 percent of the time. The Mavs are now 6-2 in those situations. They do it 75 percent of the time.
BBIQ.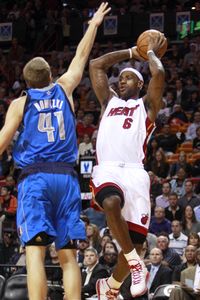 DONUT 5: Nowitzki is now 10 points shy of Larry Bird's career points total of 21,791. Tonight in Orlando, The UberMan will almost certainly overtake Bird as the No. 25 all-time leading scorer in NBA history.
Dirk isn't Bird.
But he'll do.
DONUT 6: And then there was Jason Terry, the other Mavs' "go-to guy.''
The Dallas sixth man spent most of the night mired in LeBron-like futulity, failing to score for the first three quarters while missing all five shots. He was also bothered by a cold that left him almost speechless after the game (though, as you can imagine if you know Jet, he managed!). And as always, he was bothered by 2006.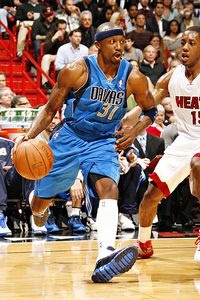 When Jason Terry entered the arena last night, he carried with him a flipcam. He pointed it at the rafters. At the banner.
As if he needs more reminders?
But eventually, Jet found a groove. Or, as he prefers, hit the runway.
At halftime, Carlisle reminded his team that it was down by one point despite getting zero production from Terry. Jet himself re-told the story thusly:
"Coach came in at halftime and said we were only down by one point and Jet was still at the hotel ... I said, 'I thought the bus was at 8:45, 9 o'clock. But thanks for coming back and getting me."
Terry came alive with a dazzling 19 points in the final quarter to stun Miami, which could match him in nicknames but not in production. Terry made two 3-pointers in a 63-second span to provide Dallas an 89-85 lead with 1:25 to play.
Said Dirk: "Jet finally showed up in the fourth. That's what he does. He's our finisher. He's our closer. He got hot."
Props to Carlisle for (again) trusting Jet. After three quarters, when Terry was a minus-16 while DeShawn Stevenson (useful in covering LeBron and Wade?) was a plus-16 … I was a little tempted to scream "16's!'' at my FS Southwest television monitor.
By the way, note the detail of Carlisle's quote on the subject:
"So I said (at halftime to the team), 'We're in good shape, he's going to get going, we're going to get him going.'"
I promise you, that was the part of the speech that Jet reacted to. … the insistence that Jason Terry is important enough to be fed the ball.
"We're going to get him going.''
In the fourth quarter, Dallas ran a series of plays featuring Jet's pet move, a curl coming off a screen. Miami eventually tried to take that away by trapping, but that's when the Mavs counted with some two-man stuff, Jet and Dirk working on the pick-and-pop.
"We're going to get him going.''
How do you say "no'' when your coach says that to your teammates?
Here's Jet's self-scouting report:
"I'm a player that waits patiently and then when the opportunity presents itself I'm gonna attack," Terry said. "And in the fourth quarter they're going to come to me. It's a huge responsibility but it's something that I love.''
DONUT 7: So Jet is the sidekick? Yeah, in the fourth quarter.
Is Caron a sidekick? Yeah, in the third, when Dallas' rotation system allows him the freedom to score nine of his 13.
Is Tyson a sidekick? Nah, that's stretching it. But you get 10 rebounds and eight points out of him and you get a once-again-inspired Big Wood (that's two straight games!) to give you a couple of dunks and four rebounds and your summer plan at this position certainly is working …
This isn't an argument against Dallas pushing right up until the Feb. 24 deadline to upgrade its talent base in search of a star. The Mavs should do that, will do that.
No, this is an argument that Dallas has invented a second star out of thin air … or better, out of sweat and talent and hustle and brains.
Dallas' second star is its defense. The Mavs – in a complete reversal of the makeup of some of these players (yes, Dirk and Jet, I'm looking at you) -- play defense like no Mavericks team in franchise history.
The Mavs' zone defense coerced the Heat into attempting 31 treys. They made just 11. Miami – virtually unstoppable when LeBron and Wade are on the run and in space – was outscored by Dallas 10-5 on fast-break points. And in total, Miami was able to shoot just 40.5 percent – five points below Dallas' nightly goal.
Pssssst! Here's a secret to Dallas stopping Miami: Invite them to shoot 3's. It beats the hell out of the three points Wade and LeBron almost automatically get when they are permitted inside.
"Any time you hold a good offensive team like that to 40 percent shooting on their floor, I think we did a good job. The defense was solid," said Nowitzki of his "sidekick.''
DONUT 8: Here's hoping this game of runs aids panicky Mavs fans in understanding that just because you get up by 10 or 17 or 20 or 25 doesn't mean you get to stay up.
The Mavs opened the game with a 14-2 lead.
Are they really mandated to maintain that?
Dallas is good so it starts good. (A welcome change from a year ago, right?) Miami is good so it responds with a 12-0 run to close the opening quarter, going ahead by one, 23-22.
You are on the road. Against the Heat. And you are down one after a quarter.
This, friends, is a relative succees.
Then come more runs: The Heat continue the push to go up 27-to-23. … Then in the middle of the second, Dallas responds with a 12-2 push to reclaim the lead. … Then in the third, Dallas puts together its own 10-0 run, only to see Miami respond with a 13-0 eruption.
Back and forth. This is how she goes.
Maybe Mavs fans forget this because of last year, when seemingly every game was a climb from an early hole. This year, the Mavs starters put the other team in the early hole, and force the other team to dig.
This year is preferable.
DONUT 9: So you're a Mavs fan? You might want to dress like it.


Ro does.
DONUT 10: I said on the FS Southwest pregame show last night with Ro and Dana that a win at Miami would be a "cherry on top … a Heat-red-colored cherry.''
Does that go double for tonight? Mavs at Orlando, second night of a b2b, the Magic rejuvenated (confused?) by their recent blockbuster shifting of bodies …
Doesn't this qualify as a "big game only if you win'' deal?
DONUT 11: FISHELLANEOUS: "Role acceptance'': So The Matrix fetches an offensive rebound airball and does what? Flips it toward the basket? Nah. He whips it back outside to Jet for a made 3. … Nice that JJB busted out with a 2 (his first after 18 straight misses). I liked his persistence on attempts to plow inside, but Barea apparently isn't aware that he is NEVER going to get calls inside when working against the Superfriends … Wasn't that seven-offensive-rebound possession by the Heat the longest friggin' minute of your sporting life? … In the fourth quarter, Marion outrebounded the Heat 8-to-5 … Somebody should show LeBron that sometimes you should use the behind-the-back pass as a weapon, not as a subtle sign of nonchalance. Exhibit A: Kidd's fast-break sizzler to set up Marion's spectacular dunk to gain early fourth-quarter momentum. …
OK. Fine, LeBron. I'LL show you. (With the help of Rob Mahoney.)
And there you go, LeBron. Behind-the-back passes (especially in conjuction with a crafty rebound, a lightning break, a deceptive action, an assist and a spectacular dunk) HAVE A PURPOSE beyond just getting a guy laid.

DONUT 12: I've grown beyond "wanting credit.''
I understand that the players feed off the confidence shown in them (by being on the front page of the paper or whatever). I get that we all love to be loved. But after all these years, do we really care what the NY Post or the Bakersfield Times-Gazette or Linda Cohn thinks about the Dallas Mavericks?
Check out Followill's tweet this morning (I'll edit up):
"I hate to be this guy, but I just watched the SportsCenter recap of Mavs win and every highlite except the Jet dagger 3 late was focused on Miami.''
I get the unhappiness with that. I hope the Mavs somehow use it as "us-against-the-world'' fuel.
But me? I'm a man! I'm 40! (OK, I'm 51).
The Mavs are going to win 50 for the 11th consecutive season, a mind-boggling accomplishment that is going to be a footnote to SportsCenter until Dallas wins a title. So I'm taking my enjoyment not from the anticipation of a title and not from what "they'' TELL me to enjoy … I'm enjoying what the Mavs do … night-by-night … with the same disregard for "them'' as "they'' so often have for the Mavericks.