WHAT HAPPENED IN JERSEY?: First to the straight news story from New Jersey, where the The New Jersey Nets' new owner, the Russian billionaire Mikhail Prokhorov, forcefully declared his official divorce from the proceedings.
It's been too long and too expensive," said Prokhorov, who was pushed by reporters and finally issued a punctuation-mark remark: "That is enough.''
What happened?
Three things:
1 'Melo never loved the idea of going to the Nets. This is a poorly-kept secret in NBA circles. His reluctance to meet with the Nets – after they had arranged with the Denver Nuggets and the NBA to get permission to do so – speaks volumes.
2 We are told that every time the Nets thought they were edging closer to an arrangement to involve as many as 13 players and at least three teams in a complex deal, the Nuggets called back and asked for one more chip … and then one more chip. … and then one more chip.
Prokhorov is almost certainly upset at the youthful Denver management team behind this … but the Nuggets are not his only source of frustration – which we will detail momentarily.
3 "I don't think it was ever there,'' Dallas Mavericks owner Mark Cuban said last night of a Nuggets-Nets pairing.
Translation (in part): The media fell in love with the idea of native New Yorker Anthony returning to a franchise that is planning a move from New Jersey to Brooklyn … with the idea of 'Melo as part of a "superteam'' that might be assembled by the ambitious owner … with the idea of 'Melo in a major media market.
But again … who was committed to such a thing? Reporters, or 'Melo himself, who this weekend said that he had no intention of getting directly involved with negotiations … "It ain't my job to be talking to New Jersey, New York, the Lakers, Dallas, no one. That's not my job to do.''
Hey … why did he mention the Mavericks?
HEY, WHY DID HE MENTION THE MAVERICKS?: We won't completely dismiss the idea that Anthony was simply pulling high-profile teams from his frontal lobe, that he could've just as easy said "the Spurs, the Magic, the Heat and the Celtics.''
But … he didn't.
And we believe one of the reasons he didn't is because Anthony is well aware that dating all the way back to last summer, and continuing in mid-December, the Dallas Mavericks have been in contact with the Denver Nuggets, making known their desire to be dealt into the Melodrama at some level.
The last time we wrote that was on Dec. 14. We said specifically that the Mavs "continue to touch base'' with the Nuggets on the 'Melo issue.
If they were talking casually then … you can see the logic of a natural, eventual, acceleration of those talks.
WHAT WOULD THE PACKAGE BE?: As with the offer that the Mavs have sitting on the table if and when New Orleans ever chooses to deal Chris Paul, it's what a Dallas official calls "the kitchen sink'':
The Nuggets can receive something along the lines of $3 million cash, two first-round draft picks, promising youngers Roddy Beaubois, Caron Butler's $10.8 mil expiring and DeShawn Stevenson $4.1 mil expiring. The Mavs could also involve kids like Dominique Jones, Alexis Ajinca or Ian Mahinmi, but we know for a fact that Denver views those players as "C-level talents'' and not the post-'Melo re-building blocks they are seeking.
Previously, Denver viewed the aforementioned doffer as inferior to what it was planning to get from the Nets (the core of which was lottery rookie Derrick Favors, young standout Devin Harris, picks and cash) We are told that the Denver organization has indeed informed the Mavs of that opinion. … that they can and will do better.
Maybe they will. But it probably won't be with Prokhorov, who you know, if you saw the televised presser, was not playing some silly bluffing game.
WHAT CAN OTHER TEAMS OFFER?: The Knicks have realistic packages to offer. The Bulls have realistic packages to offer. (Are there other teams prepping to enter the bidding? Darn few.) DallasBasketball.com is not privy to those specifics (as we are with the Mavericks' specifics), so detailing the innermost thoughts in New York and Chicago (and maybe Houston?) would be speculative on our part. … but let's go ahead and speculate: The Bulls will try to convince Denver that Luol Deng is a centerpiece of a swap … but he's not only not an expiring like Caron, he's got three years and $40 mil left on his deal. The Knicks will come up with draft picks as their bait … Houston, of course, wants to pawn Yao Ming off on somebody …
And the Mavs are wise to think they can complete with all that.
We have argued (and Cuban and GM Donnie Nelson will argue when they talk to Denver) that the Mavs package offers lots of positives beyond the key piece Roddy B and the other bodies involved. Structured properly, it would reduce Denver's current payroll (and tax) by $3-to-4 million, and there would be almost no long-term salary commitment for the future, with plenty of opportunity to retain young talents on cheap contracts. Butler is done for the season after knee surgery, but his expiring offers numerous get-well opportunities.
Once we get beyond the Nets' superior offer, Dallas' largest obstacle with Denver will be convincing the rookie management team of owner's son Josh Kronke and new GM Masai Ujiri that it will survive having swapped Anthony within the Western Conference. We are told that the Nuggets suits fear that this trade will be their legacy – and that their legacy will be Anthony dropping 30 on them for the next decade-or-so of Mavs-Nuggets games.
A more secure management team might not concern itself with such things. Denver does.
HOW MUCH DOES IT HELP DALLAS TO ALREADY BE INVOLVED?: DallasBasketball.com has reported that the Mavs have involved themselves in exploration of Detroit's Tayshaun Prince (a moving part in the multi-player deal), in exploration of the Nets' Harris (the former Mavs who is still admired by Dallas management and was to move from Jersey to Denver in the swap) and Denver's Al Harrington (the baggage someone might need to carry if they want Devin).
While the Nets have now learned to distrust the Nuggets – and probably vice versa – the Mavs' long-standing "etiquette'' in these matters could pay off. Dallas has played nice here … So yes, already being "dealt in'' at that poker table will be helpful if the Mavs express a desire to pull up a chair even closer.
(A sidebar worth noting: Even if 'Melo and the Nuggets arrange for him to go to the Knicks or Bulls or whomever, Dallas has still put itself in position to benefit by being a facilitator. If it can't be 'Melo … it can be a Caron replacement that doesn't also cost the Mavs the youngster Beaubois.)
Still a "long-shot'' for Dallas? As fans, media, players, coaches and management in Denver, New Jersey and Detroit (so set to be the facilitator that its benched trade bait Rip Hamilton) just learned, even the sure bets aren't sure bets. And you can figure out for yourself how many candidates are on Ujiri's 'Melo speed-dial when he mentions as he did Wednesday night that the Nuggets have been in talks "with plenty of teams" regarding Anthony.
Plenty of teams.
THE EXTENSION AND OTHER PUSH-ME PULL-YOU'S: Carmelo Anthony is the prize of the trade market. … and one of the prizes of his era. That doesn't mean he is without flaw as a player – we've all seen his defensive talents bog down in apathy and hey, this whole mess stems from Anthony's unwillingness to remain committed to his organization in Denver – he can carry the scoring load for a team in a Dirk-like manner.
This is the dream. This is "Two Dirks.''
'Melo has been a team focal piece (the No. 1 scorer, and the player opponents aim to stop) for his entire life, long before his arrival in Denver. He hit the NBA as a 19-year-old who had led his college team to a national title as a freshman, and his presence immediately raised a dreadful Nuggets franchise from the dregs of the league (they had missed the playoffs every year for eight straight before his arrival, and won 17 before drafting him) to a perennial playoff qualifier (they've made the playoffs every year since his arrival).

He's only 26 – which means he's just entering his prime - and the last two seasons were his best yet.
So it' s no-brainer for Denver to try one more time to salvage its relationship with its superstar by trying to court him with the extension offer he's left unsigned all season… And it's a no-brainer for the Mavs to be involved in this … even with the headaches.
Those headaches include what sources tell DallasBasketball.com is a disjointed effort by Team Carmelo to get on the same page. We can tell you that when Prokhorov made his press-conference announcement, he did it without first informing his lieutenants, sending them scrambling to the phones to explain the pull-out to Denver and Detroit and whomever.
The Mavs are about to experience the same problems – and we believe have already encountered some of the Team Carmelo problems as they've poked around the idea of 'Melo-to-the-Mavs.
Four different people, at the least are pulling Team Carmelo in four different directions:
*Agent Leon Rose has not made his fee from an Anthony contract yet. Rose would logically like a deal signed sooner rather than later (and obviously before the coming labor discord) so Rose himself can get paid. The signing of the extension is Rose's goal … and Carmelo's leverage.
*Representative William Wesley has goals for 'Melo that are marketing-driven. "World-Wide Wes'' has more power than he has talent … but he has Anthony's ear in this regard. Yahoo is reporting that Wesley is planning to be in Chicago this week … the Mavs play at Chicago on Thursday, so Wesley's presence kills two suitors with one stone.
Cuban doesn't miss many Mavs road trips. How much you wanna bet he tries to go on this one?
*'Melo's wife, LaLa, is an entertainer, has a blossoming career in show biz, and understandable wishes to be based somewhere that is beneficial to both her and her husband.
*And then there is, of course, Carmelo Anthony himself. He's seemingly gone back and forth and all over the map on the issue of signing a three-year, $65-mil max extension with his new team (the same one he's refused to sign in Denver) … But we know the Mavericks are not greatly deterred by that indecision. Why? A team featuring Dirk, 'Melo, Tyson Chandler and Jason Kidd would have the opportunity to hit a postseason home run. … so the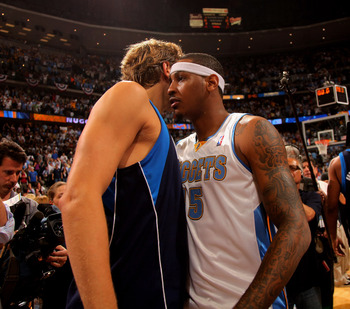 Rent-a-'Melo opportunity is a golden one.
Besides, team powerbrokers believe the "Mavericks Culture'' – led by Cuban, Donnie, Kidd and Dirk – would be very persuasive in convincing Anthony to remain in Dallas if he ever came here.
We work on the assumption that when it's all said and done, Carmelo Anthony wants to play winning basketball. For a decade, Dallas has been a good place to do that.