DONUT 1: Dirk quote from Mavs Quoteboard:
"In real life,'' Nowitzki said, "the whole 20,000 people in the arena can say whatever they want, but if you say something to them, you get fined automatically. Sometimes I think it's not fair, because some of the things fans say are below the belt. I've pretty much heard it all. I've been called a Nazi before, which isn't even funny. It's just ignorant. You become like, 'In one ear, out the other.'"
We said it up first reading and we say it again:
Wait … what? "Nazi''? This deserves further study … Give us a few Donuts to look into this …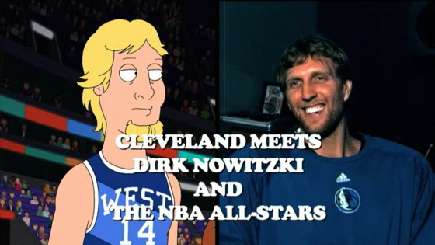 DONUT 2: We look forward to seeing Roddy B on the court. That date is projected to be Wednesday.
How would you like to be a part of the scene?
DB.com has a Mavs Prize Package for you (a limited supply, so hurry!): Get yourself two Dirk Nowitzki UberMan t-shirts at the regular price of $37.88 and I'll GIVE you two tickets to the Mavs-Kings game on Wednesday!
Deal? Deal! But hustle on this one, OK?
DONUT 3: To Saturday's game. Final, Dallas Mavericks win at Houston, 106-102.


No blowout? What happened?


"We didn't finish the way we wanted to, and made it a lot closer than we needed to,'' said Dirk.


Dallas was up 23, let it slip to three, and then dominated again in the final two minutes to move to 38-16, tied with LAL for second in the West.
Are you not entertained?

No, I am not, says Houston boss Rick Adelman.
"The thing that disturbed me the second quarter was we just kind of gave into everything,'' said The Other Coach Rick. "If you are being attacked by somebody, they come down there and they are posting you up and they're going at you, well then you better put up some fight or they're going to kill you. We put no fight up until the second half again when we got down 20."

DONUT 4: Post-up Peja!


Peja Stojakovic scored 22 and went 4-of-6 on 3's, taking fourth place on the list of 3-point shots made in league history. He did work on the perimeter, but only after beating up Kevin Martin as a post-up go-to guy.
"I was getting good looks in the last couple of games, too, it was just that the shots wouldn't go,'' said Peja, with his biggest scoring burst since Feb. 2010. "It's easy to play with the guys. I get so many good looks because they draw so much attention. Tonight I was able make them."


Said J-Kidd: "That's an added dimension that we've been missing, and it just makes us deeper and stronger. As long as he keeps making them, he can pass me. I'm just happy to be in the top five (of all-time arc-shooters).''

Said TY: "He started reminding me of the guy I know. I've been telling guys it will take him a little while to get his legs underneath him, and he still doesn't have them totally underneath him yet. But once he does, it's pretty to watch."

And finally, a cherry on top of the locker-room excitement over Peja:
"There's a Peja sighting, baby! There he is!" yelled Dirk while Peja was being interviewed.

DONUT 5: Who wants to see "FISH STORIES'' on FS Southwest's "Mavs Insider''?
I do!
Who wants to see me play with Peja BiggHeads!
I do!
Enjoy the whole show or fast-forward to the 12:40 mark to see the Peja BiggHeads dance!


DONUT 6: So how come Dallas can win so many close games?


"Any of the guys in the rotation are potential clutch playmakers,'' said coach Rick Carlisle. "That balance defines who we are."


DONUT 7: Save the Date: Sunday, Feb. 27, a 5 p.m. tip, Mavs at Toronto … and the DB.com Game-Watching Get-Together moves west, to one of our favorite spots: Esparza's in Grapevine!
Famous for Tex-Mex! Notorious for Margaritas!
DONUT 8: That Mavs-Rockets game wasn't exactly a trade showcase for Brendan Haywood, considering that he got a DNP.
DONUT 9: Mike Tyson is going to write in the poetry section of Oprah's magazine.
Who knew Oprah was a big fan of "There once was a girl from Nantucket''?
DONUT 10: DallasBasketball.com for February: 80,000 unique visitors! 400,000 visits! 1.5 million page views! 1.5 million can't be wrong! :) Thanks, Mavs fans!
DONUT 11: I very much appreciate your support of DallasBasketball.com I'm proud of our relation with the team and with our audience. Proud of what we built together. And hope you'll have faith in me and The 75-Member Staff to provide you with Mavericks info, news, views, quips, tips and fun … that justifies 10 cents a day.
We've reached 500 subscribers in just one month – the most successful out-of-the-gate number for any FOXSports site EVER! … Oh, and on Monday I'm announcing the name of the Mavs Premium Member who is No. 500 … and all the prizes that come with the honor.
Thanks for your support and friendship! - Fish. ... We'll continue to do our best to earn your dime. And you can Take That Wit Chew. Go Premium and Go Mavs!
DONUT 12: OK, so what gives on the "Nazi'' thing? I mean, I'm sure it's happened … and it's ridiculous, ignorant, racist and sad. But there must be … context to this, right?
Right.
Dirk did an interview with the Fort Worth paper in conjuction with his appearance (along with a half-dozen other NBA stars) on tonight's episode of "The Cleveland Show.'' So he was weaving in a story about fan abuse and the subject is apparently part of the script and Dirk's German heritage is among the show's punchlines … and there's your context. Kinda.

And here's your clip of Dirk's appearance on the show: