Tyson Chandler, 28, is the realization of so many dreams for this franchise. In just half a season with the Dallas Mavericks, he has established himself as the most talented and productive true center in Mavs history. (Granted, that history book has so few chapters that Brendan Haywood was awarded the same honor last spring after just a week in town, but still ...) He's played at an All-Star-level and he is the vocal-and-passionate star-caliber-player/team-leader this club has long lacked.
"He's right at the middle of everything we do in terms of talent, production, leadership,'' says Jason Kidd, a star-caliber/team-leader minus the yelling and fist-pumping and hang-on-the-rim dunking. "He fills those voids.''
Chandler's personality is infectious enough that he's instantly become close friends with everyone on the roster. He's a mentor to the sensitive Brendan Haywood, a jokester alongside class clown Dirk Nowitzki, a defensive analyst alongside Shawn Marion, a social pal of J.J. Barea (they did the Super Bowl together). ...
"He's our heart-and-soul guy,'' says coach Rick Carlisle. (A line that, by the way, helped inspire us to work with TY to create the "Chandler's Heart-and-Soul Food'' T-shirts.)
And lest we forget, he is the take from The DUST Chip. No, Erick Dampier's unorthodox expiring contract wasn't flipped for "Sammy Superstar,'' as we wrote upon unveiling its existence 18 months ago.
But it netted you Tyson Chandler. (So quit making yourself look stupid by calling it "The BUST Chip,'' OK?)
All of those issues drive Mavs fans to naturally want Chandler locked up. He is the centerpiece of Dallas' defense, the single largest reason why Carlisle's gameplans work.
It's not Rick preaching. It's TY playing.
So why not re-sign him ... like, NOW?
It's not necessarily because the Mavs have had enough of fat-and-happy post-signing centers. ... though they have.
*The year before Erick Dampier signed his seven-year, $73-million contract in August 2004.. in 2004, he was a 12/12 guy at Golden State. The year after he did the deal he slipped to 9.2 points/8.5 rebounds. The year after that he settled into Damp reality at 5.7 points/7.8 rebounds.
*The year before DeSagana Diop signed his five-year, $38-million contract in 2008, he was at 3.5 points/5.2 rebounds. The year after he came back with a new deal he was 1.6 points/3.5 rebounds.
*The year before Brendan Haywood signed his six-year contract worth as much as $55 million this summer, he earned Dallas' trust with 8.1 points and 7.4 rebounds per following his February trade to the Mavs. The year after he got his money – and after being beaten out by Chandler at training camp – he's 3.9 points/4.6 rebounds and pretty much the Mavs' third-string center.
But the recent history notwithstanding, there is nothing in TY's makeup that suggests he's playing only for a contract that he can eventually cruise on.
So that's not it. TY's numbers – 10.5 points and 9.5 rebounds per game – don't feel fluky in the sense that they are levels he's attained before.
What about his physical fragility?
TY does have a problematic history there. At the 2009 deadline, Oklahoma City dealt to acquire Chandler. He was going to be the experienced defensive stalwart anchoring all those kids. It would've worked, too … but somehow, Tyson failed OKC's physical and the trade with New Orleans was undone.
Tyson's had problems with his left foot, his left toe, his left ankle … presumably, Oklahoma City's doctors feared an injury history there.
Or any injury history everywhere.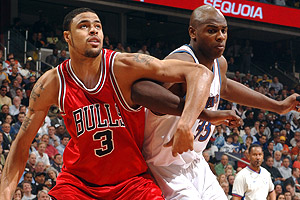 In his third season he was becoming a double-double guy when he hustled for a loose ball, chasing it into the stands, and hurt his back. He missed 47 games. Still with the Bulls, he rebounded for three seasons of good health and strong reputation, getting votes for Defensive Player of the Year.

But then in the spring of 2007 came problems with that toe. Then he began the next season with an ankle problem. And then a neck injury. In mid-season 2008-2009 he missed a month with another ankle issue. He returned in the spring for the last game of the season after having missed another month and in total played just 45 games that year for the Hornets. And then last year, he played just 51 games after enduring ankle problems, toe surgery and a stress fracture in his foot.
He'd devolved from an 11/11 guy into a 6/6 guy. Charlotte wasn't going to pay $12.7 million this year for that.
Chandler had no problem with his physical upon coming to Dallas, though. He's played in 51 of the Mavs' 54 games, missing only a handful of games while suffering from a flu bug that on at least one night had him vomiting into bucket on the sideline and then sprinting back onto the floor to help his team.
But no. Physical fragility? That's not it.
So why not get 'er done? Won't the price only go up from here to the rest of the season? Aren't there risks involved in letting him explore other options? (Wasn't there even some slight trepidation with a lifer like Dirk coming back last summer?) Why not just "put a ring on it'' and get this marriage finalized?
Says a source who will be deeply involved in Tyson's future with Dallas:
"Of course (Dallas) wants to sign him. But sign him to what? What are the parameters? How many years will be allowed? What's the going rate? What's the new CBA going to look like?''
Aha. It's got nothing do with with fearing that Chandler will turn fat and satisfied. It's got nothing to do with fearing that Chandler's left foot is going to fall off.
It's got everything to do with this: "Telling (Dallas) to sign Tyson Chandler now,'' says the source, "is like asking me to predict the exact score of Game 7 of this year's NBA Finals – when I don't even know who the two teams are going to be.''
With the coming labor dispute, neither the Mavs or Chandler "know the score.'' Will there be an NFL-like franchise tag that can be used? Will salaries be scaled back? Will there even be a season?
Are you prepared right now to assume that Tyson is Dallas' "second star''and to therefore give him a contract extension of (using round numbers) four years worth around $62 million? Clearly, the Mavs are not prepared to do that. Arguably, the Mavs are wise to not do that.
So you wait. ... to "know the score.''
And so does Tyson Chandler himself.
"I really don't have it on the front burner of my thinking,'' TY tells me. "And I'll explain why: I've let myself get kind of emotional in the way I've thought about it before. I mean, in terms of assuming or thinking that the team I was with was going to be the best place and the (final) place. And then it doesn't work out, for whatever reason.
"I love being here (in Dallas). But I think I've learned a lesson there, you know?''
Makes sense. Tyson is with his third team in three seasons and his fourth team in a decade. He certainly assumed in both Chicago and New Orleans that he was a part of a long-standing foundation …
"And then,'' he says, "you find out that it doesn't work that way. So instead of even thinking about the ups or the downs or the excitement or the disappointment, I've decided to just play every single game for what it is. It's a cliché, one-game-at-a-time, but it's a mistake to do it any other way.''
The Mavs are confident Chandler will not only be attracted to the "Mavericks Culture,'' but that he will view himself as an intricate part of it. ... that he is already "one of us.'' There is plenty of time for that to unfold, and this rather cocky approach has usually worked over the years (see Dirk, Finley and Kidd, but don't see Steve Nash).
Will "Mavericks Culture'' influence TY?
"I do feel like this is my team, yes,'' Chandler tells me. "And I think we're in this together because if we take care of every day, and then get to the playoffs and take care of every day, all the things we all want will fall into place. I have decided to not worry about things I can't really control. But day-to-day, I can control that. And after that, we can all make it work out.''
So yes, there has been a sort of transience to Tyson Chandler's career that tends to remind even the most heart-and-soulful player that this is indeed a business.
Yet it can all work out. But it will take three sides. The Mavs, Chandler … and some framing of the CBA unknown.