DONUT 1:
Before the game,
Dallas Mavericks
newcomer Corey Brewer seemed to be everywhere.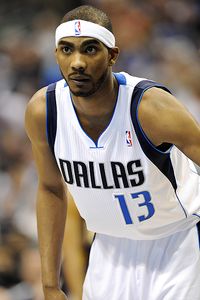 He was out warming up on the court. His name was passed back and forth between the press and Rick Carlisle. There he was, standing in the corridor outside the locker room recording an audio message for the Mavs tech crew after passing through the locker room, with a brief stop at his new locker (a space formerly occupied by Sasha Pavlovic, though Brewer's name appears on something a little more permanent, a legitimate nameplate, than the tape that wore Sasha's).
During this time, a smile never left his face. Instead, he wore it like a new tattoo on prominent display.
Now, once the game began, things didn't run quite as smoothly for Brewer, as he would go on to collect five fouls in just over five minutes of action.
There was the chance to scores his first points in a Mavs' uniform when he earned a trip to the line with 4:35 to go in the second quarter. Unfortunately, he would miss both.
"I think he had good energy. The one thing about him, when he goes in the game you know he is in there,''Rick Carlisle said. "Particularly on the defensive end. This was his first game, he just got off the plane yesterday, so you know, he is playing his butt off out there. Aggressive, probably a little too aggressive, but he is unlike any guy we have and that is why I like him and why I think he will help us."
Final stats for Brewer were one rebound and five fouls … perhaps a bit too aggressive.
DONUT 2: Want more Corey?





DONUT 3: Hey, we've got a way for you to get 2 FREE tickets to the March 24 Mavs game (Mark Cuban Bobblehead Night!) PLUS two 'UBERMAN' shirts … all for the regular $37.99 price of the shirts! Order now (while the handful we have lasts) and you get the tickets and DB.com will personally hand you your UBERMAN shirts before the game!
We're making this VERY simple … and here goes:
*Email us right now at Fish@DallasBasketball.com … tell us you want 2 Dallas Mavericks tickets and 2 UBERMAN shirts. You MUST give me your T-shirt size.
GUYS: MAKE SURE YOU TELL US YOUR SHIRT SIZE!
*Via email, we'll provide you our PayPal info. Make your $37.99 payment there … once that's received, we'll email you back with pregame meeting plans outside of the AAC at Victory Plaza. We'll hand you your UBERMAN shirts, you'll have your tickets, we'll talk a little Mavs and get you all dressed up with somewhere to go: a Mavs game for two for just $37.99!!
It's 2 FREE Mavs tickets so this package is going to go fast … and when supplies are out, that's all she wrote! Email me now and win!

DONUT 4: With 3:23 to play, the lead had been shaved to three by back-to-back baskets from the Pacers, at 101-98.

From that point on, Dallas would hit 3-of-4 shots for 15 points, while keeping Indiana to 2-of-5 attempts and 10 points (with one of those makes, and three of the points, coming on a meaningless three in the final moments as the Pacers threw in the towel).

We've mentioned this Mavs defense has slipped from their early season proficiency, but maintain a bend-but-don't-break ability.

They did allow the Pacers to score 108 points, but when the possessions that mattered the most arrived, Dallas was able to constrict their defensive pressure and quiet a desperation surge on the backs of several defensive plays.

"We tightened the screws when we needed it most." Carlisle said. "We certainly could have played better defense in the previous 45 minutes."

They would again bend, but refused to break.

DONUT 5: Meet The Good Soldiers!

We've praised the team-first mindset of Shawn Marion and Jason Terry, as well as bringing Stevenson into the conversation at times.

Tonight served as a reminder as to why.

After seeing Roddy Beaubois return and slip the starting shooting guard spot from beneath him, in comes the Mavs newest addition, Corey Brewer. In time, Brewer will likely push Stevenson a step further down the bench.

Despite this, when Stevenson gets on the court, you find nothing but a dedication to the win and a continuous display of all-out hustle. From diving to save loose balls, to drawing offensive fouls, to a complete willingness to bang with anyone the opposition decides to throw at him, Stevenson is the consummate professional.

It's worth a bit of praise, and provides a glimpse into what may make this team special. Time will tell, but the approach, and the acceptance of personal sacrifice, is there at the foundation of what is now 18 wins in 19 games, and a 45-16 record.




DONUT 6: You see them on TV. You see them at the AAC. This week, you'll see them in Dirk's locker. It's the Fish-tested, Dirk-approved 'TAKE THAT WIT CHEW!' from the DB.com Store!
DONUT 7:
Roddy B had a nice night, or at least a very nice first half. Before the intermission, he had tied his season high of 13 points, and done so on an efficient 6-of-11 shooting. Strangely, he would total only 14:45 minutes. We'll continue to give Carlisle the benefit of the doubt here. He is fresh off a coach of the month honor, and the team is one out of body performance from Arron Afflalo, including a last-second game winner, from sitting with a 19-game winning streak. With that said, it's beginning to feel like we're slipping back into a familiar pattern in respect to Roddy. There is not so much a leash around his minutes, but a shoelace. Perhaps it's due to the fact that Roddy is very likely to still be finding his legs, and has made his share of mistakes. Perhaps it's a bit of tough love to reinforce that nothing will come free. OK … it's too early to have complaints. Roddy B has only played seven games, and the Mavs have not lost since he returned. Considering the results, we'll hold our tongues for a bit.
DONUT 8: Please join our Dallas Mavericks FISH Facebook Page ... prizes to be won, fun to be had, friends to be made! C'mon! I seem nice!
DONUT 9: Shawn Marion's shot wasn't falling, hitting only 2-of-9, but he did manage to lead the team in rebounding with seven, and added four steals and two assists.
DONUT 10: The best Mavs coverage anywhere on the planet? It's right here on DB.com, and it's in evidence 24 hours a day. ... It's all about a dime-a-day, a way for you to support the site and to join the most informed and entertained Mavs fans in the world! C'mon! Go Mavs and Go Premium!

DONUT 11: At one point, the bench scoring for the Pacers and Mavs was tied at 30 apiece in the fourth quarter. Jason Terry must have somehow known this and decided being in such close proximity was unacceptable.
"He's been our closer in the fourth quarter." Dirk said. "We're trying to get him going some a little earlier, but he makes big shots for us and makes things happen. It was fun to watch and I'm glad we closed out the fourth quarter and got the win."
Jet would lead the way with eight points in the final period, and with the assistance of a three from DeShawn Stevenson, the Mavs bench would pull away from the Pacers' as the team would do the same. Dallas would finish with 43 bench points, compared to 33 for Indiana.
DONUT 12: While we keep getting new, shiny toys to drool over (from Roddy B to Peja to Brewer), one thing has remained a constant: Dirk Nowitzki.
The UberMan led all scorers with 29 points, and did so with remarkable efficiency by hitting 10 of his 12 shots … marking the fifth time this season he has converted at least 80 percent of his attempts, and the 11th of his career … meaning 45 percent of these occurrences have taken place this season … impressive.