"Most of the time, and this includes naps, I'm an F-18, bro, and I will destroy you in the air and deploy my ordinance to the ground. There's a new sheriff in town and he has an army of assassins."
The new sheriff in town for the Dallas Mavericks ? That would of course be Corey Brewer, the ex-Timberwolves stopper who received a buyout from the Knicks this week and was the prize of a bidding war won by Dallas. His presence didn't impact the starting lineup – Roddy Beaubois and Peja Stojakovic retained their spots – but he did make an impression …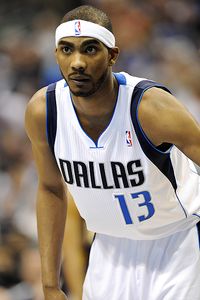 With five fouls in five minutes.
"This was his first game,'' coach Rick Carlisle said. "He just got off the plane yesterday. He played his butt off out there.''
Brewer entered with 8:34 left in the first half, one of 12 active Mavs who received some first-half burn.
"I've got to stop fouling,'' Brewer said, smiling as he had all day long. "But I haven't played basketball in a long time. It was just good to get back out there. I hadn't played since the All-Star break, so it was good. It can only get better after that."
Want to listen and look in on Corey's media session?
"I am on a drug – it's called 'Charlie Sheen.' It's not available because if you try it, you will die. Your face will melt off and your children will weep over your exploded body."
Dirk Nowitzki is on a drug. It's called 'Dirk Nowitzki.' It's not available to you because if you try to shoot One-Legged Euro Lean-Backs, you will miss. But The UberMan? He can do this over your exploded body, and did, with 29 pts on a ri-Dirkculous 10-of-12 shooting. The success marks the fifth time this season and the 11th time of his career when he's shot over 80 percent in a game.
"Dirk only missed two shots the whole game,'' said Indy standout Danny Granger, "so that pretty much sums it up."
Oh, and if you are unaware of the Dirk-as-Sheen video, check it out here:




"It's been a tsunami of media and I've been riding it on a mercury surfboard."
The "tsunami of media'' came at Brendan Haywood at Thursday's practice, when the sometimes beleaguered center reluctantly met the hoard and vaguely answered questions … if he answered them at all. Indeed, in a maybe-subliminal gesture, he answered pointed queries about his mood and his performance this season by scratching himself near his forehead using an extremely long middle finger.
But …
"If you borrowed my brain for five seconds, you'd be like, 'Dude! Can't handle it, unplug this bastard!' It fires in a way that's maybe not from, uh… this terrestrial realm."
Unavailable was the 7-foot-1 Tyson Chandler, the heart-and-soul guy in Dallas, who had averaged 12.8 points and 10 rebounds in the last 18 games to help the Dallas Mavericks vault into second place in the Western Conference. He's out with an ankle sprain (but played the role of bench-cheerleader to the hilt.) So the 7-0 Haywood – once upon a time expected to be the starting center after signing an extension in the offseason – was thrust back into the spotlight.
Haywood is averaging career lows of 4.3 points, 4.7 boards and 17.5 minutes. But as we've theorized, if you throw him a bone, he can catch it. Remember, Haywood averaged 9.8 points, 9.1 rebounds and 2.3 blocks while starting the first 10 games of a 13-game winning streak last year during this same time of the season.
And during that stretch, guess which team he most dominated? Haywood scored 13 points and grabbed a career high-tying 20 boards in a 91-82 home win over Indiana last spring. So don't be surprised that he was a force here, with 10 points, five rebounds, three steals and a block as the temp first-teamer.
Before the game, coach Rick Carlisle tossed a pre-emptive bone: "He's a top-10 or -15 center (in the NBA),'' Rick asserted. "That's a fact."
That's a way to plug into Big Wood's brain. And that declaration was close enough to a fact on Friday.
"I'm different. I have a different constitution, I have a different brain, I have a different heart. I got tiger blood, man."
Jason Kidd is different. He's approaching his 38th birthday and on a nightly basis is asked to oppose the likes of Indy's Darren Collison, who may or may not yet shave. So Collison does his damage (17 points on 5-of-11 shooting with six assists) and Kidd does his (six rebounds, five assists, a steal and 15 points).
Carlisle noted that in Dirk and Jason Terry ("the second-most prolific fourth-quarter duo in the game'') and Kidd, "We have three of the best closers in the game.''
To do that while approaching a 38th birthday? That takes tiger blood.
"I'm tired of pretending I'm not a total bitchin' rock star from Mars."
Jason Terry is not shy when it comes to boasting about his team or himself. And he continues to pile up supportive numbers. Jet came into Friday as the league's top-scoring reserve at 15.8 points per game, and that number goes up now as he made 8-of-16 (many of an acrobatic and clutch nature) to total 21 points.Terry hit back-to-back 15-footers in the final few minutes to seal the deal.
Regarding those acrobatics …
"We made them work,'' Pacers coach Frank Vogel said. "We wanted to make these guys work for tough shots, and I thought we did that in the second half. And they worked and they made really tough shots down the stretch. That's why they ended up beating us."
Dirk, for one, is glad to have the assistance from Jet.
He's been our closer in the fourth quarter,'' Nowitzki said. "We're trying to get him going some a little earlier but he makes big shots for us and makes things happen. It was fun to watch and I'm glad we closed out the fourth quarter and got the win."


Jet again mentioned his Sixth-Man aspirations.

"That means a lot to me,'' he said. "It's something I put out in all my summer workouts. It's something I've been focused on ever since I won it. Last year, I finished second and that wasn't good enough for me. It's still on my mind."

Jet called his fourth-quarter work "nut-cuttin' time.''
Sounds like a phrase Charlie Sheen would use.
"I wish him nothing but pain in his silly travels especially if they wind up in my octagon. Clearly I have defeated this earthworm with my words - imagine what I would have done with my fire-breathing fists."
There was no real pain involved. But the Mavs' defensive gameplan focused on the fire-breathing fists of Danny Granger, the one Pacer with proven star quality. Yes, he totaled 22. But it took him forever to get untracked against the work of Shawn Marion and company, and even as he did, he made just 6-of-15 shots.
"Tiger blood will drip from my veins in my quest. Defeat is not an option. She is an absolute traitor and she must be banished. She will be living under a bridge, toothless and confused.''
Defeat is indeed a rarity around here. The Mavericks won their eight straight overall. And their ninth in a row at home. And seven homies in a row when Indy is the visitor. And the 18-of-19 thing makes Dallas about as hot as an NBA team can be.
"I won 'Best Picture' (for 'Platoon') at 20. I wasn't even trying. I wasn't even warm."
Roddy Beaubois just turned 24. He is trying – trying to hang onto his job as a first-teamer, as is Peja. Peja may have seen his role defined: A specialty player, maybe a starter, who gets 16 minutes (during which he scored six points). Roddy B? The Brewer threat didn't seem to phase him, as his coast-to-coastability helped him to 13 points in 15 minutes.
"The nights I don't sleep it's because there's a higher calling telling me to stand guard."
That's the DallasBasketball.com Philosophy. Donuts … Shootaround … Game coverage … to bed at 3 a.m. and back at Donuts a few hours later.
The "higher calling'' asking us to do this? Mavs Premium Subscribers!
"Thomas Jefferson was a pussy."
Um … OK … Seems like a good time for a Mavsellaneous: The Mavs improved to 34-2 when scoring 100-plus points in a game. ... The AAC PA system really did make Sheen a focal point, his sound bites taking the place of some familiar old Norm Hitzges quotes ... Roddy B was fairly unstoppable early with 11 first-quarter points on 5-of-10 shooting. ... Even without TY, Dallas outrebounded the Pacers 41-31 ... Jason Kidd's one steal ties him with Gary Payton (2,445) for third place on the all-time steals list behind Michael Jordan (2,514) and John Stockton (3,265). ... Boxscore-fillin' from 'Trix: Shawn Marion finished the game with seven points, seven rebounds and four steals.
"The run I was on made Sinatra, Flynn, Jagger, Richards, all of them, just look like droopy-eyed, armless children."
The Mavericks' run? It came in the second quarter as they had a 33-24 edge in that period and then a 68-57 edge at the half – the 68 points (on 63-percent shooting) representing Dallas' biggest half of the year.
"It's perfect. It's awesome. Every day is just filled with just wins. All we do is put wins in the record books. We win so radically in our underwear before our first cup of coffee, it's scary."

Rick, care to summarize?


Yeah, perfect is a stretch. After all, at 45-16 Dallas isn't even as good as its division rival San Antonio, which got Tony Parker back in a quick-healing surprise and maintained a fat lead despite a Friday meeting with the vaunted Heat.
"We tightened the screws when we needed to the most," Carlisle said of the final few minutes. "We certainly could have played better defense in the previous 45 minutes, I thought … I like the way we finished the game, but I thought we could have been better defensively through the first 40 or so minutes. We were searching a little bit all night. We held a lead, but I'd like to think we can play better."
No, it wasn't perfect. But it was "winning.''