DONUT 1:
Here's one you don't hear too often:

Dallas has lost seven straight in New Orleans.




How many opponents can we say that about?

The pivot point for tonight's game is injury-related. How's TY's ankle? How's CP3's concussion?

We're pretty certain TY will try to give it a go for the 46-17 Mavericks, who've given up 100 points in each of the three games he's missed. The former Hornet -- averaging 10.4 points and 9.4 rebounds -- would like to put it to his old mates. And his buddy, Chris Paul, would also like to be part of the proceedings ... but is listed as day-to-day for the 37-29 Bugs.



DONUT 2: Which is funnier: The report that Heat players bawled in their locker room after a loss, or …
The number of Heat players that ran to the media insisting 'It wasn't ME who was crying!'?
I've seen some critics turn this thing into a "manhood'' debate. You know, defending the Heat by saying, "Haven't YOU ever cried?''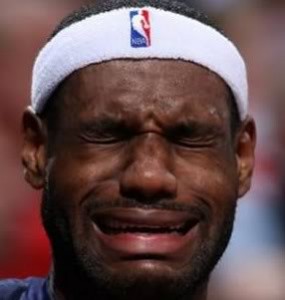 Don't miss the point. Yes, it's acceptable to cry. (I'm a Mavs fan and a Vikings fan. I cry A LOT.) What makes this so amusing is that these are the self-billed "SuperFriends'' (that is, indestructible cartoon Super Heroes) ... and that they rushed to Twitter and the like to deny having cried. Oh, and after meeting Portland last night, they "indestructible'' "Heatles'' have lost five straight.

Their folly is our fun. They asked for it. We're giving it to them.
And if they ask nicely, we will also offer them a Kleenex.
DONUT 3: The best way for a Dallas Mavericks fan to wear the shirt? Listen to the song.

The best way to listen to the song? Wear the shirt.



DONUT 4: If Oregon football is involved in a 'recruiting scandal' because it paid a scouting service, college football as we know it ceases to exist. Therefore: Oregon will NOT be involved in a recruiting scandal for long.

Every time I mention an item like this and use a specific college as a general example, I get two dozen emails from alumni berating me for mentioning their school in a negative light. So I'll do it a different way:

Oregon's manner of conducting its recruiting business is done by EVERYBODY. I'm not picking on YOU. This is how college football works. It's not even necessarily a bad thing. But if you take it away ... take away the hidden underbelly of the sport that makes those cogs turn ... you don't have a sport.

Having said that, "Rah-Rah for Ol' State U!''

DONUT 5: While you're fiddling around on Facebook (don't worry, I won't tell your boss)... Please join our Dallas Mavericks FISH Facebook Page ... prizes to be won, fun to be had, friends to be made! C'mon! I seem nice!
Be more specific, you ask? Fine. Be one of the first 500 members and somebody is going to win a pair of Mavs tickets. On me. Deal?

DONUT 6: Why do I feel like the NFL's moving of its negotiating "deadline'' is a ploy by both sides to seek favor from public opinion? A "look-at-us, we're trying!'' dog-and-pony show?

If there's a deadline, and the deadline is moved, there was never a "deadline.'' If it's flexible, it should be flexed until there is an agreement.

Do THAT, and the public will genuinely applaud your efforts.

DONUT 7: Bobby Knight said "chickenshit'' on TV.

No, I don't think I'll try that when I'm on FS Southwest with Ro and Followill and company tonight for the Mavs-at-Hornets pregame show. (By the way: We're doing the pregame online only. You can watch it at Mavs.com or Fox Sports Southwest.

I don't think Bobby Knight should do it again, either. But hey, he didn't clean up his language while working with kids as an 'educator.' You think he's going to clean it up for your viewing pleasure?


DONUT 8: The genius of Ricky Rubio? I dunno. The Genius of Mark Cuban? Yes, that's what's really on display here. Cuban is in Minnesota. The subject of T'Wolves overseas property Rubio comes up. Cuban interjects his opinion … and the next thing you know, the Minnesota paper is engineering Rubio trades and DB.com Boards is working to evaluate the kid.

DONUT 9: We're hosting a DB.com Mavs Get-Together TONIGHT. We'll do it at our favorite Dallas hangout, ThreeSheets! Half-price pizza for the first half, a few free UberMan t-shirts to be tossed about, and yeah, I'll probably buy you a shot at the end of the first quarter of Mavs-Hornets! See you at the Get-Together!
DONUT 10: The NBA plays games in London while the Kings consider leaving Sacramento.
David Stern … Are you even awake?
DONUT 11: Mark Cuban is comparing Charlie Sheen to Hunter S. Thompson. Meaning he's going to kill himself?
Seriously, what I know about Thompson includes the fact that he was brilliantly creative. Is Charlie Sheen brilliantly creative?
I still say that simply training a camera on Sheen (as he did last weekend in his Ustream thing, which appearently only earned 100,000 viewers) proves that Charlie Sheen sitting in a chair and shouting out buzzwords ("Winning!'') isn't enough.
I also cling to my belief that there are still real thinkers, real writers, real Hunter S. Thompsons (minus the self-destructiveness) who can provide fresh ideas to the world of entertainment ... and that TV doesn't need to simply recycle. ... that there are new ideas worth birthing. ... that Charlie Sheen's month of notoriousness doesn't signal a time when TV is officially out of new ideas.
DONUT 12: Mike Tyson now has a TV show about pigeons. So yes. NOW we can say TV is officially out of ideas.