LA SANDWICH: Is it OK to look at this like an LA sandwich featuring the Lakers? Or does that mean OVER-looking the Clippers?
First off, let's get everybody introducted, and let The Ianimal yell:
The Dallas Mavericks won their ninth straight over the Clippers on Wednesday.
Big?
But bigger: Dallas (53-21) is now one-half game back of the Lakers for second place in the Western Conference and will play the two-time defending champions Thursday.
"(Thursday) is a different kind of test," coach Rick Carlisle said. "We know that. It's the kind of challenge you've got to look forward to."
The Mavericks don't win at Staples when its LAL; they have lost five of six against the Lakers at Staples.
But Dallas is comfy with the junior tenant:
The Mavs had won four straight over the Clippers (29-46) in LA by an average of 17.5 points. … aswe discussed in the 'Mavs Live' pregame show on FS Southwest ...



And this time Dallas won the fifth straight … though if you were looking for that 17.5-point margin, you were a tad disappointed.
THE HOLE: Setting out on the road can facilitate a lot of things. It can unite a team, or pry emerging cracks apart. It can energize, even as it drains, if the results attained are desirable. And, it can put wills and "dispositions" to the test. (Oh, and it can make Mark Cuban's tan go beet-red.)
As Carlisle has noted, six games in nine nights, all away from home, is not only a test and a challenge, it's an opportunity … at least, it can be.
With the Lakers (Thursday night) and Blazers looming, potential foes at different stages of the playoffs, both on the tail end of a pair of back-to-backs, the Clippers presented another opportunity. They delivered the chance to cure the malaise settling over the Mavs' early game performances.
Unfortunately, that was not an opportunity capitalized upon … as Dallas hit only three of their first 13 shots and quickly fell behind 23-10, a deficit fed by another rash of early turnovers.
You can climb out of these self-dug holes against the Clippers, Jazz and Suns … the Lakers, Spurs and other playoff teams may prove to be a different story.
EARLY TURNOVERS: Dallas ended the first quarter down 28-23, largely due to six turnovers that led to nine Clippers' points.
When hearing of the turnover issues, you instinctively want to blame the younger or peripheral players, but that hasn't been the case. It's been Dirk Nowitzki, who had three first-quarter turnovers, Jason Kidd, who contributed two, and Jason Terry, though he only gave away one against the Clippers, as much as anyone.
We're not saying it hasn't been the Roddy B's or Mahinmi's, only that the guys who should be long past such careless mistakes are equally responsible.
The team can talk about resolving the issue, but must find resolve to focus on the details and clean up these sloppy errors. After six turnovers in the first quarter, Dallas would total only five more through the next three.
That's a start … now they simply need to apply this to their "starts."
And listen, Dallas has trailed after the first quarter in six of the last seven games. This is called a "trend.''
'MR. UNIVERSE': When the Mavericks last faced the Clippers, JJ Barea had his second highest scoring performance of the season with 25 points. The only thing that may have kept him from eclipsing that number Wednesday night was playing ten minutes less … as he put up his third most points in a game this season.
In 21 minutes, Barea totaled 22 points on 6-of-8 shooting, including 2-of-3 behind the arc and 8-of-10 free throws, and six assists. He was so good we won't mention that he missed two free throws with 30 seconds to play that allowed the Clippers to stay within six, and retain some small level of hope.
16 of those 22 points came in the fourth quarter, when Barea seemed to put the offense on his shoulders and stomp out the will of the Clippers as the Mavs built a 16-point lead … at least until LA went on an 11-0 run that forced Rick Carlisle to do something he was clearly hoping not to do … put Jason Kidd back in the game as Dallas again turned to the three-guard lineup with Kidd, Barea, Terry, Dirk and Tyson Chandler.
All of which means, if Barea hadn't given what he did, those two free throws with 30 seconds left may have not mattered anyway … as Dallas may have not had a lead to clutch to.
So, his second and third most points of the season have come against these Clippers … safe to say there may be a smile lurking on Barea's face when he see's this Los Angeles team at the other end of the court.
Two missed free throws not withstanding; this was an excellent night from Barea, and one of his best performances of the season.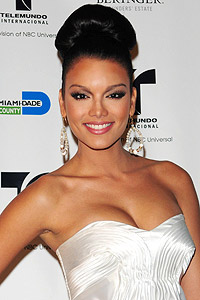 Oh, and speaking of smiling: That lovely young woman who escorted JJB to Kidd's Casino Night? Turns out to be his sweetheart, Miss Universe 2006 from Puerto Rico.
And a word to the media about this: Being Miss Universe is like being the President of the United States. You are never a "former President.'' And you are never a "former Miss Universe.''
BAREA, BUT BEAUBOIS : Barea was outstanding, scoring more than a point a minute, and we hope at least one player was watching his approach to an often-porous defense. That player would be Roddy Beaubois.
Roddy again started slow, ending the first possession of the game by throwing a pass that found a fan wide open several rows deep into the stands, and handcuffed himself to the bench by picking up two fouls 3:13 into the contest.
Carlisle turned to him again in the second quarter and Roddy B responded well, appearing to have heeded the lessons to be learned from Barea's attacks on the defense, as he scored six points in just over five minutes.
In the third, it took 3:39 for Roddy B to pick up two more fouls and send him to the bench for good until the final minute of garbage time.
We want to see Roddy B on the court to learn as many lessons as possible prior to the playoffs, but a single lesson must be embraced to allow that to happen: he has to control his fouls. He has to adjust to how the officials are calling the game if he wants to stay on the court. That is on him.
Our columnist Mark Followill noted this week that Dirk Nowitzki is wise to avoid early-game fouls because he's too important to the team to be unavailable late. Roddy B: Between Dirk and JJB, you gotta let some of that wisdom rub off, son.
ELDERLY REST: Until that 11-0 run that pulled the Clippers within five with 3:18 to play forced Carlisle's hand, Jason Kidd had been able to sit the entire fourth quarter, granting rest that should be greatly appreciated when facing the Lakers Thursday night.
Prior to this rest, Kidd had a game and an impact that is not captured by his statistics. He finished with five points on 2-of-8 shooting and zero rebounds (only the second time this season Kidd did not grab a rebound, the first coming Feb. 4 against the Celtics), but did add ten assists, one steal, one block and didn't have a turnover after the first quarter.
Beyond these stats, Kidd played strong defense … elite at times, such as when he completely shut down Eric Gordon (4-of-18) on multiple moves that concluded with a shot that never had much of a chance.
So Kidd plays 29 and Marion plays 27 and TY plays 25.
Bring on the Lakers!
THE PRESENCE OF PEJA: Peja Stojakovic was again strong from the bench, contributing 11 points on 4-of-8 shooting, including 3-of-4 behind the arc.
While he did not tally any other stats, it's hard to deny his presence has a positive effect on the offense … and on the team as a whole.
Dallas is now 16-2 in games Peja takes part in, and have not lost when he plays more than 14 minutes.
It helps when he's making shots, but his presence is undeniable. Give Peja the ball when open (especially dangerous on the secondary break, when the defense is scrambling to find a man) and he causes panic in the opposition.
NO STATS FOR TY: Statistically, Tyson Chandler had a poor performance by hitting only three of his seven shots (though one of those misses could easily be a turnover attributed to Kidd, thanks to an alley-oop attempt that was slightly off target) for six points, three rebounds and two steals.
Perhaps the most notable facet of the game for Chandler were a few exchanges with Blake Griffin. Early, after the two tangled for rebound positioning, Chandler seemed to take exception to Griffin's antics and gave a quick shove to his back before turning and running up the court for the Mavs offensive possession.
And then, more notably, after Griffin soared in for a late-game rebound attempt, leading him to land hard on Chandler's back and sending both hard to the floor, Chandler got up with a few demonstrative words and an aggressive posture towards Griffin … clearly angered by the play. The two continued to talk as they walked up the court, where cooler heads eventually prevailed.
Maybe he'll have numbers in LA on Thursday. And that's important:
Chandler has 18 double-doubles this season. His full-time, long-term predecessor, Erick Dampier, only had more than eight once as a Mav, in the 2004-05 season when he had 16.
So this isn't a Damp bash, just an appreciation of the difference-maker TY is … And the importance of a productive center: Check out this fancy number: Dallas' winning percentages during those double-doubles from either of the centers:
Dampier 39-11 (78%).
Chandler 14-4 (77.8%).
Moral: The Mavs win when their centers produce. Numbers, not just "screens set.''
THE NUMBERS GAME: Speaking of numbers …
*The Lakers will be coming off of three days of rest, while Dirk will be coming off 37 minutes the previous night.
*The Mavericks bench gave 53 points, and did so with almost none of that coming from Jason Terry. Terry contributed six points on 2-of-11 shooting, but did add seven assists, three steals and one block.
*With the win, Dallas has swept the season series with Clippers so far, 3-0, with one more to play at home April 8.
*The Mavs are 13-1 against the Pacific Division.
*Dallas is 27-10 on the road. Nobody does it better than that, and it is our contention that come playoff time, Hornets or Blazers or whomever ought to be concerned about the 27-10 team and not the other way around.
MAVSELLANEOUS: The Clippers came in winners of 14 of 18 at home. And they were rested, as they hadn't played since a 94-90 victory over Toronto at Staples Center on Saturday … The Mavs weren't perfect. As a team, they fell behind by 13 points in the first quarter – and trailed after one for the sixth time in the last seven games. As an individual, Nowitzki actually missed that free throw – something he pretty much does once every March ... A sign of LAC immaturity: All those T's. Griffin got one with seven minutes remaining and the game tight. Then Mo Williams got two, just a minute later, and he took his 19-point game to the shower.
QUOTEBOARD: "We're still right there with everybody. Hopefully, we'll get a big win tomorrow. That'll be a good one to get." - Dirk Nowitzki
DIRK VS. BLAKE: Dirk Nowitzki was the lone starter to play over 30 minutes, with 37, and saw his free-throw streak come to an end at 74. This wasn't Dirk at his best, but it was an improvement over the past couple of games.
He finished with a team-high 24 points on 9-of-19 shooting, six rebounds, three assists, a steal and four turnovers.
Considering his minutes, and his recent shooting struggles, how will Dirk perform against the Lakers … surely THE game Dirk, and the rest of the Mavs, have been waiting for on this road trip, even as they've opened it by going 3-0.
Which reminds us …
Someday, there might be a passing of the torch.
Perennial Western Conference superstar Dirk Nowitzki will fade into a post-basketball life. And budding big forward Blake Griffin will emerge even more, building on this sure-fire Rookie-of-the-Year campaign to serve as a worthy heir.
Someday.
But once again Wednesday, Nowitzki and his Mavericks team were superior. One of the reasons?
Dirk, said his coach, "is a megastar.''
The other 11 reasons? Nowitzki's 11 teammates, all of whom were given burn by Carlisle, surely in part to make sure Dirk and other front-line Mavs are as rested as possible for Thursday, when Dallas is back at Staples Center for a shot at the varsity squad from LA, the Lakers.
But if you were looking for a "Dirk-vs.-Griffin'' deal? Fine. Dirk for 24 points. Griffin (terrific) for 25 points and 17 boards, good for his 57 th double-double of the year.
But Dirk wins. Griffin simply doesn't have enough help, especially with another budding star, Eric Gordon, being limited to 4-of-18 shooting.
Griffin tried. In the fourth quarter, Dallas was up 16 when he ripped off six points as part of an 11-0 LA run to make it 96-91, Dallas, with just over three minutes left.
But that's when Dirk's help came through.
And now comes the truest test. Bigger than what Griffin might someday be is what the two-time defending champion Lakers certainly are. LA is a half-game ahead of Dallas for second place in the West. It is the sort of game Blake Griffin likely dreams of participating in …
THE FINAL WORD: "This is a team with playoff talent," Carlisle said of Griffin and the Clippers, who are 29-46 to Dallas' 53-21. "They're a little bit young and battled through injuries. But this is a team that's on the rise and going to be an improving team every year going forward."
Yes. Someday. Griffin and the Clippers. Someday. But …
Still, it is Dirk Nowitzki's turn.
Still, it is the Mavs' turn.
Let's wrap it up from the FS Southwest studios ...